Europe's electric vehicle adoption is very spotty. There are cities in Europe where EV adoption has gone so far as to have Low Emission Zones. These are urban zones in European cities where only the least polluting vehicles are allowed on the roads. France was an early adopter and has had LEZs for years. By contrast, Europe's largest city by population, Istanbul in Türkiye, has virtually no electric vehicles. What is our primary source? First-hand observation.
Related Story (2019): Turkey Reveals Domestically-Manufactured Electric Vehicle Model Plans
When Americans think of Europe, they often think of Western Europe. France, Germany, Italy, Spain. Maybe some of the smaller countries and perhaps the Scandanavian countries like Sweden and Finland. You get the idea. However, Europe is a very large and old place, and had a big head start on the "New World" when it comes to cities. Its largest city by population is Istanbul. The city comprises two portions, with about 2/3s of its population on the European side of the Bosphorus.
Türkiye is a modern country, and Istanbul is also a modern city. During a recent visit, I was keen to check out which EVs were the most popular. Would Tesla dominate? Would GM and Nissan have affordable EVs in abundance? Would there be any unusual EVs, perhaps imported from China or domestically made? The answer is easy. I spent four days in Istanbul and was out and about exploring the city each day. I didn't see any battery electric vehicles at all. And I saw zero EV infrastructure.
What Türkiye has in abundance are diesel-powered cars, vans, and small commercial trucks, and the city is the most vehicle-dense I have ever experienced. I've been to New York, London, and Tokyo many times.
By contrast to Türkiye's lack of BEVs, electric scooters, e-bikes, and electric runabouts with two, three, or four wheels are everywhere. They sell e-bikes in bookstores they are so popular. The folks who reside there are entirely woke to the value of electric transportation. There adjust aren't any battery electric vehicles.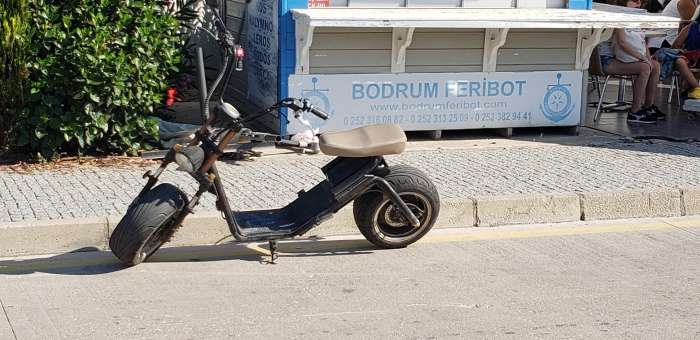 Before writing the story, I checked out Tesla's Supercharger map. According to Tesla's latest update, there are zero in the country. Some are planned. None in operation. According to Inside EVs, only about 4,000 EVs were registered in Turkey last year. That doubled the total in the country. So "EVs double in Turkey" is one way to spin the facts.
Toyota is a popular brand in Türkiye, and I saw (and photographed) RAV4 Hybrids and Corolla Hybrids, but surprisingly didn't see many Prius cars while visiting the country for 17 days.
The largest city in Europe presents a huge opportunity for EV growth. It also offers a reality check on global battery-electric vehicle progress so far.
John Goreham is a long-time New England Motor Press Association member and recovering engineer. John's interest in EVs goes back to 1990 when he designed the thermal control system for an EV battery as part of an academic team. After earning his mechanical engineering degree, John completed a marketing program at Northeastern University and worked with automotive component manufacturers, in the semiconductor industry, and in biotech. In addition to Torque News, John's work has appeared in print in dozens of American news outlets and he provides reviews to many vehicle shopping sites. You can follow John on TikTok @ToknCars, on Twitter, and view his credentials at Linkedin
Re-Publication. If you wish to re-use this content, please contact Torque News for terms and conditions.