The Chevrolet Equinox is one of the top-selling automobiles in America and GM's top-selling non-truck vehicle. In many states, the Equinox is the number one vehicle sold. Why is that? For two main reasons. First, this is the type of vehicle that sells the most. Second, GM knows how to build a great family vehicle.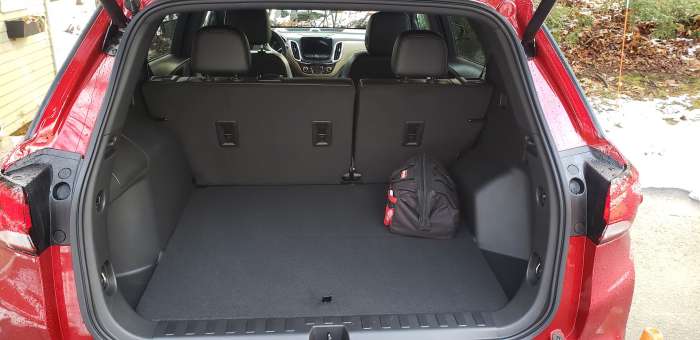 2023 Chevrolet Equinox Premier AWD - What Is It?
The Equinox is a five-passenger crossover SUV. It resides in the same class as the Toyota RAV4, Honda CR-V, Subaru Forester, Nissan Rogue, and Mazda CX-5. The Equinox is the family crossover from GM's value brand, Chevy. If you want a more powerful and luxurious five-passenger crossover like this one GMC, Buick, and Cadillac all have five-passenger offerings that can do the same job with a bit more of a premium vibe.
Related Story: 2022 Chevrolet Equinox RS AWD Review - Hits the Target
2023 Chevrolet Equinox Premier AWD - What Does It Cost?
The 2023 Chevrolet Equinox Premier AWD starts at $33,100. Let's remember that we are now using lower-value American dollars having suffered through multiple years of very high inflation. While we would call any vehicle with the things our Equinox came with a screaming value at this price, ours had some very expensive and very important options packages.
The first is called the $1,745 Confidence and Convenience II Package. This one adds in the good seats and the good cameras our tester had. The second important package is the $1,125 Infotainment II Package. It adds in pretty much every feature we liked most about this Equinox. The Wireless Android Auto and Apple Car Play, bigger screen, and an upgraded audio system. Now, add in $1,495 for a sunroof, $495 for paint, and a whopping $1,395 for destination charges and you are looking at a tidal price of $39,355 before your Chevrolet dealer has a chance to add paint protection and documentation fees. So let's call this Equinox $40K.
2023 Chevrolet Equinox Premier AWD - What Powers It?
The 2023 Chevrolet Equinox Premier AWD is powered by a 1.5-liter turbocharged engine which is mated to a geared transmission. We found the powertrain adequate. Fuel economy is just 26 combined, well below the 40 MPG the class-leading Toyota RAV4 Hybrid with more power would offer. Over ten years of operation, the Equinox will cost its owner about $6,500 more in fuel than a RAV4 Hybrid or CR-V Hybrid owner would pay.
2023 Chevrolet Equinox Premier AWD - How Does It Drive?
The Equinox makes no wrong moves. It is a good family vehicle that most owners will find meets their expectations for ride quality. We found the powertrain to lack the energy we have found in many other models in this price range.
2023 Chevrolet Equinox Premier AWD - Infotainment and Features
Here is where the Equinox Premier equipped with the optional Infotainment II Package shines. We found the overall infotainment package in our test Equinox to be far superior to anything Toyota, Subaru, or Mazda offers. We have not yet tested the new CR-V, so we can't offer a comparison yet.
The combination of wireless phone integration (with no need for any subscription) along with good audio is enough to win us over. However, Chevy also wisely offers a good mix of physical buttons. Let's call this the best setup in this class.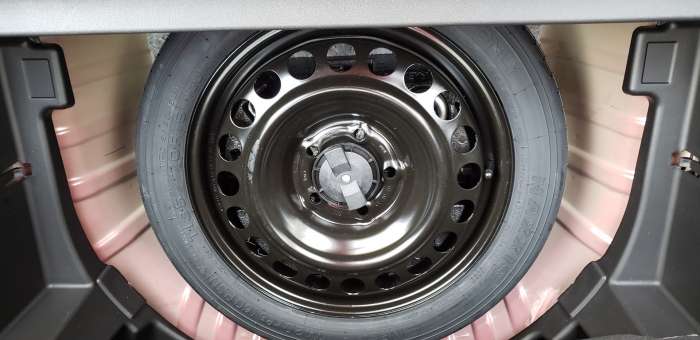 Our Equinox also had a spare tire under the cargo floor. You won't find that in a Honda CR-V Hybrid.
2023 Chevrolet Equinox Premier AWD - Conclusion
The Chevy Equinox checks all of the boxes for a competitive five-passenger crossover SUV. If infotainment and a spare tire are important to you, this vehicle tops the Mazda CX-5 and Honda CR-V Hybrid. If you want a sportier, or more premium-feeling family crossover, the GMC, Buick, and Cadillac lines all offer options you will be happier with. The price for our tester seemed high to us, but maybe $40K is now the price point for a decent family crossover in America. We suggest shopping the Equinox against its peers to see how prices compare after dealer costs are added.
Top of page and interior images courtesy of GM media support. Note that the top of page image is a slightly different trim than our test vehicle. Cargo area andspare time images by John Goreham.
John Goreham is an experienced New England Motor Press Association member and expert vehicle tester. John completed an engineering program with a focus on electric vehicles, followed by two decades of work in high-tech, biopharma, and the automotive supply chain before becoming a news contributor. In addition to his ten years of work at Torque News, John has published thousands of articles and reviews at American news outlets. He is known for offering unfiltered opinions on vehicle topics. You can follow John on Twitter, and TikTok @ToknCars, and view his credentials at Linkedin