As I reported last week, the all-electric Ford F-150 is happening. So, first and foremost, everyone needs to not gripe about it, or complain or throw around their protest of how a truck can't be powered by a quiet, electric motor. Because it can and it will.
And also, put the electric F-150 in the same category as when your mom made you try a vegetable. You might think you don't like asparagus, but once you try it, you might really like it. That analogy applies to an EV F-150 too. Try it, you might like it.
I say all this as one of the biggest complainers about the Mustang Mach-E. As you've seen here at Torque News, I've blasted Ford for putting the Mustang name on the all-electric four-door crossover. But, my complaint was never about the EV powertrain of the Mach E, it was just about the name Mustang being used. In fact, I wrote some praise about the performance of the Mach E once I got to experience it.
I'm sure I'd feel the same way about an electric Ford F-150. I've compiled a list of what I believe Ford needs to do to make an EV F-150 successful.
2022 Ford F-150 EV Towing Capacity
The "promotional" video of the prototype EV F-150 towing more than a million pounds shows that Ford understands that the customer will demand high towing capacity. Obviously it won't have a million pound towing capability but if it could stay at or exceed 8,000 pounds or more, it will impress truck buyers.
And the big concern is if it can tow that amount what kind of range will it get? And that leads me to my next point.
What Range Will the All Electric Ford F-150 Have?
Nobody knows that answer and Ford is staying quiet. I reached out to Ford to answer this and got shot down, as I expected. There's wide speculation that the range will be anywhere from 300 miles to 400 miles.
But if that is not towing and non payload range, what will happen to the range when the truck is actually put to work? It's likely to go down. And if so, by how much? I saw speculation on a truck forum that with payload or simply towing that the expected range could drop as much as 50 percent. That seems like a lot, but who knows.
Advice to Ford, make sure you get the range in a comfort zone for those who would be pulling a boat or camper to a weekend destination that might be a couple hundred miles away. Range anxiety is a real issue for consumers new to the EV world. It would sure be an issue for truck buyers too.
How Long Will It Take To Recharge An Electric F-150
This is a common concern and question I see on forums amongst first-time EV buyers. And it certainly will be a question potential EV F-150 buyers would have. Charging times vary based upon what level charging station you have access to.
Homes can be equipped with quick charge stations or you can charge an EV without any real setup using your home's current 110 outlet, but a full recharge could take more than 12 hours. That isn't a practical expectation.
If someone was towing and travelling to a destination, they'd need access to a supercharging station which could only take a couple hours for a full charge. But again, there would be apprehension about that and adding time to a trip would be a negative to owning such an electric pickup truck.
So for Ford, I'd say, make sure the infrastructure is in place and charging stations are ample, or that prospective EV F-150 buyers have the right charging set up at their homes.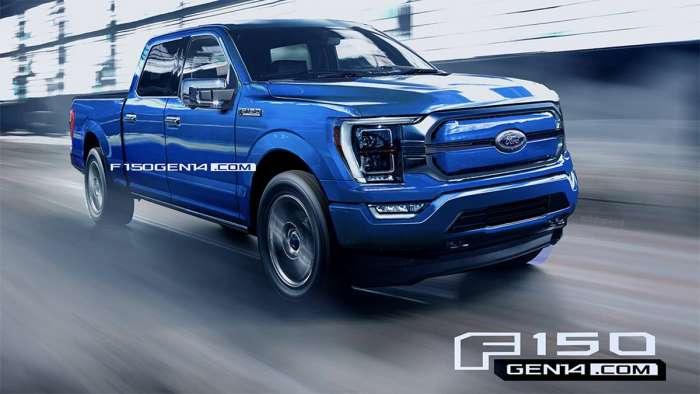 What Will The 2022 Ford EV F-150 Cost?
Price is always the sticking point. Today's trucks are outrageously priced as my colleague Marc Stern wrote about. New trucks, when well-appointed can exceed $50-60,000 or even higher. Generally, EV technology is expensive and adds an easy $10,000 to the bottom line.
Advice to Ford, if you really want to win over a truck consumer who might be on the fence about an EV F-150, make the price competitive. An estimated MSRP range of $30-40,000 would be ideal. But note, truck buyers like luxury and nice touch points, so don't skimp on the interior quality.
To find all Ford F-150 content simply check out the F-150 page on Torque News where I write content regularly. And as, always, leave comments or let me know your thoughts. Would you consider buying an electric F-150? Why or why not?
Jimmy Dinsmore has been an automotive journalist for more than a decade and been a writer since the high school. His Driver's Side column features new car reviews and runs in several newspapers throughout the country. He is also co-author of the book "Mustang by Design" and "Ford Trucks: A Unique Look at the Technical History of America's Most Popular Truck". Also, Jimmy works in the social media marketing world for a Canadian automotive training aid manufacturing company. Follow Jimmy on Facebook, Twitter, at his special Ford F-150 coverage on Twitter and LinkedIn. You can read the most of Jimmy's stories by searching Torque News Ford for daily Ford vehicle report.