We now know what Jeep's first all-electric vehicle will look like and surprisingly it will not be the Jeep Magneto that was revealed as a concept last year. We do not yet have a name for the new model, but it will apparently debut early in 2023.
During Stellantis' Dare Forward 2030 strategic plan presentation, Carlos Tavares, chief executive officer (CEO) of Stellantis, revealed images of the first-ever 100% battery-electric Jeep SUV. Tavares did not release many details. He did say that the new fully electric Jeep vehicle will be launched early next year. The Dare Foreward 2030 plan is all about expanding the brand's reach and taking the next step toward the Jeep brand's vision of Zero Emission Freedom. Tavares promised that more information about the Jeep all-electric would be released in coming months.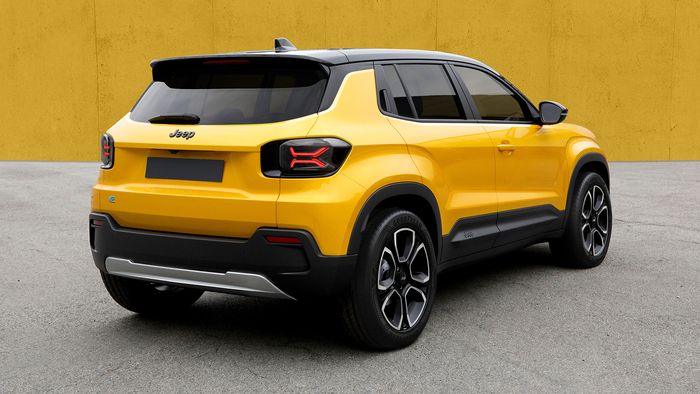 Jeep's Electrified Portfolio
So far, Jeep only has plug-in hybrids in its portfolio. The 2022 Jeep Wrangler 4xe and the 2022 Jeep Grand Cherokee 4xe have proven to be very popular as electrified options for Jeep. The PHEVs get around 20 miles of pure electric and allow the driver to choose driving on EV only, hybrid or pure gasoline operation.
Jeep Magneto Concept
The reason I mentioned the Jeep Magneto is that the concept was the hit at last year's Easter Jeep Safari. The Magneto concept was fully drivable. According to Jeep, the BEV concept was based on a 2020 Jeep Wrangler Rubicon. "The Jeep Magneto uses a custom-built axial flux electric motor that operates up to 6,000 rpm. The e-motor is connected to a six-speed manual transmission, creating a unique manual-electric powertrain with a clutch that operates as it would with an internal combustion engine."
Jeep engineers say the compact e-motor is tuned to deliver up to 273 lb.-ft. of torque and 285 horsepower. It is supposed to be fairly comparable to the 3.6-liter Pentastar V-6. The engineers developed calibrations to help the Magneto's powertrain emulate the driving experience of the V-6, matching its torque and horsepower. The Magneto concept will do 0-60 mph in 6.8 seconds.
2023 Jeep SUV BEV
The vehicle that Jeep now says will be its first BEV looks nothing like the Magneto. Instead, it looks much more like a smaller version of the 2021 Jeep Compass. It is hard to tell by the two photos that were released. Tavares and Jeep did not give any details about what platform the Jeep BEV will be built on or where it will be produced. It could very well share its underpinnings with vehicles that are destined for Stellantis' European markets. That would make sense as the company is attempting to rapidly gear up for EVs while also keeping costs down.
As soon as we get more information, we will pass it along.
Jeep Photos
Follow Mary Conway at @maryconwaymedia and send her car news tips for future stories.