Ford is promising to have one of the largest automaker displays at this year's Specialty Equipment Market Association event, commonly known as the SEMA show. Ford plans to have more than 50 vehicles on display including five incredible Mustangs that we have already featured. SEMA highlights what you can do with aftermarket parts and customization. Ford is showing off what designers have dreamed up for some of the company's most popular SUVs.
Destination Expedition: Hulst Customs' ultimate family adventurer
One of the most stunning vehicles headed for the Ford display is the Hulst Customs 2018 Destination Expedition. The 2018 Ford Expedition is already wildly popular for its redesign and luxurious interior, but this vehicle takes it up a notch. The Expedition is described as the ultimate in comfort, class and style. The custom hood, grille, paint scheme and massive 26" wheels definitely sets it apart.
LGE*CTS Expedition Classic

This 2018 Expedition is customized with a vintage twist. Theresa Contreras wants her SEMA design to be a rugged modern classic, with matte paint and steel wheels.
It features a ReadyLIFT® self-leveling suspension and Borla® performance cat-back exhaust. This Expedition promises to take you anywhere you want to go you in ultimate style.
MAD Industries Explorer blends style and athleticism


Style and performance are the hallmarks of the California-based MAD Industries high-fashion customized Explorer Sport. t The two-tone Ruby Red and Jet Black Explorer's performance is upgraded with a cold-air intake, more aggressive handling tuning and more braking power. The interior features premium leather seats, custom MAD Industries steering wheel and unique touches including SRP anodized billet aluminum racing pedals , color-matched accents and special LED lighting.
Blood Type Racing's Edge ST amps-up Ford Performance's first SUV


The Edge ST is the first SUV from the Ford Performance team. This high-style version comes from Chicago-based Blood Type Racing. The team upgraded Edge ST's twin-turbo V6 EcoBoost® performance with a special suspension, its own performance induction, Mishimoto charged intercooler, and an MRT dual stainless performance exhaust to crank up the horsepower. Blood Type Racing finished it off with low-profile tires on 22-inch wheels, custom aerodynamics and a glossy blue wrap.
Tucci Hot Rods gives EcoSport go-anywhere, do-anything treatment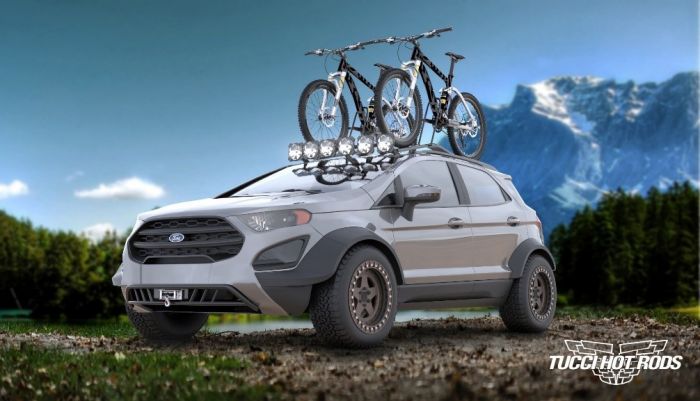 This little crossover may be Ford's big surprise of the SEMA show. The Tucci Hot Rods Big Adventures EcoSport gives an all-new meaning to the concept of compact sport utility vehicle. Big fender flares and huge AT tires, create an off-road adventure package including an integrated winch, custom tubular bumpers, Rigid Industries lighting and Yakima bike rack. This custom EcoSport is a highly capable, efficient, fun package from an award-winning team that will turn heads and open the great outdoors to a new generation of compact SUV builders.
Not only will Ford have a huge display but Ford plans to give fans a chance to experience the featured vehicles by offering rides at Ford Out Front.
The huge Specialty Equipment Market Association Show brags that it has more than 2,400 exhibiting companies from all over the world. It will take place in Las Vegas, Nevada, October 26th to November 2, 2018.
For more on the SEMA show click here.