More power, more off-roading, more work and more fun. That pretty much sums up Ford's approach to SEMA when it comes to the F-Series entries. The F-Series is already America's best- selling truck, but now engineers and designers are showing you that they intend to build a truck for everyone's needs. Whether it is 1,000 horsepower, a game table, or a built-in movie projector, Ford has the fun covered at SEMA.
Ford promises to have the largest original equipment manufacturer exhibit at the Specialty Equipment Market Association show in Las Vegas, Nevada, with more than 50 vehicles on display. Plus, Ford Out Front will offer rides in a performance car or truck on a closed course.
Freak-O-Boost
In pictures, the colorful Gen-2 Full-Race 'Freak-O-Boost' looks like a toy, but in reality, it is a hardcore 2018 F-150 that melds Ecoboost performance with go-anywhere, weekend warrior attitude.
Ford describes it as "loud, proud and sure to draw a crowd." It starts with Ford's 3.5-liter EcoBoost V6 engine with Full-Race twin turbo upgrade, CARB approved intercooler, cold-air intake, charge pipes and cat-back exhaust. It adds wide body fenders and front/rear Enforcer bumpers to make sure you can take this F-150 SuperCab anywhere.
SpeedKore's Country Music Pro-touring Edition

SpeedKore's 2018 F-150 XLT short-bed custom Pro-Touring Edition is endorsed by country music star Brantley Gilbert.
According to Ford, it is an ultra-performance pro-touring truck. "It all begins under the hood with the base 5.0-liter twin-cam V8 with Ford Performance supercharger, cold-air intake and side-exit exhaust. It's backed up with MaxTrac Suspension front lowering spindles, Crown three-inch lowering springs and Brembo eight-piston big brakes. Traction and grip come from Pirelli® Scorpion tires™ mounted to 22-inch HRE TR106 monoblock custom wheels."
Transfer Flow Family Adventure Pickup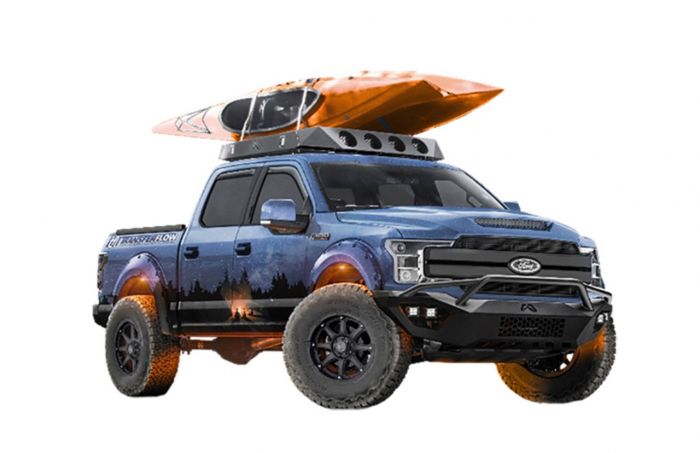 Transfer Flow builds the ultimate family adventure pickup, pairing the power of F-150 with the latest off-road upgrades and accessories, including a built-in movie projector!
According to Ford, the California-based Transfer Flow has created the ultimate family Ford F-150 adventure truck. It leverages the efficient power of the all-new 3.0-liter Ford Power Stroke® diesel, taking it to new heights with off-road suspension, powertrain and upgrades. Add in special front and rear bumpers and roof rack, Yakima kayak rack, a Transfer Flow 50-gallon fuel tank and 40-gallon in-bed auxiliary toolbox combo with refueling kit and movie projector screen inset for maximum getaway fun. It does look like a blast to take any family on a special adventure.
Kurt Busch and ZB Customs 1000-hp 2018 F-150 Lariat Sport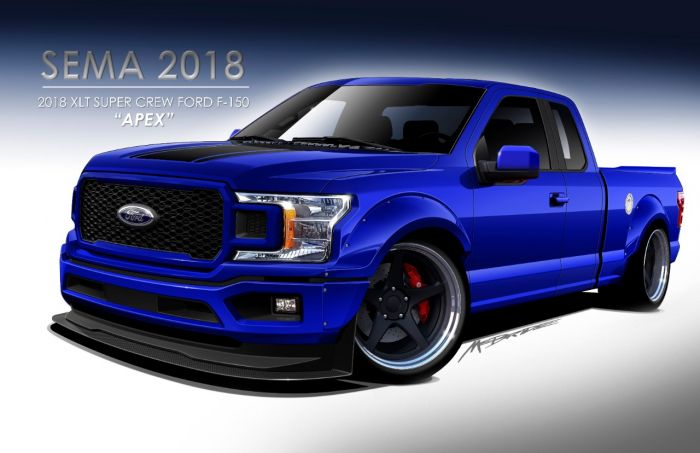 NASCAR driver Kurt Busch knows a lot about power and speed. He helped design this F-150 Lariat Sport SuperCab that combines both.
According to Ford, "The force-fed 5.0-liter Ford V8, has On3 twin turbochargers, JE forged pistons, Ford Performance forged rotating assembly, oil pan and pump and a side-exit exhaust. ZB Customs added its 4.5-inch wide body fenders, bumpers and grille insert, plus a DezignWorks carbon spoiler and splitter and Axalta Electron Blue custom pearl ghost graphics. Inside, ZB Customs installed alligator leather seats, steering wheel and armrests. A Ford Accessories subwoofer by KICKER Audio puts the finishing touches on this show-stopper F-150."
2019 F-250 Super Duty Transformer Work Truck by DeBerti Design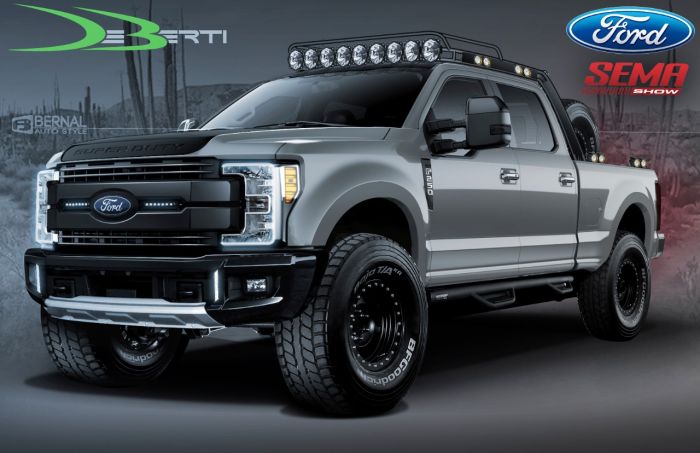 Huge, extremely capable and stylish, this F-250 Super Duty 4x4 Transformer Work Truck by DeBerti Design dresses up the 6.7-liter Power Stroke Diesel. It is modified with the addition of a twin-turbo kit. It features an air-to-liquid intercooler, EGR kit and cold-air intake, and is finished off with a performance diesel tailpipe from Ford Performance. It cranks out 900 horsepower and rides on a Super Duty suspension and a beefy set of BFGoodrich KR2 37-inch tires.

2019 F-250 Super Duty Off-Road Adventure Truck by Wilderness Collective

Wilderness Collective, a leading tour company, has leveraged its off-road experience to design the ultimate adventure Ford F-250 Super Duty pickup. The build begins with a suspension lift kit, steering upgrades and manual front hub-lockers. These modifications make room for a massive set of Toyo Open Country M/T tires on 20-inch Fifteen52 TurboMac wheels. The team added a full-guard heavy-duty front bumper, M12 winch and rear ascent bumper plus a cab and bed rack, rooftop tent, cargo system. IT also mounted a special RIGID light bar spotlight and floodlights. Power comes from the 6.7-liter Ford Power Stroke diesel with Ford Performance exhaust. The truck features a Rugged Radios communications system. "Which Way" map graphics were created by Justin Bauer of Wilderness Collective, so hopefully, you are never lost on your adventure. Bauer will accompany the truck for its maiden trip across the desert en route to the show floor at SEMA.

Extang and College Students Build the Ultimate Tailgate Truck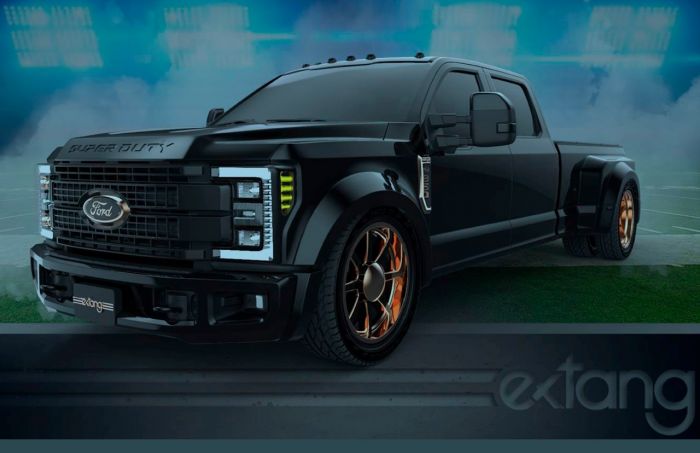 Michigan-based Extang Truck Bed Covers enlisted the help of local college students to help build this custom 2019 Ford F-350 Super Duty Lariat. The ultimate tailgate truck features a slide-out game table, cooler, BBQ grill and large-screen OLED television and sound system designed by Extang engineers and built by students from Washtenaw Community College's Custom Cars and Concepts program. This may be one of the most important vehicles because it will show everyone what is important to the younger potential buyers.
The huge Specialty Equipment Market Association Show boasts that it has more than 2,400 exhibiting companies from all over the world. It takes place in Las Vegas, Nevada, October 26th to November 2, 2018.
For more on the SEMA show click here.