RealTime Racing returns to 2018 Pirelli World Challenge With Honda Civic Type-R
This weekend RealTime Racing returns to their Honda roots with Civic Type-R. While the Devil may be in the details as to the exact origin and race-ready specifications of RealTime Racing's highly modified Civic Type-R team, we do know that the 10th generation platformed, race modified Civic Type-R will race in the new PWC (Pirelli World Challenge) TCR Touring Car category. The action begins this weekend at the Circuit of the Americas in Austin Texas.
Ryan Eversley and Nick Esayian driving for RealTime, Honda Racing
It's been an interesting 3 PWC racing seasons for Ryan Eversley and Acura Realtime Racing. Torque News met P.D. Cunningham and the RealTime Racing team 4 years ago in Sonoma California. At that time Acura TLX GT was in its first season, with Cunningham driving a single entry. The following season would find RealTime Racing founder and driver Cunningham partnering with Ryan Eversley in a second car.
Eversley would prove to be very competitive in the G.T. class racing against the likes of Bentley, Cadillac, and Ferrari. Eversley would reach the podium more than once, only to be sidelined in the top standings by mechanical breakdowns, hard-rubs, and handling issues.
As PWC changed the rules (once more) and Acura, RealTime Racing transitioned into the NSX GT-3 car, Eversley would once again prove to be a worthy competitor, with several top 5's earned for the 2017 season.
Eversley will team with returning RTR driver Nick Esayian for the 2018 PWC season behind the wheel of two 330 horsepower HPD (Honda Performance Development,) JAS Motorsport of Italy ultra performance Civic Type-R track cars. Yes, you too can by a Civic Type-R crate motor, but there's a contingency or two.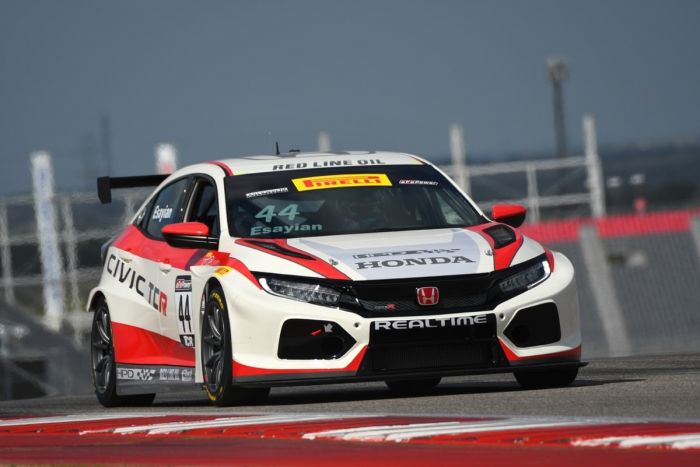 Honda tells us: "Developed by Honda partner JAS Motorsport in Italy and available in race-ready condition through Honda Performance Development, the Honda Civic Type R TCR features the latest developments in Touring Car competition, including a 2.0-liter, turbocharged four-cylinder engine tuned to produce 330 hp. Power is sent to the front wheels via a six-speed, paddle-operated transmission. The Type R is fitted with a race-tuned suspension and anti-roll bar package, along with an aggressive, aerodynamic body kit and redesigned exterior." Sweet!
A prediction or two
I believe that with the return of Ryan Eversley and RealTime racing to their Honda Civic racing roots will come success. RTR will also field of Honda Civic Si for the 2018 Season, with Tom O'Gorman behind the wheel. 2018 looks like a great year for Honda RealTime Racing. You can catch the action Saturday for the warmup round, and race action Sunday as round 2 of PWC is previewed and televised here.