Honda effectively reinvents the midsize pickup truck
Let's cut to the chase: I've driven pickup trucks from all major domestic and import brands for the better part of 4 decades. I know trucks, and a ladder frame is not required to build one. The unibody 2017 Honda Ridgeline is real-world-tested "trucktough!"
While I do realize that our headline makes a pretty bold statement as it pertains to midsize pickup truck technology and versatility, Honda just broke the barrier between midsize comfort and full size truck toughness with no compromise -- while measurably improving Ridgeline drivetrain performance, and dynamics, on and off road.
That's a big deal in a midsize pickup truck segment that's experiencing a bit of a renaissance with the repair of the economy. Honda, as with all of its current offerings, takes their own approach to what a midsize pickup truck can and should be.
Full price availability and specification to be announced Monday

You may argue all you wish as to what defines a pickup truck, "truck tough" and what in a world of mixed use utility vehicles, constitutes the best combination of fuel efficient on-tap horsepower and torque, while elevating creature comforts, active safety and personal electronic connectivity to a yet surpassed level in a segment historically populated by "good" but not great vehicles. As announced last week,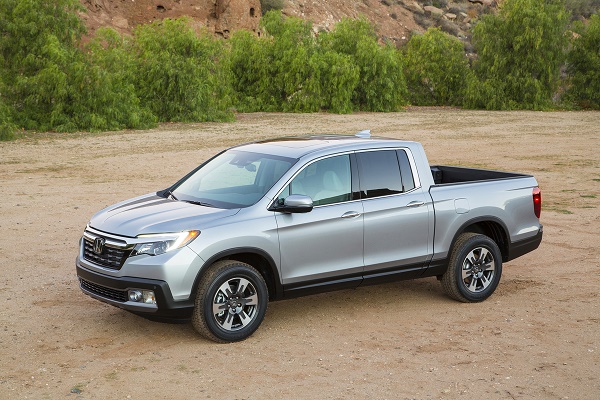 In rolls a superior unibody extended cab pickup with class setting features

Like most folks that read this article, I started my truck driving experience in Chevrolet, Ford and Dodge ½ and 3,4 ton pickup trucks. Back in the day most pickup trucks were ladder frame mounted, leaf spring, straight axle leviathans. They were as "rough as cob," fuel thirsty, and outside of a decent cab heater, and sometimes radio/ stereo knob, pushbutton activated entertainment, somewhat metal intensive and spartan.
2017 Ridgeline brings greater standard equipped engine power, fuel efficiency and traction technology to the midsize pickup truck segment. Today, more pickup trucks sell in North America than sedans and crossovers combined -- with a noticeable gap in the midsize category. While Ridgeline does share a manufacturing platform with Pilot, that's where much of the commonality begins and ends.

The Ridgeline difference is beneath the skin, and integrated into the driveline and suspension, with off-road tough durability.
With unprecedented demand for a refined pickup truck with car like ride, comfort, convenience and safety features, 2017 Ridgeline brings to the midsize pickup segment an unprecedented injection of all of the above. I believe that based on my personal lifetime of on and off road drive and ride experience with trucks, that Honda once again hits a home run in this growing segment -- with a vehicle that bridges the gap between truck-utility, and midsize premium car comfort and fuel efficiency.
The reinvention of the pickup truck: not too big, not too small
It's that spatial relationship thing that Honda does so well: The first time one sits in 2017 Ridgeline, the interior of this midsize extended cab pickup looks and feels nearly full size. The unobstructed visibility out the windshield is unsurpassed in this segment, as is the interior rear bench convertibility, cup holder count and storage cubby capacity.
Yet 2017 Ridgeline is far more than simply a 2016 Honda Pilot and a truck bed -- much more. We've just returned from a 3-day learn and drive adventure with 2017 Ridgeline. While attending the San Antonio on and off road demonstration, all performance aspects of Ridgeline were tested under real-word conditions -- it was what Honda claims it to be, superior!
Without violating our press embargo agreement with Honda, I can tell you this: Without reservation, as we drive-compared Ridgeline to segment sales leaders Chevy Colorado and Toyota Tacoma, both on and off the road, Ridgeline smokes the competition in overall cab comfort, drive and ride dynamics, as well as structural integrity.
You will find a full "first drive impressions" article here at Torque News Monday May 9. Thank you for reading.