Knowing that the reinvention of Honda's North American car lineup was effectively completed with the arrival of the well received 10th generation Civic platform Type-R, I riffled through the 2017 Automobility L.A., Press Days schedule -- nowhere was a Honda press conference noted -- there would be no segment busting auto news coming from American Honda this year -- in L.A. anyway.
Hey, it was bound to happen. Afterall, from CR-V SUV to Odyssey minivan, to Honda Pilot, Ridgeline, Accord, and Civic, Honda engineering has effectively reinvented the lineup, hitting a homerun with the car buying public. And then there's the 3rd generation Clarity fuel cell electric, transformed into a very user friendly electrified variant of great proportion, refinement of ride, and claims to the longest electric-drive-only between charging, or in this case refueling, of any electric car available in North America.
This is where Green Car Journal comes in: Honda earns 2 out of 5 finalist positions
There's no shortage of innovation in today's tech-advanced world of automotive innovation, and near autonomous, well connected, fuel efficient, near zero emissions personal conveyance. Honda finds itself in some stiff competition coming from the reinvented Toyota Camry, the Hyundai Ionic trilogy, and the reinvented Nissan Leaf -- all electrified, all drive dynamic.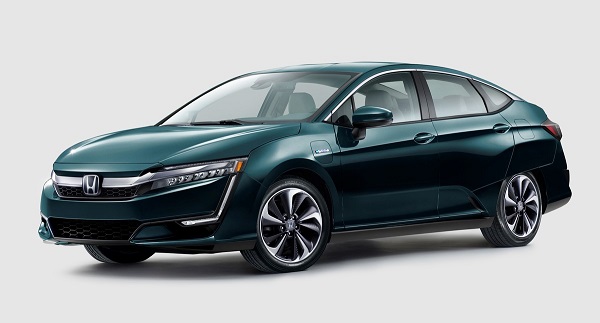 I have seat time in four of the finalist, and look forward to driving 2018 Nissan Leaf in December.
As to Clarity: As announced last week, the Clarity trilogy rollout is now complete with the market arrival of the 2018 Clarity PEV. (plug-in-electric-hybrid) Touting a 40+ mile electric-only drive range, Honda predicts this Clarity to be the best seller in the Clarity lineup.
2018 Honda Accord: The reinvented world platform, turbocharged Honda Accord brings refinement to the midsize sedan segment general reserved for premium sedans. Honda ups the stakes with Accord through standard feature advanced safety features, ease of personal electronic connectivity, class leading fuel efficiency, and full-size car comfort, and road smoothing road dynamics.
Honda's full lineup available for your review in Los Angeles
Although there's no Honda press conference scheduled for this week's 2017 AutoMobility Press Days, the Honda Tech Center will be fully represented, with Honda innovation and current model lineup in place for your viewing pleasure. Read more about Green Car of the Year here. 2017 AutoMobility, formally the L.A. Auto Show is open to the public Friday. Torque News will see you there.