Say what you will about very compact 2-row crossover offerings; not dirt-worthy; small; noisy; under powered, 2017 Mazda CX-3 while arguably small in dimension, puts a new spin on the compact sport Ute, and does so with drive and road handling dynamics generally associated with a compact performance sedan or coupe -- this crossover is fun to drive!
We compare Mazda CX-3 with Honda HR-V
Here at Torque News, we place an emphasis on comparative car and light truck review. In today's very competitive, consumer conscious auto world, one is hard pressed to find a truly "bad" car -- which makes it very challenging for auto review guys like myself to pen a fully objective 'like-for-like, comparative automotive review. With that said: Here's my latest Mazda CX-3 Vs Honda HR-V comparative drive review.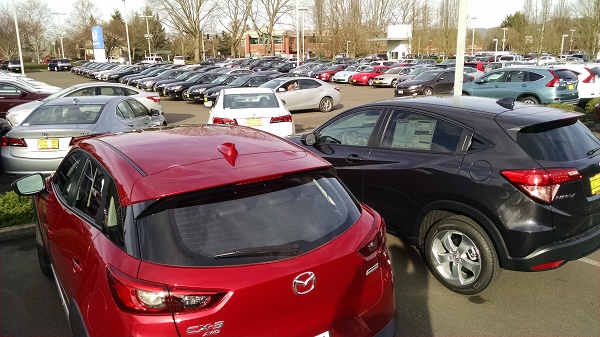 In reading my comparison, you will discover an unchanged from last year 2017 Honda HR-V, that takes this competition hands down for interior volume, configuration convertibility, and cabin quiet; although both vehicles in this comparison could be quieter. What has Honda done with HR-V for 2017?
Where Mazda CX-3 shines is in instant-on drive performance
Mazda CX-3 Crossover carries "Zoom, Zoom" forward into 2017, with no change as to beginning MSRP: $19,960 FWD Sport, to the top end $24,990 Grand Touring FWD +; or specifications -- other than the availability of 18 inch alloy rims in the mid level Touring trim package -- and the Safety-Tech bundle option, reduced by - $750. And that's a good thing!
Our Dynamic Blue Mica on Parchment leather CX-3 Grand Touring comes fully loaded with every conceivable feature, except power seats, priced at MSRP $28,810 -- slightly higher priced than a comparably equipped 2017 Honda HR-V Navi AWD, with an MSRP of $27,834 +.
After driving all the competition, in my view, 2017 Mazda CX-3 Grand Touring takes this segment for the 'pure joy of driving' -- essentially a compact performance crossover with Mazda Miata- like, in-town maneuverability; country-two-lane road carving; and mild off-road roaming capability, with way above average interior ergonomics and finish quality. But it doesn't offer the interior cubic volume, or expansive seats-down rear cargo deck that Honda HR-V does. But then again, with nearly 20% greater mid-range torque delivery than HR-V, what's not to like?