Let's get right down to it. 2016 Mazda CX-3, 5 door subcompact hatchback blows the doors off of the majority of the subcompact mini-utility segment. It's "in-your-face, a bit brash, and over-the top as to bright colored yet tasteful exterior/interior trim combinations -- fun to drive and reasonably comfortable.
Presented in 3 trim variants, The "SKYACTIV-G 2.0 L DOHC 16 valve 4 cylinder gasoline engine (146 hp /144 ft-lb torque) delivers ample power on demand, while approaching segment leading fuel efficiency 29/35 mpg in FWD trim. Mazda squeezes copious amounts of performance out of their mill by bringing maximum torque on at a very low 2800 rpm, and leaving it there -- darn impressive.
For 2016, Mazda CX-3 comes to market in FWD or AWD, with an exceptional "sport mode," paddle shifted, 6 speed automatic, and a MSRP of $19,960 to $24,990. From the well equipped front wheel drive "Sport," to the segment topping "Grand Touring" edition, Mazda CX-3 crossover offers much value for your dollar.
Flying by the seat of my pants
On first sitting, this XL sized journalist was pleasantly surprised by the head, leg and shoulder room found in the front seat of what would generally be considered a "tiny" car buy North American car standards. Furthermore, interior finishes, textures colors and the combination of burnished metals, leather and suede is arguably the best in class. One would be hard pressed to find the visual appeal of CX-3 in any European offering for under $35,000.

While the dash layout may be considered to be "Mazda quirky," it does work very well. Our test mule was equipped with every conceivable option, inherent to the segment anyway -- except for a blind-spot monitor camera, as found on the 2016 Honda HR-V. Instead CX-3 driver's will view a side mirror warning flash for blind-spot and rear cross traffic encroachment.
As to drive-control-manipulation, Mazda opts for a combination of touchscreen, rotary dial and illuminated center stack mounted digital controls, for climate control, infotainment, navigation, etc. Mazda's dash instrument cluster consists of a center floating dial, integrated RPM/MPG gauge sets, and side i-MID readouts for engine and fuel economy monitoring.
I like the combination, while others may prefer Honda HR-V voice and static touch-only activated controls. Ummmm, both combinations work very well here. I give the nod to Mazda for the exceptional Bose stereo system, the best in the segment.
Although I would consider CX-3 to be (very) sub compact in size and stature, Mazda's done an exceptional job of creating an illusion of midsize car space and subsequent comfort -- although utilizing the center cup holders, and the center armrest concurrently "ain't-gonna-happen."
Center console glove box? fugetaboutit! Honda HR-V somehow does both, with a coupe-like driver environment, pass under personal electronic connectivity, and phone bay. But then again HR-V is longer, a bit wider and definitely taller than Mazda CX-3. The difference in dimension becomes quite evident in the second row. Adults will wish to pass on sitting in the rear plush, yet tight confines. For those passengers over the 6-foot tall mark, opt for "shotgun" position.

What one won't find in Mazda CX-3 is class setting cargo volume, or exceptional passenger seating behind the first row. (that honor belongs to 2016 Honda HR-V) However, there is some hatchback utility back there. 2016 Mazda CX-3 in its essence, is a personal driver exhibiting crossover tendencies -- and decent "transformer-like" hatchback utility, albeit secondary.
Drive, handling, ride and seating comfort
While initially finding the leather covered manually adjusted driver's pod to be park-bench hard, after a day or so of driving CX-3 crossover, (ours was equipped with all wheel drive, a 2.0 Liter Skytrac gasoline 4 cylinder engine, 6 speed automatic transmission, and wheel mounted paddle shifting) I couldn't wait to get back into the driver's seat of this very capable urbane assault vehicle, for an extended drive or two.* I truly appreciated the one-finger control sensitivity of the steering wheel to road connectivity.
Our 2016 Mazda AWD "Grand Touring" CX-3 is train-track stable under all road and weather conditions. It's a bit " mind blowing" as to how well this subcompact crossover handles, without the usually associated harsh bone-jarring ride. However, the interior road noise level, engine to cab noise transference, and mirror generated wind noise, is higher than that of 2016 Honda HR-V -- not the quietest vehicle in the Honda stable.
Both vehicles are a bit raucous as to high-revving engine to transmission interface, as we take these stellar subcompact hatchbacks through their paces. That's the nature of a high output, efficient, fuel injected low displacement 4 cylinder engine.
With both Honda CR-V and Mazda CX-3 crossovers remaining south of '150' as to usable engine horsepower power and torque, it's where the torque comes on that makes the difference in this comparison.
For sheer engine and drive performance, I tip my hat to Mazda. And the reason for that is a torque curve that comes on at 2880 rpm and stays there. I discovered zero torque lag in CX-3 while working this 6-speed through the twisty two lane.
"Go Zoom Zoom" Great, how about interior quiet and class setting utility
This is where I switch gears and drop into the unique drive and ride environment that is 2016 Honda HR-V.

Honda's Fit world-car platformed crossover comes to market with segment leading interior volume, a 60/40 "magic seat," near flat-deck cargo platform, with the tallest deck to ceiling 'tall item' hauling capability of any coupe-like, car based crossover, available in the subcompact class.
2016 HR-V not only takes "Green Car" accolades for stellar segment topping fuel economy, but also earns 5-Star safety ratings due to ACE ™ frame technology, active and passive safety features specific to Honda HR-V..
Although HR-V crossover may not be as "in your face," as Mazda CX-3 is as to exterior body design, it doesn't have to be. in my qualified opinion, both vehicles bring their own unique style to the segment, and don't necessarily appeal to the same demographic of consumer.
You know, you're probably not going to see too many senior citizens driving a bright candy-red CX-3 anytime soon, and that's where Honda HR-V gets the tip of the hat -- it has broad demographic appeal. Honda Fit like, with a bit more flash, yet not over the top.
Priced from $19,215 to $25,990, HR-V comes on to market at $750 less than Mazda CX-3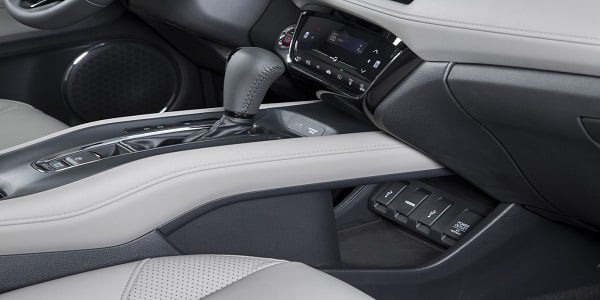 Spread the price difference over 4 years, that's movie money. Setting the price difference aside for a minute, I find that 2016 HR-V, while (perhaps) not as visually captivating as CX-3, brings a unique dynamic to the market that one would have to move up to CX-5 to capture -- that midsize-like interior comfort, cargo volume, and dare I say it, refined road manners and reduced road to occupant noise transference.
While not interior quiet by premium car standards, 2016 Honda HR-V is a bit quieter on the road than Mazda CX-3. I further find superior interior to exterior visibility accolades to go to Honda's corner, with a higher driving position enabling a greater unobstructed visual vantage point front to rear.
As to the engine, transmission interface
That's a close call for this journalist. While Honda's CVT represents the state of the art in that technology, I still prefer a more conventional automatic transmission. in this comparison, both maker's do a commendable job here. I'll leave this comparison up to personal preference.
Honda HR-V touch screen connectivity, navigation and accessory controls

You know… when you're driving, fumbling around in the dark, or simply attempting an adjustment while controlling an automobile, there is some comfort in a well placed manual knob or two.
Mazda has opted to retain a few well lit control knobs in strategic places. They work well in CX-3, and I being "old school," prefer a manual knob controller now and than, to a "hope to heck I hit the right spot" static touchscreen controls.
Yes, I know that HR-V owners do have access to voice command -- so does Mazda. Sometimes it works, sometimes it doesn't. I'll hand this segment of the article to Mazda.

In closing: Both makers present their own unique read on what consumers expect from a well crafted sub compact sport Ute. Both vehicles perform well within the guidelines of the manufacturer's intended market demographic.
For me, 2016 Mazda CX-3 is more of a young pre-family enthusiast's car, exhibiting crossover tendencies. It's not a "family hauler," nor do I believe it was designed to be -- not in North America anyway. It's a blast-to-drive, and that's what should be done with it.
While 2016 Honda HR-V does present very capable Civic-like road handling, CR-V inspired versatility, and Fit-like fuel economy, it's not a dedicated sports crossover. However, wash it off after a hard day's commute, and HR-V looks great out on the town, hauling furniture, or trekking to the beach. You can fit 5 full size adults in HR-V, I know, I've done it -- something you can't do in Mazda CX-3. As to the styling, pure Honda. Either you'll like it or you won't.
For those of you that require midsize interior cargo volume and full 5-passenger capacity from your subcompact crossover, I recommend HR-V. For the driving enthusiasts that requires minimal hauling capacity and a bit of crossover utility from their daily driver, 2016 Mazda CX-3 may be your best choice. As always, I recommend test driving both before writing the check.