2017 Honda HR-V crossover unchanged from 2016
O.K., I'll admit it! I'm one of those Honda fans that predicted a near future offering of the coupe-like HR-V subcompact hatchback in a turbocharged performance variant. In fact, I went so far as to state that HR-V could be Honda's perfect performance hatchback after attending this show.
There they sat in their mildly customized glory, waiting for the SEMA Show aftermarket manufacturers to open a flood gate of HR-V performance and accessory modifications -- it didn't happen, for the U.S. market anyway. A shame really! Not only is Honda HR-V very cool looking, it's fun to drive, albeit just a tad under powered.
And that's where that 1.5 Liter turbo 4 would come in

Seriously, the only complaint that we've read from 2016 Honda HR-V owners over the year is the want and wish for a bit more pedal. But, according to Monday's Honda News, 2017 HR-V will arrive in dealerships beginning today, essentially and utterly unchanged.
Apparently the powers to be at Honda are happy enough with the sales numbers, and reliability reported by new HR-V owners. I enjoyed spending a week in the seat of the 1.8 Liter 16 valve 4 cylinder, CVT or 6-speed manually shifted subcompact crossover here.
A viable Fit alternative with coupe-good-looks
And in practice, it's fuel efficient 141 horsepower/ 127 lb-ft torque proved to be sporty enough under most applications. I took our all-wheel-drive HR-V test ride off road for a few miles and found it to be quite capable. So, other than the addition of a new exterior color to the pallet, what became one of Honda's success stories for 2016 will be carried over for 2017, with a beginning MSRP of $19,365 + for the HR-V LX 2WD 6 speed manual transmission variant.
In a world according to Honda

*With bold and sporty coupe-like styling, SUV versatility and a 34-mpg EPA highway fuel economy rating (2WD CVT), by any measure the 2017 Honda HR-V is a standout in the entry crossover market. Delivering outstanding value with a long list of standard features and technologies, including 17-inch alloy wheels, push-button electric parking brake with Automatic Brake Hold, rearview camera with guidelines, Pandora® radio and Bluetooth® HandsFreeLink®, the 2017 HR-V also adds a sophisticated new color – Lunar Silver metallic – to its palette, replacing Alabaster Silver.
Available in LX, EX and EX-L Navi trims, the 2017 HR-V is powered by a highly refined and efficient 1.8-liter 4-cylinder 16-valve DOHC i-VTEC® engine producing a peak 141 horsepower and 127 lb.-ft. of torque. The engine is paired with one of two efficient and responsive Honda transmissions: a seamless and sporty continuously variable transmission (CVT), available on all models, or an engaging 6-speed manual transmission, available on LX and EX models with 2WD.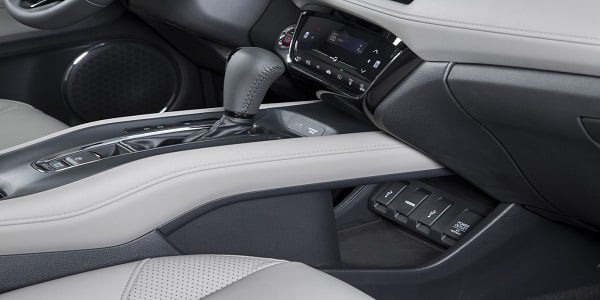 2017 HR-V Pricing and EPA Fuel Economy Ratings
Trim
Drivetrain
MSRP1
EPA MPG2 Ratings (city/
highway/combined)
LX
2WD w/ 6MT
$19,365
25/33/28
LX
2WD w/ CVT
$20,165
28/34/31
LX
AWD w/ CVT
$21,465
27/31/29
EX
2WD w/ 6MT
$21,415
25/33/28
EX
2WD w/ CVT
$22,215
28/34/31
EX
AWD w/ CVT
$23,515
27/31/29
EX-L Navi
2WD w/ CVT
$24,840
28/34/31
EX-L Navi
AWD w/ CVT
$26,140
27/31/29