As predicted earlier by Torque News and others, 2017 Honda CR-V SUV comes to market in December 2016 turbocharged, producing more torque and greater fuel efficiency. There's a lot "more" to the story that's Honda's greatest CR-V upgrade to date.
For 2017, Honda expands 1.5 Liter direct injected 4-cylinder turbo power to CR-V, the best selling compact SUV in the U.S.. The turbocharged Honda Civic is currently set on a trajectory to once again dominate the compact sedan segment. Honda will build on that momentum by expanding the option of turbocharging throughout the brand, beginning with the Civic world-compact-platform-based 2017 CR-V.
As the auto industry goes, so goes Honda. Once again this at one time subcompact, and now compact SUV, grows a bit in the second row and rear storage area, as it taps on the rear bumper of the midsize SUV segment -- home to Honda Pilot, Toyota Forerunner, Nissan Pathfinder, and others.
2017 CR-V comes to market supersized by compact CUV standards, exceeding the driving public's demand for greater comfort, fuel efficiency, safety, and (possible) 3-row utility -- the reinvented CR-V looks stunning doing so.
By injecting turbocharged engine technology into the CR-V lineup, Honda not only increases the fuel efficiency, and instant-on throttle response, but increases CR-V's torque, right where it's needed, in the mid-range. Personally, I'm hoping for a quiet, vibration-free CR-V.
2017 CR-V offers 2-engine choices, one transmission
In several extended drive reviews, I found no problems with the drive and ride dynamics of the "refreshed" 2015, 2016 CR-V. 4 million CR-Vs have been sold in the U.S. since the iconic compact SUV was launched in 1997 -- making it the best selling SUV of any size in North America. We first discovered the refreshed Honda CR-V in "Surf City."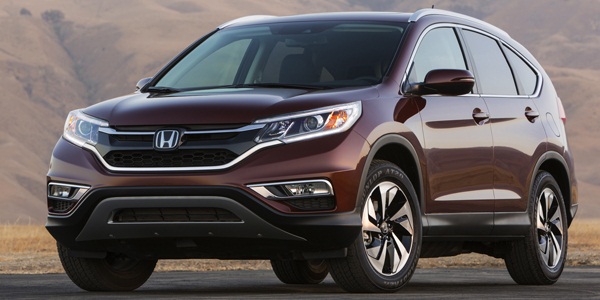 In the words of Honda's Mr. Jeff Conrad
"The new Honda CR-V raises the bar in every imaginable way, delivering more performance, space and premium content together with higher fuel economy ratings and value than ever before," said Jeff Conrad, senior vice president and general manager of the Honda Division. "Customers are going to love what they see and what they experience behind the wheel of this new CR-V."
As American driver's continue to trend from sedans to crossovers, Honda anticipates such high demand for CR-V, that Greensburg, Indiana is being added to CR-V specific production capacity. There should no shortage of dealership inventory in model year 2017.
A peek at the reinvented 2017 Honda CR-V
Honda's taking off the stops here in the reinvention of CR-V. As is said, "a picture says a thousand words." Take a look at it! As to specifications? I'm feeling just a bit lazy today. So, let's start with the engine and driveline: New Powertrain and Chassis Technology
*The 2017 CR-V in EX and higher trims will feature CR-V's first ever turbocharged engine, a more powerful and fuel-efficient 1.5-liter DOHC, direct-injected and turbocharged in-line 4-cylinder powerplant rated at 190 horsepower (SAE net) and delivering incredibly refined and responsive performance across the engine's full operating range.
Combined with the CR-V's more aerodynamic body, the new turbocharged powerplant will garner the highest EPA fuel economy ratings in the compact SUV class. CR-V LX trims will be powered by a 2.4-liter DOHC, direct-injected i-VTECÔ engine, and both engines will be mated to a smooth shifting and sporty continuously variable transmission (CVT) with Honda G-Shift control logic. Detailed specifications, including EPA ratings, will be provided closer to launch.
The all-new body and chassis design in the 2017 CR-V provides more agile and confident handling, greater refinement, additional ground clearance and superior overall versatility. Its front MacPherson strut and rear multi-link suspension utilize specially tuned low-friction dampers, with both FWD and AWD models including tubular front and solid rear stabilizer bars that promote quick turn-in and flatter cornering. Dual-pinion, variable ratio Electric Power Steering (EPS) also contributes to the CR-V's direct and satisfying steering feel.
*American Honda Motors 2016