To say that 2017 Civic Honda Hatchback is a car of many firsts, is a bit of an understatement. Monday morning found American Honda Motors not only confirming a Fall dealership arrival of the 10th generation Civic platformed 5 door hatchback, but details as to powertrain configurations, trim variants, power output, estimated fuel efficiency and probable frontal overlap crash test rating -- all, "best of segment."
Turbocharged only, 2 transmission options
Unlike the entry level 2016 Honda Civic Sedan and Coupe, the manufactured in Swindon, European inspired 5-door Hatchback will come to North American markets powered by the manufactured in Anna, Ohio 1.5. Liter , direct injected, turbocharged EarthDeams ™ 4 cylinder gasoline engine, with CVT or select model 6 speed manual transmission options.
Honda moves towards a turbocharged, near zero emissions, low displacement future
2017 Honda Civic Hatchback is available in LX, Sport, EX, EX-L, and Sport Touring Trim. Honda reports that a standard 174 horsepower, 162 lb-ft torque will power the front wheel drive hatchback -- with the most powerful factory engine in Civic history pumped up to 180 horsepower/162 lb-ft torque doing the heavy lifting in the top of the lineup Sport Touring.
Honda further predicts that the CVT motivated 2017 Honda Hatchback will average EPA-MPG 31/40/34 on regular unleaded gasoline, making it the most fuel efficient in the 5 door compact hatchback near-performance segment. How quick is 2017 Civic Hatchback? We look to this car for an answer.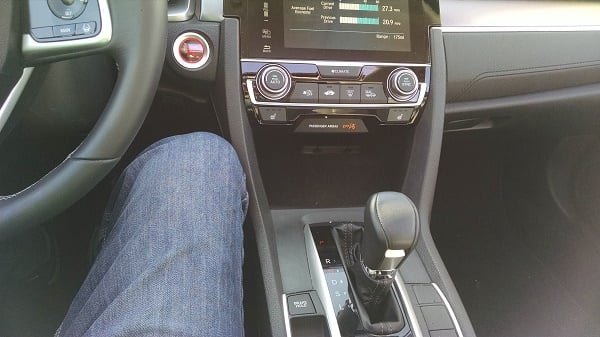 Mr Jeff Conrad's pretty darn happy with it!
"The Civic Hatch has been a staple for Honda in Europe, but has long been the forbidden fruit for Honda fans in the U.S.," said Jeff Conrad, senior vice president and general manager of the Honda Division of American Honda Motor Co., Inc. "Now, we're bringing this sporty, stylish and versatile Civic Hatchback to North America, as we amp up the performance of our incredible Civic lineup with each new Civic model."
An opportunity to grab some Civic Type R design elements
Here's where it gets exciting for Civic Type R fans: The "Sport Touring" variant will come to market with 180 peak horsepower and a high flow centered and highly visible exhaust, hydraulic dampening, decent road handling dynamics and an uptick sport-like interior. It's an opportunity to purchase a Civic sport-touring-hatch without breaking the bank. I like that! As to MSRP, we'll have to wait a week or two for that.