It's an interesting sensation, bringing with it broad implications of superior fuel efficiency, and a bit of a quirky learning curve not necessarily specific to 2017 Honda Accord Hybrid. There's no transmission in Honda's latest 2 motor, 1 engine advent, It's a hybrid gasoline/ regenerative-electric EV thing.
Get used to it! We're looking at Honda and other auto maker's preferred take on the future, as to a viable, and relatively affordable electrified form of personal conveyance -- no A.C. electric plug required. And frankly, an easy, near seamless transition from the internal combustion engine to extended range EV (electric vehicle) personal transportation.
We discover the joy of 50 mpg
For 2017, Honda is back to the future with a new and improved version of the Accord Hybrid. Visual, it's a beautiful car, with elegantly sculptured lines, perfectly aerodynamically integrated head, tail lights, and a very cool looking 3-D grill. For the Accord Touring trim level, Honda design integrates just enough "bling" into this Hybrid to push the limits of a too often appliance-like midsize sedan segment.
This midsize sedan is premium, and in top trim pushes the $35,000 price barrier. (Starting MSRP $29,605) In my opinion, after spending a week in the seat, Accord Hybrid's worth every penny. I first experienced the next generation Honda Accord in Davis, California. And after adjusting my mindset (a tad) as to what happens during hard acceleration, left the drive event with a genuine appreciation for Honda's latest, and presently last standing hybrid offering in North America.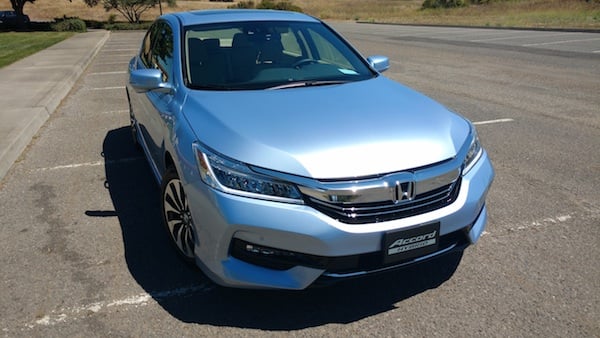 Direct drive, regenerative braking, high torque and fuel efficiency
Honda engineering employs its segment setting low displacement Atkinson Cycle engine, and two integrated electric motors, to effectively offset an automatic, conventional or CVT transmission. Under most driving conditions, Accord Hybrid runs primarily in EV mode, with the gasoline engine acting as a co generator, along with regenerative engine braking, to maintain the battery module charge level.
How it works
A bit simplified: When high speed passing, highway ingress, or sustained high speed highway cruising is demanded, the Atkinson Cycle gasoline engine is employed for additional torque, while charging the battery module. I experienced intermittent EV only cruising up to 50 miles MPH, although short lived. Deceleration in Accord Hybrid is accomplished through "regenerative braking." And, it comes on pretty hard.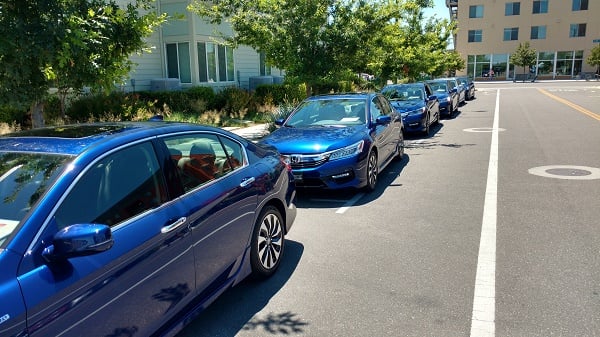 Basically, the rare earth magnets do the duties of a transmission in Accord Hybrid. The downside is an instantaneous high revving of the gasoline engine on hard acceleration, there is no controlled "shifting." This is the only time that Accord Hybrid is not library quiet.
As with Toyota Prius, Chevy Volt and other gasoline/electric hybrids, when you push the key less ignition button in Accord Hybrid, there is no start of a conventional gas engine. Your adventure in Accord Hybrid begins in near silent electric drive, as it should. I'll continue the story this month with a full drive review of 2017 Honda Accord Hybrid Touring. Thanks for reading.