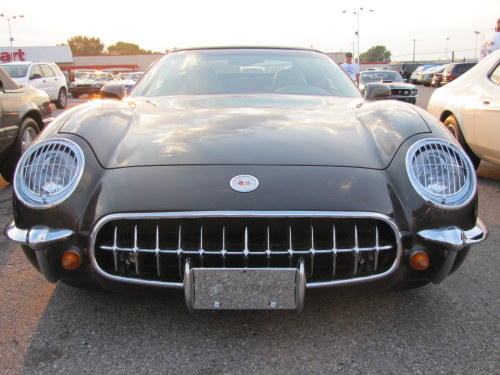 Closer look at the limited edition, C5 Corvette with 1953 body style
Please
SHARE
with friends and include TorqueNews in
Google Alerts
for tomorrow's interesting stories.
There were plenty of visitors to this car as it was staged on the K-Mart lot (Southwest corner of Harper Avenue and 9 Mile Road), and with good reason. It's not everyday you see a C5 Corvette, in this case a 2004 platform with 1953 Corvette body panels.
Fact is this car is number 196 out of 200 vehicles built by AAT, Advanced Automotive Technologies out of Troy, Michigan.
I first noticed this car at the 2011 Gratiot cruise. Then I saw it again on the Wednesday before the 2011 Woodward Dream Cruise. Each time, though, I was unable to speak with the owner; that is, until the Kiwanis Harper Charity Cruise.
And that's why I like the Kiwanis Harper Charity Cruise the most. You get to experience cars and owners up close and personal; and the video below proves that.
First, the car catches your eye because it look like a 1953 Corvette but looks larger than how you remember it. Well, that's because the panels are custom built to fit the C5 Corvette platform. There's no disrespecting the headlamps covered by a wire mesh as it was in 1953.
Please include TorqueNews in
Google Alerts
to receive tomorrow's stories and
SHARE
this with friends if it was interesting.
At first I thought it night be kit car, but it's not. Still the craftsmanship looked so good that I was convinced only pros could do this.
According to the owner, GM was considering doing this for a 50-year anniversary of the Corvette. Frankly, I was there but do not recall that ever being mentioned. If anyone at GM can validate that story, please comment below this article.
As you will se in the video interview, the owner intends to make changes to the interior next, plus some work on the exterior, Frankly, I don't want his to touch the style, Maybe he's considering custom paint. Anyway, he was mum on the exact details.
That means we will have to wait until next year. How about the 2012 Detroit Autorama? In the meantime, enjoy the video and sideshow set.
-----------------------
About the Reporter: After 39 years in the auto industry as a design engineer, Frank Sherosky now trades stocks, futures and writes articles, books and ebooks like, "Perfecting Corporate Character," "Awaken Your Speculator Mind", and "Millennial World Order" via authorfrank.com. He may be contacted here by email: [email protected] and followed via [email protected]
Pages
Please
SHARE
with friends and include TorqueNews in
Google Alerts
for tomorrow's interesting stories.