You know a leak can be damaging, especially when it's a water leak. Subaru has a leaky problem that needs to be fixed. It's not water, but it's already caused damage. The new remodeled SUV will make its global debut today, but unfortunately for Subaru of America, the 2025 Forester has been leaked. You have already seen the images here if you are a regular reader. 
I covered the leaked compact SUV last week when images of the next-generation Forester made their way online, and the damage was done. Subaru can't be happy about it because they have been doing everything to keep it secret.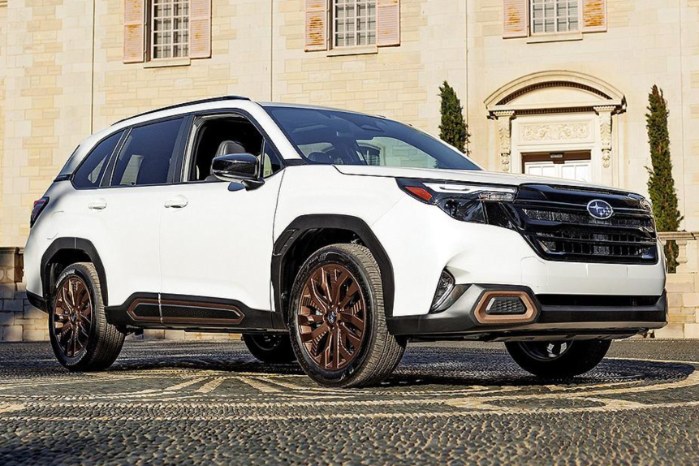 I don't know who caused the leak, but Imgur revealed the complete images of the new 2025 Forester, some of the photos of which you have likely seen already.
Subaru says, "There's a new kind of legend just waiting to be discovered. The newly redesigned Subaru vehicle, featuring new technology, upgraded safety, and more, is on its way to the Los Angeles Auto Show. Sign up now to get more information."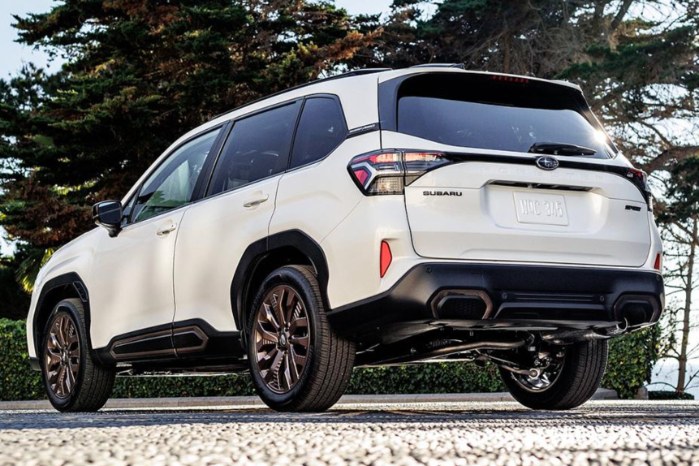 Forester exterior upgrades
I reported earlier that the new Forester has large greenhouse windows for excellent driver outward visibility, 19-inch wheels on what looks to be the Sport trim level, Symmetrical all-wheel-drive, and plenty of black body cladding. The Forester Sport looks to stay with 8.7 inches of ground clearance. 
On the outside, the new 2025 Forester has new exterior upgrades with a new wheel design, new headlights and grille, and new rear taillights. The Forester does not appear to have grown much in size. So, it likely has the same footprint. 
New upgrades inside
Inside is a new 11.6-inch infotainment touchscreen from the new Subaru Outback, Crosstrek, and Impreza, as well as similar steering wheel, seat, and console controls. 
The Remodeled Next-Gen 2025 Subaru Forester Is Leaked With Images, Engine Details, And Interior Upgrades Before LA Reveal via @SubaruReport @torquenewsauto#subaru #forester #subaruforesterhttps://t.co/xPoFH341nb
— Denis Flierl (@DenisFlierl) November 11, 2023
The same 2.5-liter Boxer engine under the hood
Under the hood, the leaked images appear to show the same 2.5-liter non-turbo, Boxer engine in the current fifth-generation Forester compact SUV. I think Subaru will increase horsepower and torque slightly in the new sixth-generation Forester. 
I expect Subaru Corporation will upgrade the new Forester with improved suspension and ride quality over the outgoing 2024 model. 
New EyeSight safety technology
The 2025 Forester will surely get significant safety upgrades with the new Subaru EyeSight safety technology. The new safety tech will feature more "hands-off" driving capabilities.  
Subaru of America will uncover the "all-new fully redesigned vehicle" today at 9:40 a.m. Pacific time (12:40 p.m. Eastern) at the 2023 Los Angeles Auto Show. 
I will bring you the complete details and Subaru's official photos of the next-generation 2025 Subaru Forester. Stay tuned. 
Thanks for reading, everyone. I hope you enjoyed this Subaru Forester story. See you tomorrow for my latest Subaru Report.
For additional articles related to the new Subaru Forester, here are a few of my top stories you may enjoy. 
My Must-Read Top Picks
I am Denis Flierl, a 12-year Torque News senior writer with 20+ years of Subaru and automotive journalism experience. I enjoy bringing you, the Subaru fans and customers, the most up-to-date Subaru news, reviews, and new model information. You'll find the latest Subaru stories on the Subaru page. Follow me on my The Dirty Subaru website, Dirty Subaru blog, SubaruReport, All Subaru, WRXSTI, @DenisFlierl, Facebook, and Instagram.
I've got you covered! - I cover all Subaru all the time - It's called the "Subaru Report." Check back daily for my expert Subaru analysis!
Please leave your comments below, share the article with friends, and post X to your followers! 
photo credit: Imgur