Subaru of America (SOA) announced the all-new 2024 Subaru WRX TR performance sedan. The new trim level was revealed before it debuted at Subiefest in Florida at the Daytona International Speedway tomorrow. Here are the full details.
As I said in a previous report before the announcement today, Subaru would unveil the all-new 2024 WRX TR with a 6-speed manual gearbox compatible with EyeSight, and the safety tech will now be a standard feature on the new WRX TR sports car. And they did today.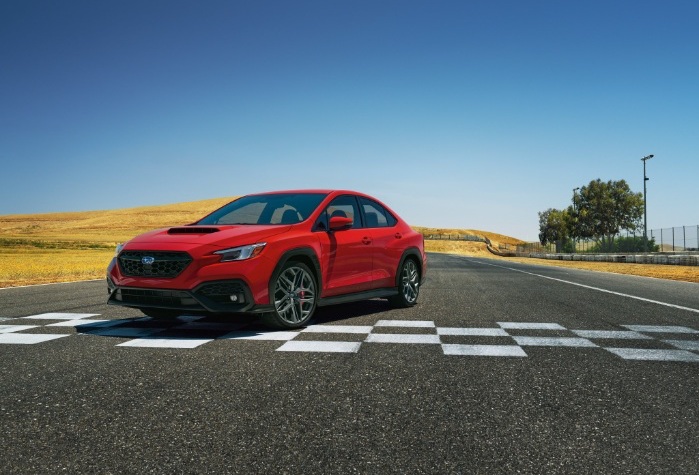 Until now, Subaru Corporation has not fitted the WRX manual transmission models with EyeSight safety technology because they weren't willing to invest the resources to make the driver-assist system work with a manual gearbox. But that changed with the 2024 WRX TR trim level.
More new TR upgrades are coming.
The 2024 WRX TR is more than an appearance package. Subaru of America says it comes equipped with a high-performance Brembo braking system, stiffer springs and revised damping rates for better body control and steering response, new 19-inch wheels paired with Bridgestone Potenza S007 tires, a retuned steering for improved road feel, standard Recaro black and gray Ultrasuede front seats, and a moonroof delete for weight savings and low center of gravity. 
A high-performance Brembo braking system
"The WRX TR comes equipped with a high-performance Brembo braking system including red 6-piston front calipers, red 2-piston rear calipers, larger pads and rotors, and a larger brake master cylinder. The new system provides enhanced stopping power, fade resistance, and pedal feel."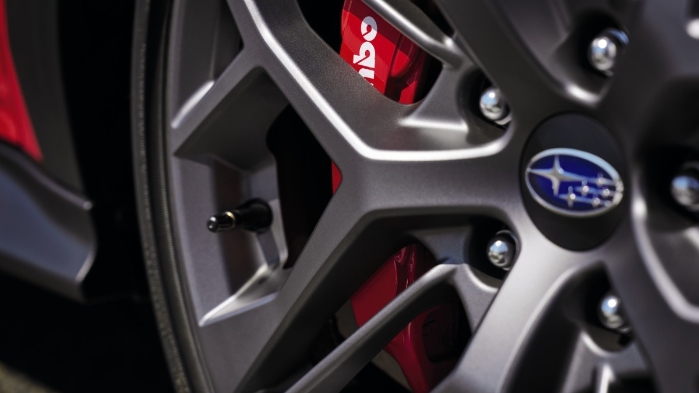 Stiffer springs and revised damping rates
"Stiffer springs, revised damping rates, and a retuned steering rack provide the WRX TR with better body control and steering response while maintaining ride quality. The TR also has 245/35 R19 Bridgestone Potenza S007 tires for increased wet and dry grip and improved braking performance."
6-speed manual transmission with EyeSight Driver Assist Technology
"Offered for the first time on WRX with manual transmission is EyeSight Driver Assist Technology. The award-winning safety system includes Adaptive Cruise Control, a Pre-Collision Braking System, Lane Departure and Sway Warning, and a Lead Vehicle Start Alert. All 2024 Subaru WRX models equipped with a manual transmission will include EyeSight as standard equipment."
Standard Recaro seats  
"The new top-tier WRX TR comes standard with Recaro seats, offering the driver and front passenger increased support for performance driving. The Y-shaped design at the center of the seat backrest embodies a design concept in which the sides and shoulder blades of the occupant are securely supported to maintain proper driving posture. The seats are wrapped in black and gray Ultrasuede® with contrasting red stitching and embossed "Recaro" logo on the seatbacks. The driver's seat includes 8-way power adjustments."
Subaru says the power moonroof has been deleted for weight savings, a lower center of gravity, and additional headroom for helmeted drivers. 
Subaru did not say what the TR stands for, but the 2006 WRX TR stood for "Tuner Ready." Since many WRX owners customize their cars the second they drive off the lot with after-market performance upgrades, Subaru decided to spec out the model just for them. It was a stripped-down special edition.
With 2024 marking the return of the WRX TR to the model line, this is not a bare-bones model like the 2006 version. The top trim level will be available at U.S. Subaru retailers in the first quarter 2024. Stay tuned for pricing. 
For additional articles related to the Subaru WRX, here are a few for your consideration:
Denis Flierl brings over thirty years of combined auto industry and automotive journalism experience to Torque News readers. He is an accredited Rocky Mountain Automotive Press (RMAP) member. The last twelve years have been spent with Torque News, covering Subaru vehicles and the latest news. Check back daily for his expert Subaru analysis. You'll find the latest stories on the Torque News Subaru page. Follow Denis on Facebook, Social Media Platform X, and Instagram. 
Subaru Report - We've got you covered! Check back tomorrow for more unique, informative SUBARU news, reviews, and previews you can trust.
Please leave your comments below, share the article with friends, and post X to your followers!
Photo credit: Subaru