There is the Honda Civic and there is the rest of the compact car segment. The 2019 Honda Civic gets a refresh and it's still the top dog beating the Toyota Corolla, Subaru Impreza, Nissan Sentra, Ford Focus, and Hyundai Elantra. This week we drive the 2019 Honda Civic 1.5T Sedan Touring model. See what improvements it gets to make it even better.
What's new for 2019 Honda Civic?
The 2019 Honda Civic, made here in the U.S., gets a restyled front end, an updated infotainment interface that brings hard buttons for high-level functions, and the return of a volume knob which was an issue in the outgoing model. Additionally, all Civic trims get additional features from the Honda Sensing bundle, which is now standard. It includes adaptive cruise control, forward collision mitigation, and lane departure warning with lane keeping assist.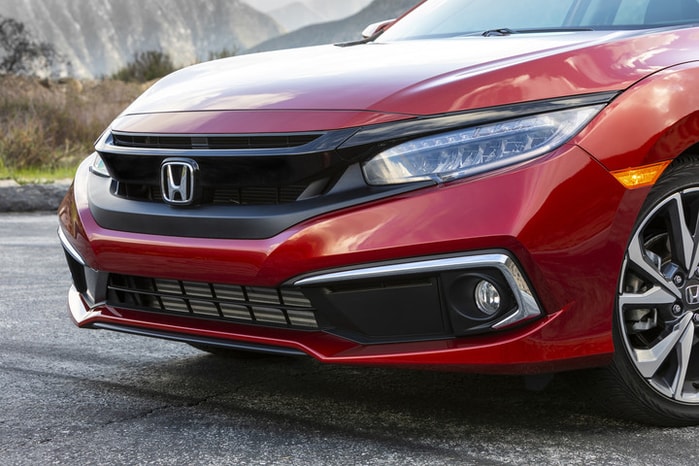 There have been reported problems with the Civic and CR-V 1.5-liter turbo engine having oil dilutions problems. Honda says they have addressed the issue with updated software at the factory.
2019 Honda Civic Features & Options
The refreshed 2019 Honda Civic 1.5T Sedan Touring ($27,300) comes standard with foglights, a center-outlet dual exhaust, 60/40-split folding rear seatbacks, a rear center armrest with cupholders, sport pedals, a leather-wrapped steering wheel and shift knob, dynamic guidelines for the rearview camera, keyless ignition and entry with remote start, a 7-inch touchscreen interface with HondaLink, Apple CarPlay and Android Auto integration, and an eight-speaker audio system with dual USB ports.
It also features upgrades over the standard model with leather upholstery, a power-adjustable passenger seat, an auto-dimming rearview mirror, 18-inch wheels, LED headlights, automatic wipers, paddle shifters, heated front, and rear seats, and a 10-speaker audio system. Also standard is an integrated navigation system.
Civic also comes with the Honda Sensing safety package. It includes adaptive cruise control, lane departure warning and keeping assist, road departure mitigation, automatic high beams, and forward collision warning with automatic emergency braking. Total MSRP including destination on this Touring tester: $28,220.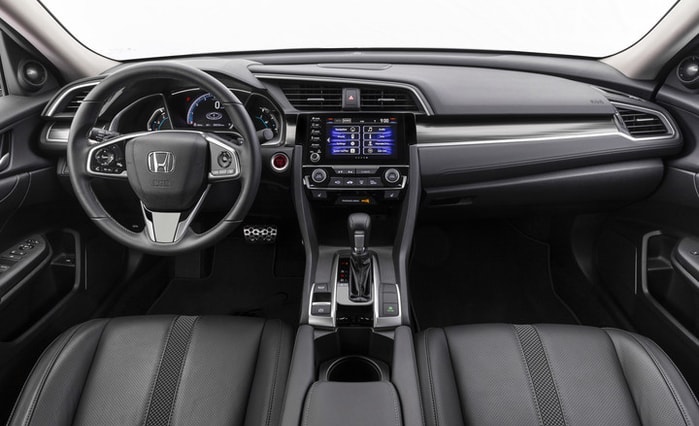 Interior Highlights
The top-of-the-lineup 2019 Civic Touring cabin feels up-class and sophisticated with its horizontal dash with a single screen. Touring features a digital display on an LCD screen with a 270-degree tachometer. This tester came with an attractive grey interior and the quality of materials throughout the cabin are top notch, as are the leather seats.
Honda addressed our previous complaint with an updated infotainment interface that brings with it the return of a volume knob for the Civic which is a lot easier to use than the prior touch-sensitive slider. The touchscreen, however, still isn't the easiest to use.
There's an abundance of soft-touch materials throughout the Touring trim and the sport seats are comfortable with more legroom front and back on this tenth-generation model. The cabin feels bigger than expected for a compact model.
The dash is low and the front seat raises, so forward and side visibility is excellent. There are plenty of storage spots and the 15-cubic-foot trunk held the extra cargo we hauled this week. The only complaint we have is the tilt/telescoping steering wheel adjustment is tucked deep under the steering column. It's hard to find, otherwise, this cabin is excellent and impressive for this class.
2019 Honda Civic Engine & Fuel Mileage Specs
This Touring gets the upgraded turbocharged 1.5-liter four-cylinder engine producing 174 horsepower and 162 lb-ft of torque. It's worth getting with its turbo power especially at altitudes.
The Continuously Variable automatic Transmission is the only available gearbox in the Touring trim. Fuel economy for the turbocharged Civic is an EPA estimated 30/38 city/highway and 33 combined mpg.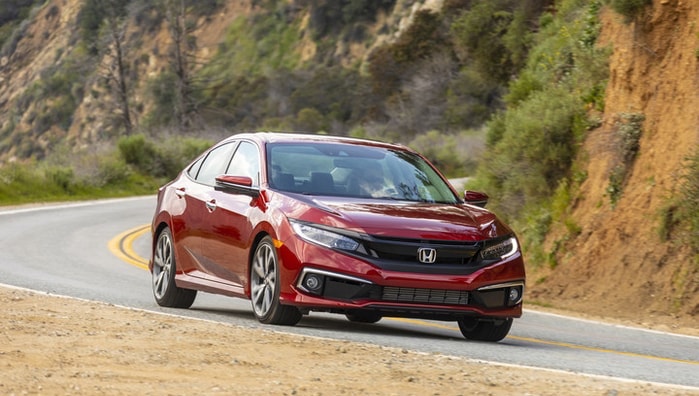 Driving Dynamics
The Civic with the 1.5-liter turbo engine is higher on the fun-to-drive meter than most compacts. We were surprised at the power and the fuel mileage it gets. We averaged close to 40 mpg and we were pushing the Touring hard all week. We were also surprised at how well the CVT automatic transmission works. Others in this class are not nearly as responsive.
The new Civic sedan delivers a smooth ride and a general feeling of refinement. It's not a sports sedan, but it handles well in the mountain curves and stayed fairly flat when we pushed it hard around the tight corners. It's a good city commuter and especially easy to navigate in traffic with the Honda Sensing safety package.
The 1.5-liter turbo engine has enough power for all driving situations and it sounds sweet at full throttle, though there is some turbo lag. On the open highway, the ride and handling are precise, composed, and generally compliant. It handles the bumps well and stays calm even on dirt roads. Overall, this is one of the best powertrains in the compact class, offering both fuel efficiency and performance.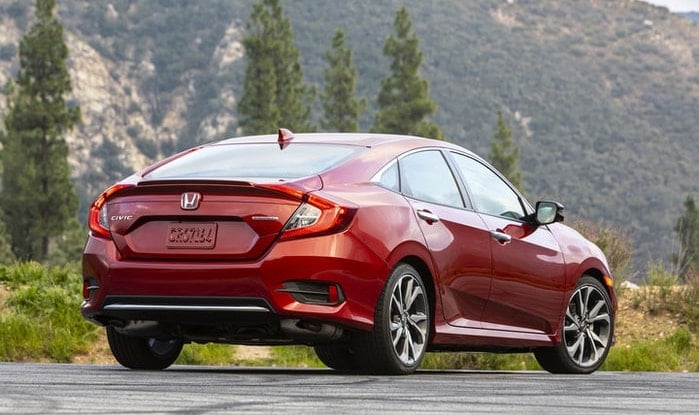 Conclusion
The 2019 Honda Civic 1.5T Touring Sedan is a classy, sophisticated compact that is easy to live with and offers lots of amenities in this class. The exterior styling is refreshed with a new front end that is more appealing. The power, ride, and room inside are all impressive traits that compact car buyers will appreciate.
Watch Honda's Solution to Civic and CR V Oil Dillution Problem If You Smell Gas and Click to Subscribe to Torque News Youtube for Daily News on Automotive Industry.
You Might Also Like: Honda Civic, CR-V Oil Dilution Problem, What You Should Do Now 
Bookmark our Honda page and be sure to follow the latest 2019 Civic reports on our Honda channels, Facebook, Twitter, Instagram, and tweet your Honda news tips to us @HondaReport and we'll give you a shout out! Be sure to check back often for more Honda news and updates!
Leave your comments below, share the article with friends and tweet it out to your followers!
Photo credit: Honda USA