Honda's Plug-in Hybrid Clarity Tops List of the Hottest-Selling Used Vehicles In America
Americans shopping for a used vehicle overwhelmingly want to drive an electric vehicle, plug-in hybrid-electric vehicle (PHEV), or hybrid. This is according to a new study by iSeeCars.com. Among the fastest-selling used cars, the top four all come with a plug, and nine of the top 20 are equipped with a green powertrain.
Related Story: Toyota RAV4 Prime Is 2nd-Fastest-Selling Vehicle In America
The Honda Clarity PHEV, a vehicle Honda seemed in a hurry to discontinue, tops the list. "The Honda Clarity debuted in 2018, while the Honda Insight debuted in 2021, which means most used versions are just now becoming available and are in high demand," said iSeeCars Executive Analyst Karl Brauer. "Just as in the new car marketplace, hybrid and plug-in vehicles are hot sellers as fuel prices have increased by 58.7 percent in November compared to last year."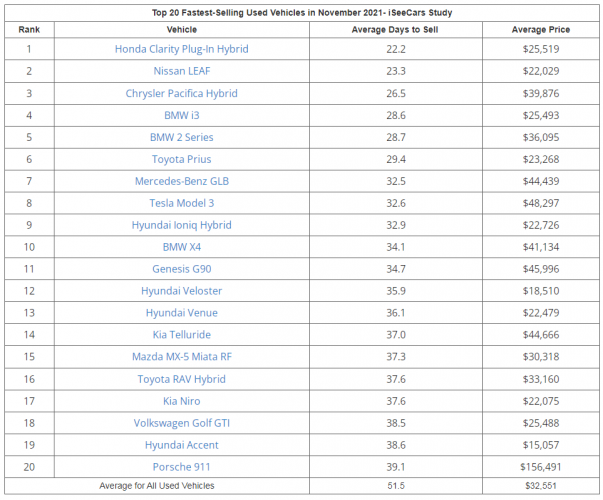 Researchers at iSeeCars analyzed over 280,000 new and used cars sold in November 2021. iSeeCars.com found that the average used car takes 51.5 days to sell. "The average price for the fastest-selling new cars increased by 21 percent from October to November, which may have affected demand for new cars, as evidenced by the slower average time-to-sell," said Mr. Brauer. "Similarly, used cars are selling a week slower, which is likely due to price increases and reduced inventory." This change may also signal some gains in production by automakers. More available vehicles could mean that vehicles may stay on lots a bit longer.
Related: Used Nissan Leaf EV Prices Up Nearly 50% Amid Vehicle Shortage
Two battery-electric vehicles (BEVs) make the list including the Nissan LEAF and the Tesla Model 3. "A new version of the Model 3's Standard Range Plus variant isn't expected until June 2022, which further elevates the demand for used versions, some of which are being sold at higher prices than new versions," said Mr. Brauer. "The Nissan LEAF, which usually isn't in high demand on the used car marketplace due to its limited range and high depreciation, has seen a surge in popularity that made it the used car with the highest price increase in November."
Price pressure may also be one reason that vehicles are staying on lots just a smidge longer than earlier in the year. "The average price for new cars has grown steadily, at a rate of about $534 a month because of manufacturers prioritizing the production of more expensive and profitable cars and as dealers have marked up cars over MSRP," said Mr. Brauer. "Prices of used cars grew at an even higher rate of $638 a month and are the highest they have been all year. Limited inventory in the new car market has heightened demand and elevated prices for used cars."
To view the full list of fastest-selling vehicles and to learn more on the subject, please visit the iSeeCars.com study page.
John Goreham is a long-time New England Motor Press Association member and recovering engineer. John's interest in EVs goes back to 1990 when he designed the thermal control system for an EV battery as part of an academic team. After earning his mechanical engineering degree, John completed a marketing program at Northeastern University and worked with automotive component manufacturers, in the semiconductor industry, and in biotech. In addition to Torque News, John's work has appeared in print in dozens of American news outlets and he provides reviews to many vehicle shopping sites. You can follow John on TikTok @ToknCars, on Twitter, and view his credentials at Linkedin
Re-Publication. If you wish to re-use this content, please contact Torque News for terms and conditions.
Image by John Goreham. Chart courtesy of iSeeCars.