A new study by the researchers at iSeeCars has uncovered an interesting fact about the Nissan Leaf. Once the least desirable used vehicle when measured by depreciation, the Leaf has seen a surge in value. The convergence of fuel prices having nearly doubled in the past 18 months and the global shortage of vehicle components has turned an ugly duckling into a golden goose.
The Leaf has risen in value 47% in the used vehicle market. That equates to an average jump in value of about $6,370. This is a complete reversal of the Leaf's resale value trend back in 2014. At that time, we detailed how a Leaf that had a new vehicle price of around $30K would drop to a used vehicle value of around $11K in just a few short years.
The surge in pricing for the previously unloved Nissan Leaf occurred over the past 12 month period. "Used car prices have been coming down slightly since they peaked in June, but they are still significantly higher than they were last year with the average vehicle priced last month more than $6,000 above August last year," said analyst Karl Brauer of iSeeCars. "As the microchip shortage-related plant shutdowns continue and with the aftermath of Hurricane Ida expected to further elevate prices, there seems to be no relief in sight for used car shoppers."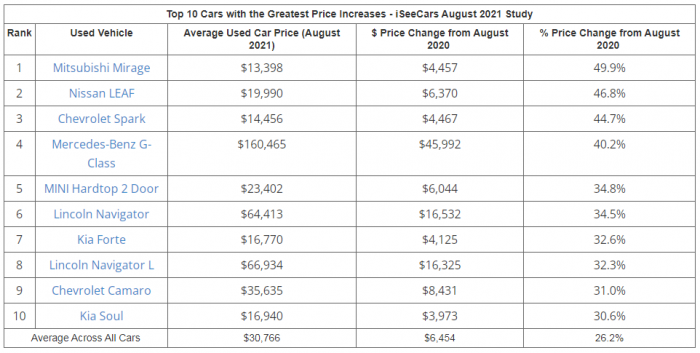 Why did the Nissan Leaf see such a large percentage increase in its used car value? "Small cars have become the only affordable used cars for a larger segment of the population amid the current used car price hikes, and their price increases reflect the high demand for these otherwise lower-demand vehicles," said Brauer. Proof of that theory is seen in the chart above. The subcompact Mitsubishi Mirage economy car is the vehicle with the highest surge in value. Very few reviewers found much to love about the Mirage, other than its low starting price. The same can be said of the number three Chevy Spark.
Brauer summed up the Leaf's rise in value by saying, "While used car prices for all electric vehicles have increased in recent months, the dramatic increase for used Nissan LEAF prices could be attributed to the 2018 model, which featured a significant bump in EV range, performance improvements, and an exterior facelift, and which only just entered the market this year in substantial numbers."
If you would like to learn more about this subject, click this link to see the full study.
Ford's electric vehicle manufacturing investment in Tennesee could tip the balance and bring the UAW to VW's and Nissan's plants. https://t.co/vZyl61ig4S-#Ford #FordEV #FordBatteryFactory #FordUAW, #SKInnovation pic.twitter.com/Se1VeChy5h— Torque News (@torquenewsauto) September 28, 2021
John Goreham is a long-time New England Motor Press Association member and recovering engineer. John's interest in EVs goes back to 1990 when he designed the thermal control system for an EV battery as part of an academic team. After earning his mechanical engineering degree, John completed a marketing program at Northeastern University and worked with automotive component manufacturers, in the semiconductor industry, and in biotech. In addition to Torque News, John's work has appeared in print in dozens of American news outlets and he provides reviews to many vehicle shopping sites. You can follow John on TikTok @ToknCars, on Twitter, and view his credentials at Linkedin