Falken is a brand on the move. Now standard equipment with multiple different tire models on brands such as Mazda, Toyota, Ford, and Subaru, the popular WildPeak series is quickly becoming the go-to trail and all-terrain upgrade for many crossover and SUV owners.
In our recent test of a pre-production five-passenger crossover, we noticed the Falken ZEIX ZE 001A A/S tires were the OEM pick, and we decided to do a mini-review of them during our week-long time with the new crossover. During our week, we covered an unusually high mileage count, about 500 miles traveled in total.
The Falken ZEIX ZE 001A A/S is an all-season touring tire. Which means it is a tire that is "well-rounded" with regard to capabilities. If you are looking for the longest possible life, the best possible summer grip in dry weather, the best possible snow traction, the best fuel economy, a rugged, reinforced sidewall for off-roading, or special attributes like self-sealing or run-flat capability, this is not the tire. Rather, this is a tire for the masses. A tire intended to offer a "good" score in nearly every category. That's a tough thing to do.
We began by noting the mileage (almost exactly 1,000 miles) and the tire pressures. 33 PSI front, and 32 PSI rear, exactly as specified by the vehicle manufacturer. We also inspected the tires for any sign of damage. All green, we began our first drive impression notes.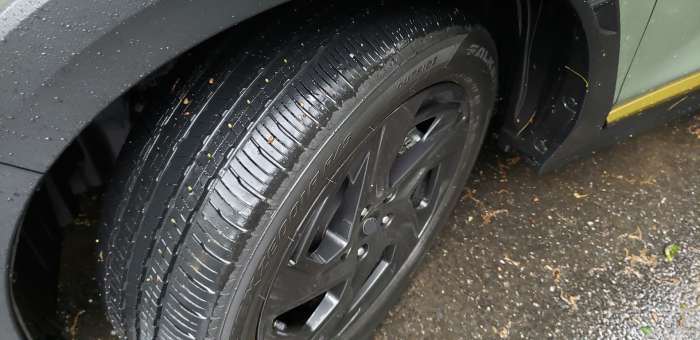 We can say with confidence the ZEIX ZE 001A A/S is great at three things; First, the tire is comfortable on both rough pavement and also dirt roads. Second, this tire is a big step up from some other brands' tires we have tested on similar crossovers made by this same vehicle manufacturer. We drove in rain with temps in the high 40 Fs during our time with the vehicle, and the wet-weather grip was excellent. We also experienced no hints of hydroplaning. Finally, this tire is so quiet we could not hear any noise at all from them over the wind noise the crossover was generating. They seem unusually quiet on both highways and also secondary roads.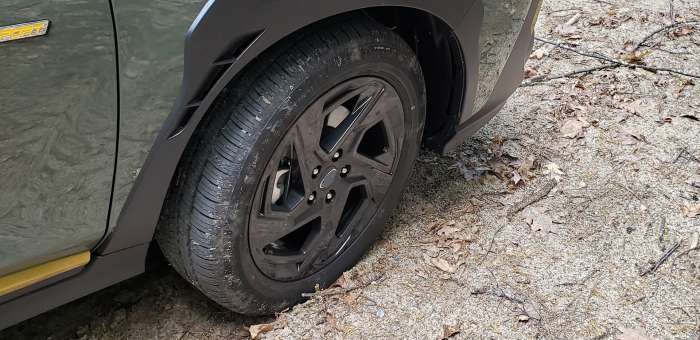 The Falken ZEIX ZE 001A A/S is priced competitively among premium tire brands. We turned to our favorite online tire retailer for some comparison prices using size 225/55R18 98H as an example. Here is what we found:
Falken ZEIX ZE 001A A/S = $189
Falken CT60 A/S = $170
Falken WildPeak A/T Trail $225
Cooper ProControl = $182
Goodyear Assurance ComfortDrive = $210
Michelin Defender2 = $210
Michelin Primacy A/S = $278
Michelin CrossClimate2 = $235
Those looking for more off-pavement capability may wish to consider the Falken WildPeak A/T Trail tire. We have been testing this tire, and we find it is an ideal match for those that want more off-pavement grip, sidewall protection, and a severe snow-duty rating. Another alternative for those who need better winter grip may be the Michelin CrossClimate2. The Falken CT 60 A/S is also a viable alternative if you are looking for a tire with a long treadwear warranty, 65K miles in the case of the CT 60. That tire is doing great in a long-term test we have underway.
The Falken ZEIX ZE 001A A/S is earning a range of reviews from owners at Tire Rack. One owner from New Jersey wrote, "I was a "spirited" driver on local winding and hilly roads as well as highway until my recent speeding ticket for doing 90 on the North Adirondack Highway. Now I am more "easy-going". Given the option, I will not drive in ice and snow, but when I have, the tires have performed fine on the highway and in my hilly neighborhood. I have had zero problems and zero dissatisfaction with these original tires. They exceeded my expectations, and am just switching them out after 60,000 miles." Another owner, this time of a sporty sedan reported, "Good OEM tires. Have exceeded my expected miles. Noise started to creep up after 30k, but not too bad. Decent handling on dry/wet surfaces."
Other owners of this original equipment tire report dissatisfaction in one specific way or another. Often another tire is available from Falken or another brand in this same price range with better performance in that one particular way. However, OEM tires need to serve many users with many different areas of focus. Many crossovers owners who report less than satisfactory longevity also report the tires have exceeded 30,000 miles of use and are not yet to the wearbars, which is not bad based on our ownership of all-wheel drive crossovers.
The Falken ZEIX ZE 001A A/S is an affordable option for those drivers looking for a balance of attributes. For those drivers that are seeking higher performance in one or two areas, some good options exist, but those will come with a higher price tag or will may fall short in some other way. Shoppers looking for a tire made by a brand that a long list of manufacturers now trust to make a big population of owners happy should check out the Falken ZEIX ZE 001A A/S.
Report Note: As we point out in the story, we did not purchase these tires. They were mounted to a pre-production crossover entering a new generation we tested. Falken did not provide any products or compensation for the publication of this overview, but we have tested Falken tires in the past, and you can see the reviews of those and read the details using the links provided. Other tires mentioned in the story may also be test tires.
John Goreham is an experienced New England Motor Press Association member and expert vehicle tester. John completed an engineering program with a focus on electric vehicles, followed by two decades of work in high-tech, biopharma, and the automotive supply chain before becoming a news contributor. In addition to his eleven years of work at Torque News, John has published thousands of articles and reviews at American news outlets. He is known for offering unfiltered opinions on vehicle topics. You can follow John on Twitter, and TikTok @ToknCars, and view his credentials at Linkedin
Falken ZEIX ZE 001A A/S tire image by John Goreham