There is nothing like the roadsters of the 1960s! And one of the best of them all was the AC Cobra, also known as the Shelby Cobra. And while the originals of these remain incredibly rare and thus highly collectible, retro mod versions of the Cobra remain popular too.
Superperformance is a company that specializes rolling chassis racecar replicas. All of their vehicles are built under license from trademark holders including Ford and Shelby. Superperformance recently unveiled their MKIII-R Roadster, a modern evolution of the world's most popular continuation classic Cobra.
Sold as a rolling chassis (without engine and transmission), each limited-edition car comes assembled, painted and ready for drivetrain completion. Weighing just 2,450 pounds when properly equipped with a powerful Ford V8 engine, this contemporary twist on a heritage car is faster than most supercars costing hundreds of thousands of dollars more.
"The timeless design of a classic 1960s roadster was mixed carefully with modern-day aesthetics and performance to create the Superformance MKIII-R," said Lance Stander, CEO of Superformance. "We enhanced the styling, modernized the interior, improved the brakes, updated the suspension and designed it to accommodate the latest drivetrains. This is for those who envisioned the Cobra as if it had continued in production and evolved over the last five decades."
The new front splitter matches the body contour and gives this roadster a unique, but aggressive, front-end appearance. The side profile features handsome new scalloped fenders and black vents. The front and rear fenders and spoilers, along with a beefy new rear diffuser bring a more modern performance look to the heritage styling. And the color choice for the paint and stripes is only limited by the imagination.
"The new styling cues make the MKIII-R an instant winner," said Stander. "The roadster is far more aggressive than the traditional Cobras seen at cruise night or track day. It is an amazing car that offers a very unique ownership experience."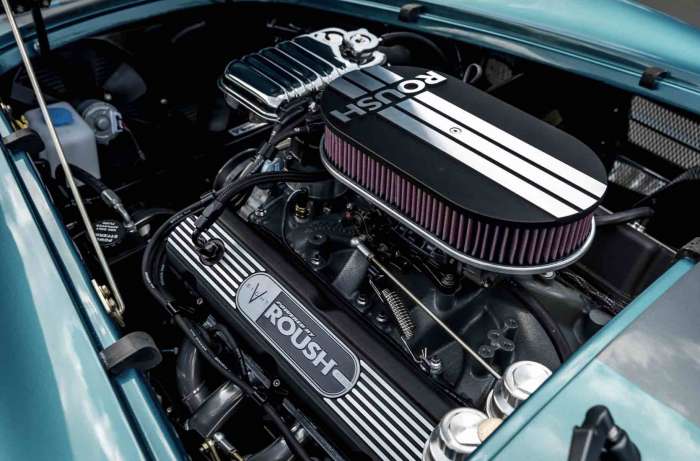 Adding Power To The MKIII-R
Sold as a rolling chassis, the car can be configured for heritage or modern drivetrains. V's Performance shop installed a Roush Performance 427SR crate motor, Tremec TKO600 5-Speed transmission and matte side pipes into the first car of the new series. This turned the 2,450-pound Superformance MKIII-R into a 500 plus horsepower monster with nimble handling and extraordinary acceleration.
"The Superformance MKIII-R roadster is the ultimate Resto-Mod and natural evolution of the original Cobra," said Stander. "It delivers the reliability of a new drivetrain, the perfect balance of modern and classic styling that everyone will envy."
All Superformance MKIII's feature a high-performance aluminum radiator with twin electric fans that are thermostatically controlled. Also included on base MKIII's is a period correct oil cooler with shroud and fittings.
The vehicle's suspension incorporates some modern components, as the front of the MKIII chassis sports fully independent unequal length A-arms with adjustable Bilstein coils over telescopic shock absorbers, while the rear also utilizes independent unequal length A-arms with fabricated hub carriers and coil-over shock absorbers.
Interior of MKIII-R
Inside the interior of the MKIII-R, Superformance added custom French stitched seats and a body color accented thread. The MKIII-R's transmission tunnel is also adorned with leather to complete the classic look. In a twist of modern flair, the vehicle's dashboard is equipped with all-new Superformance electronic gauges.
Standard equipment included in the MKIII-R includes power steering, LED headlights, 18'' wheels and a wide variety of exterior and interior color options.
How Much Does The MKIII-R Cost?
Since each Superformance chassis comes without the engine included, installation kits are available for Ford 302, 351, 460 and 427/428 cubic inch engines with Tremec 5-speed or Ford top loader 4-speed transmissions.
The rolling chassis is available at a starting price of $79,900, as Superformance always incorporates a labor-intensive approach to ensure every piece is period correct and functioning perfectly.
More information on Superperformance and this car is available on their website.
So, who is down for this retro mod? I love all types of resto mods. They sure don't make cars that look like this anymore. And I have to say, it makes me feel nostalgic and dream of the open road. Leave me your comment about your favorite Resto Mod and your thoughts on the Cobra.
Jimmy Dinsmore has been an automotive journalist for more than a decade and been a writer since the high school. His Driver's Side column features new car reviews and runs in several newspapers throughout the country. He is also co-author of the book "Mustang by Design" and "Ford Trucks: A Unique Look at the Technical History of America's Most Popular Truck". Also, Jimmy works in the social media marketing world for a Canadian automotive training aid manufacturing company. Follow Jimmy on Facebook, Twitter, at his special Ford F-150 coverage on Twitter and LinkedIn. You can read the most of Jimmy's stories by searching Torque News Ford for daily Ford vehicle report.