The 2020 C8 Corvette has been a highly anticipated successor to the C7 Corvette but all we knew of pricing was what we were told on reveal night and that was the C8 Corvette was set to start under 60 thousand dollars. Now we have official pricing a day early.
The same V8 engine and dual clutch transmission will be included in all trim levels.
Before we continue, please make sure to check out my Twitter, Facebook, and YouTube channel to keep up to date with all of the news on everything Corvette.
1LT - 59,995
The 1LT C8 Corvette will start at 59,995 and include: mulan leather, review camera, 8 and 12 inch digital displays in dash, 8 way power GT1 seats, All season Michelin tires, dual power heated mirrors, and a 10 speaker Bose sound system. The 1LT has always been GM's lightest most track ready version of the Corvette and it doesn't change with the 8th generation of Corvette. This will be the lightest version due to certain "creature comforts" being forgone.
2LT - 67,295
The 2LT will include everything the 1LT has and more. It will also include: a full color heads up display, power lumbar and wing seat adjustment, heated and ventilated seats, heated steering wheel, Bose 14 speaker sound system, navigation, performance data recorder (PDR), universal home remote, rear camera mirror, driver and passenger seat memory package, front curb view camera, blind spot detection, advance theft deterrent system, and parcel nets (cargo net).
3LT - 71,945
The 3LT will also include everything that the 1LT and 2LT have and more. It will also include: GT2 with napa leather seating surfaces and carbon fiber trim, napa leather wrapped interior, suede wrapped upper trim, napa wrapped door panels.
Z51 Performance Package
The Z51 performance package maintains the same cost as it had in the C7 Corvette lineup. That was 5,000.00 and for that 5 grand you will get: performance exhaust, performance suspension, electronic limited slip differential, front splitter, rear spoiler, bigger front and rear brake rotors/calipers, Michelin pilot sport 4s tires, enhanced cooling with cooling ducts in the front, and a specific axel ratio.
Basically this is the package you want to get if you plan on tracking this car. It gives the car a lot of performance upgrades that you will need in any competitive driving scenarios.
Front End Lift System
The front end lift was a highly talked about feature for the C8 Corvette. It is priced out on this sheet as well and it will cost you 1,495.00 and it will be worth every single cent. As you know by now the front end lift system has a GPS storage system that will automatically lift in any area you mark when you approach it which is an amazing twist on the typical front end lift idea.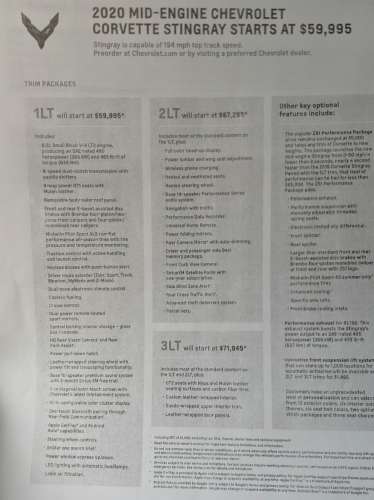 Why The Pricing Sets This Car Apart
The 2020 C8 Corvette is breaking rules left and right. It is a mid engine car with a 0-60 time of under 3 seconds and it starts at less than 60 thousand dollars. That by itself is enough to deem it worthy of the "rule breaker" status but now with all of the options out there we see the true story. You can, in fact, have your cake and eat it, too. The car will be able to be fully optioned out with a full napa leather interior, heated and cooled seats, customized to your liking right down to the color of the stitching used in the leather for less than 69 thousand dollars.
It wasn't long ago that the C8 Corvette was just a rumor and pricing was also rumored to be quite out of the reach of the typical Corvette buyer. We now know for sure that isn't going to be the case. You could get the C8 Corvette completely optioned out for under 80 thousand dollars. This is well below that of any other supercar out there. There is no mid engine car that has a 0-60 time of under 3 seconds that has a starting price of less than 60 thousand dollars. This new Corvette is going to be the buy of the century and it has other supercar manufacturers thinking long and hard about their pricing scheme.
Also watch The 2020 C8 Corvette pricing has officially leaked from GM. Check it all out first right here, as well as Click To Subscribe Torque News Youtube Channel for Daily News on Automotive Industry.
See you in my next story.
Justin Nohe - My name is Justin and I am a car fanatic. Everything automotive is my passion. Ever since I was a little kid owning a Corvette was my dream and I recently achieved that dream with a 2015 Corvette Z06. I have such passion for the automotive world and enjoy sharing it with anyone who will listen! You can contact me, send me tips and follow me on Twitter, Instagram, Facebook and Youtube.