Lucid's new Tech Talks series on YouTube will take us inside the Lucid Air's exceptional engineering and show exactly how Lucid's obsession with efficiency and smart design combine to produce an EV with record-breaking range. The first episode premiered a few hours ago hosted by none other than Lucid CEO and CTO Peter Rawlinson and highlights the Air's battery system by taking us through the goals for the project as well as its design, cooling, and wiring setups.
Lucid's Battery Needs and Wants
Rawlinson begins the video with a quick physics lesson to bring viewers up to speed on the various terms and values that matter when building the batteries for a revolutionary electric sedan. From there, it's onto the thinking behind the battery that the Air ended up with, as the Lucid CEO explains that the projects original goal was a range of 400 miles. Thanks to ingenious packaging and battery management that figure rose to give the Air its much-lauded 520-mile range. The Air uses 21700 format battery cells arranged into 300-cell modules. Long-range models come with 22 modules while shorter-range ones have 18 and more room in the rear "foot garage" as that's where they're removed from.
Another of Lucid's goals for the Air's battery pack was an ultra high-voltage architecture because, as Rawlinson explains, higher voltages allow for lower currents which greatly reduces performance-robbing heat loss.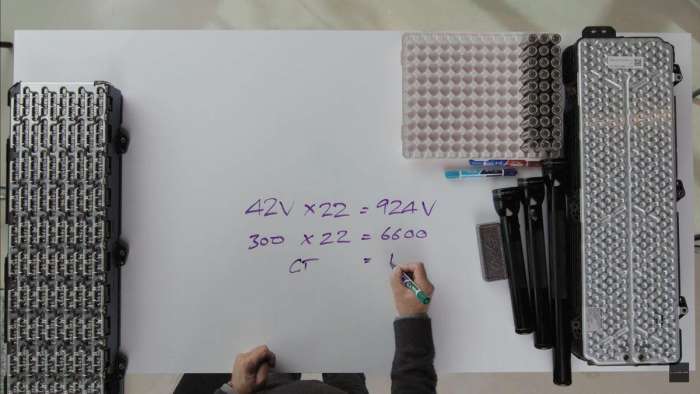 Skateboard Architecture
After we find out how the Lucid Air's cells work we get to see how they're arranged, aided by some very slick graphics showing how the Air maximizes occupant space when compared to similar internal combustion-powered cars. The battery pack is sculpted around the passenger cabin to make it as roomy as possible, while the battery modules are double-stacked between the front seats and under the rear bench to make the most of that otherwise-unused real estate. The battery enclosure structure provides structural rigidity and completes the passenger safety cell.
The Lucid's battery modules are essentially mounted upside down so they vent heat away from the passengers and are protected by an 8mm-thick ballistic shield made from epoxy composite which forms the underfloor and raises towards the rear of the car to aid aerodynamic efficiency. Rawlinson plays up Lucid's status as Formula E battery supplier with the aid of another slick graphic before moving onto the pack's cooling system.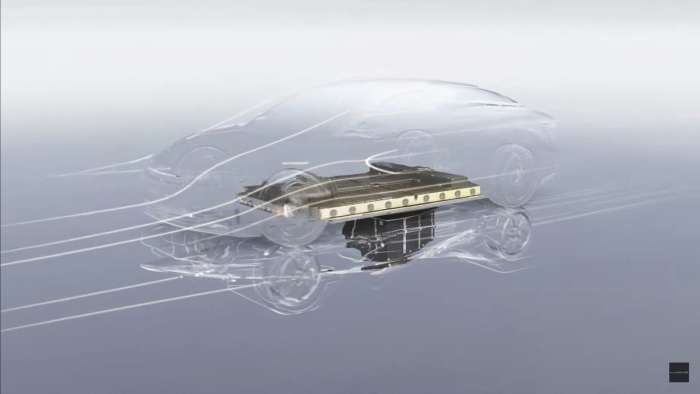 Battery Cooling
As with any vehicle, cooling is of the utmost importance and to that end the Air can fire up its air conditioning system to complement the cooling system build into each module. Utilizing a stamped aluminum structure to circulate water-glycol coolant, Lucid's battery modules cool the ends of each cell rather than the sides. Peter explains that while the sides of the circular cells provide more surface area to draw unwanted heat from, it's more difficult to achieve full and consistent contact. Cooling the cells at their ends provides a flat, uniform contact surface and allows the module's cells to be placed closer together at the expense of being a little taller. Rawlinson states that Lucid also chose to go with this cooling setup because it guaranteed consistency and cost effectiveness across production runs reaching into the millions of units. We then get an explanation of the unique way that Lucid wires its cells and modules together, as well as a look at the battery management computer built into each module.
What Comes Next?
It's unclear how many episodes of Lucid Tech Talk there are going to be, and if all of them will be hosted by Peter Rawlinson, but I'd bet on seeing in-depth look at the Air's power units and the Wunderbox charger at the very least. From there, perhaps we'll be treated to an aerodynamics clinic and a closer look at the Air's Glass Cockpit/Pilot Panel control systems too. I for one am really looking forward to seeing what this informative, well-made series brings us.
In other news, Rawlinson recently unloaded a significant amount of shares, leading to wild speculation that he was planning to abandon ship.
Images by Lucid Motors licensed by CC BY 2.0.
James Walker is an automotive journalist at Torque News focusing on Lucid Motors. If it's got wheels he's interested, and he's looking forward to seeing what kind of cars the EV revolution brings us. Whether it's fast, slow, new, or old, James wants to have a look around it and share it in print and on video, ideally with some twisty roads involved. You can connect with James on Twitter, Instagram, and LinkedIn.