Lucid AMP-1 Factory Expansion Well Underway In Latest Bear's Workshop Fly-By
This video comes to us from the excellent YouTube channel Bear's Workshop, and shows Bear's latest fly-by of the AMP-1 production facility captured on January 7th.
Expansion Underway
As we can see from the video, there are three cranes currently assembling new buildings to increase factory's size by 2.85 million square feet and give it the production capacity to match Lucid's goals of producing 90,000 vehicles a year by 2023. The new buildings will house a powertrain plant, stamping plant, and general assembly space, along with other general-purpose buildings.
Unlike some members of one owners' forum, Bear is confident that Lucid isn't moving the cars around the lot to make it look like production is higher than it actually is. Assuming this is the case, Bear counts 63 cars outside AMP-1, with 39 of those being new cars produced since his last fly-by. He also mentions finding three more that were hidden behind a building and obscured from the initial count.
From there, we can see the framework for the building expansions laid out on the ground, as well as the roofing structure starting to come together.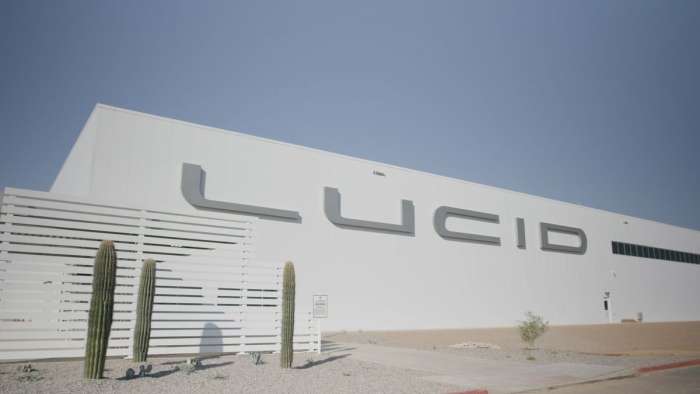 Lucid has set itself some lofty goals for this and subsequent phases of expansion.
CEO Peter Rawlinson told CNBC in November 2021:
"We're quadrupling the size of that factory in Arizona. We're building out a 2.85 million square foot expansion to get ready to build 90,000 units per annum, and the site itself is with its phase three capable of nearly 400,000 units per annum."
Future Plans
Whether Lucid stays hits the targets set by these goals remains to be seen, but the company does have a record of meeting its own objectives. The company plans to expand to Europe and the https://www.torquenews.com/15975/lucid-goes-international-pop-studio-first-deliveries-saudi-arabia in 2022, followed by establishing a Chinese presence in 2023.
Images by Lucid Motors licensed by CC BY 2.0.
James Walker is an automotive journalist at Torque News focusing on Lucid Motors. If it's got wheels he's interested in it, and he's very excited to see what kind of cars the EV revolution brings us. Whether it's fast, slow, new, or old, James wants to have a look around it and share it in print and on video, ideally with some twisty roads involved. You can connect with James on Twitter, Instagram, and LinkedIn.