Lucid Will Begin European Deliveries In 2022
That was the response given by Lucid on Twitter to a user who inquired about whether or not the highly-lauded Air is available in the UK:
Expansion to European markets will begin this year. Stay tuned for country-specific delivery information.

— Lucid Motors (@LucidMotors) January 4, 2022
Buyers around Europe have been able to reserve their own Lucid Airs since the beginning of 2021, but this latest update promises that we'll see the California-based EV manufacturer do battle with some of the finest EVs in the business on their home turf before the year is out. Deliveries to American customers kicked off back in October with the inaugural Lucid Rally.
ICE-less Future
Europe is already an attractive market for EV manufacturers, and the incoming bans on selling internal combustion-engined vehicles around the European Union only sweeten the deal. The EU has promised to phase out new ICE vehicles by 2035, while the UK claims that it'll end the sale of gasoline and diesel autos by 2030.
EU EV Adoption
Countries within the European Union boast the highest levels of EV adoption on the planet, with Scandinavia leading the electrified charge. Thanks to government incentives which make EVs cheap and fossil fuel burners expensive, a staggering 74.8% of new cars sold in Norway are battery-electric. Iceland follows in second place with 45%, while Germany, home to some of Lucid's most fearsome rivals, is Europe's largest EV market.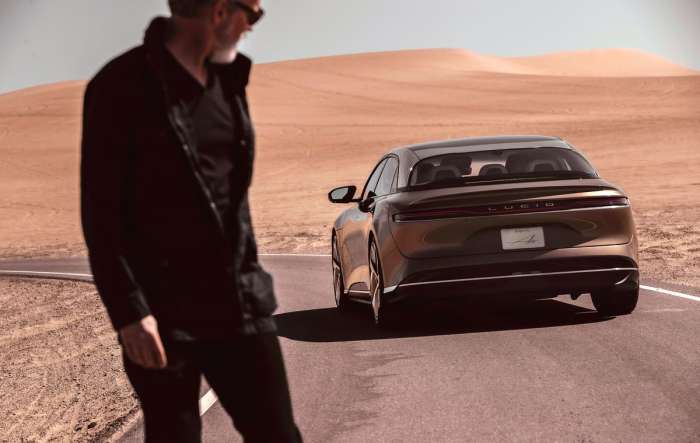 When Lucid lands in Europe it'll take on home-grown competition from the Mercedes EQS, Porsche Taycan, and Audi e-tron GT, as well as the Mercedes S-Class. The Air beats all the EVs for range, but with Mercedes promising a 620-mile range from their EQXX concept car, which vehicle will emerge as the best seller is anyone's guess. I for one am very excited to see how the battle plays out, and I'll be here at Torque News to relay any and all developments.
Also see why you can't compare Lucid with Tesla and who will win in the long term.
Lucid CEO Peter Rawlinson has stated that Lucid also plans to expand to the Middle East in 2022, before setting up in China come 2023.
Images by Lucid Motors licensed by CC BY 2.0.
James Walker is an automotive journalist at Torque News focusing on Lucid Motors electric vehicles. If it's got wheels he's interested in it, and he's very excited to see what kind of cars the EV revolution brings us. Whether it's fast, slow, new, or old, James wants to have a look around it and share it in print and on video, ideally with some twisty roads involved. You can connect with James on Twitter, Instagram, and LinkedIn.