These attributes make 2018 Kia Rio EX 5 Door an exceptional hatchback experience
Initially I found 2018 Kia Rio to be good looking but Tiny -- stubby, close to the ground, and very low of roof line. At first glance, I wasn't sure I'd fit in Kia Rio. Boy, was I surprised. As stated by Kia: 2018 Rio 5-door hatchback, while compact in dimension, lives large on the interior, and rides more like a midsize crossover. I like Rio's suspension setup, continental tires, 15 inch alloy wheels, and standard equipped ride stability. Rio's interior although a bit minimalist in composition, is comfortable, and exceptionally quiet for this class.
It's not often that Torque News comes across a just above entry level compact car offering both fun-to-drive in town mobility, and open road ride comfort. 2018 Kia Rio, while not the most powerful offering in the segment, (130 hp / 119 lb-ft torque) does both very well. Rio presents descent hands-free personal electronics connectivity, a good sounding programmable stereo, and a surprisingly quiet interior -- features I didn't anticipate from a well appointed, but diminutive hatchback, sporting a base MSRP bellow $20,000. Rio has more than a bit in common with this 5-Star safety rated Kia Soul.
Our Kia Rio test mule optioned the Rio Launch Edition leather interior package, and carpeted floor mats, for an MSRP including options of $19,330, + $895 freight and handling, for a total price of $20,225. 2018 KIa Rio EX as tested is nicely equipped; although you won't find power adjusted seats, a glass roof, or radar, camera activated advanced accident avoidance systems available in Kia Rio -- ABS, electronic assisted braking, vehicle stability assist, and much more comes standard.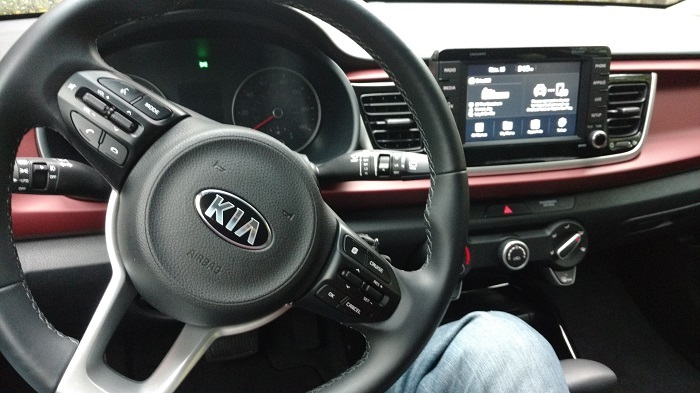 2018 Kia Rio brings a very familiar Soul-like interior to the entry-level sport-hatchback segment. In the Rio EX trim level with leather interior option, one finds a very artful 3-color trim scheme, contrasting piped and stitched leather seating surfaces, a leather covered steering wheel, and a high resolution color backup camera monitor, and static touch screen for assessor operations and command. What you won't find here is integrated navigation, or a moon-roof -- frankly, we didn't miss either.
Kia Rio's 1.6L engine, and 6-speed AT get the job done
Sometimes, 130 horsepower is more than enough. Such is the case with the well appointed 2018 Kia Rio EX. Although slightly underwhelming when compared to this hatchback, Kia's small displacement, direct injected, normally aspirated 4 cylinder gasoline engine proves to be adequately responsive, torque friendly, and fuel stingy.
Kia engineering does a commendable job of pairing this surprisingly quiet engine with one of the better 6-speed automatic transmissions in the segment. Rio, while front-wheel-drive, exhibits little to no torque steer. Again, it's off-the-light performance is mild, it takes a while, but Rio always get's it done. There is a "sport" button for improved acceleration, but truthfully, I discovered very little sport when engaged. Kia Rio takes me back to my Datsun 510 wagon days, fun enough!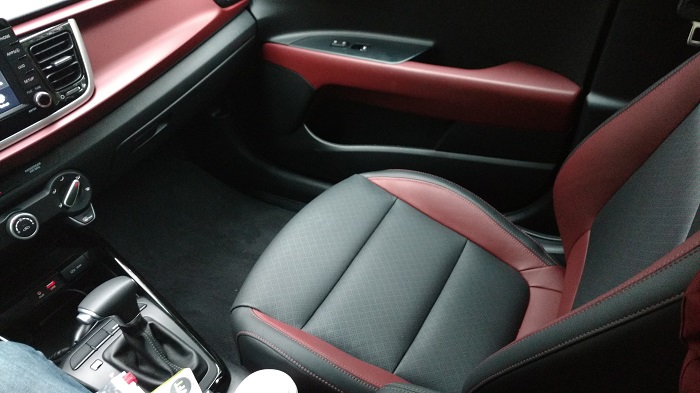 The truth: Not everyone wants or needs a turbocharged -- rabbit start off the green light. Where 2018 Kia Rio excels is in the 'bang-for-the-buck department. The more I drove Kia Rio, the more I liked it. Rio takes one back to the fun and mental ease of 30 MPG, low maintenance, 10-year warranty, affordable driving peace of mind.
I perform the back seat test. Amazing!
At 6 foot 5 inches tall, I generally don't fit comfortably in the 2nd row of most compact cars. 2018 Kia Rio passes the backseat test with flying colors. I found the 2nd row to be surprisingly comfortable, headroom adequate, and legroom -- pretty good. Also, it turns out that Rio has ample room behind row 2 for hauling groceries, luggage, and the occasional dog or cat carrier.
Granted, transitioning in and out of the second row can be a bit tight, but very doable. View forward from the second row proved to be less than claustrophobic, and talking at normal levels between the rows while rolling, not a problem.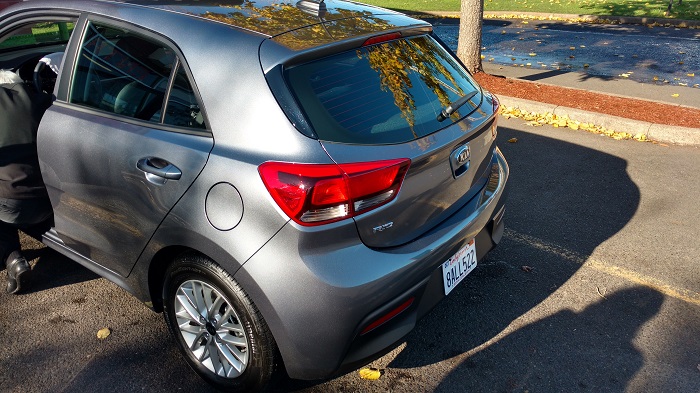 2018 KIa Rio's affordable but not "cheap"
In other words, taken from a guy that drives 6 figure supercars, I'd consider 2018 Kia Rio for my daily driver. At the end of the day, at this price point, I don't believe Kia Rio can be beat for initial quality and reasonable drive performance. I recommend a test drive to anyone considering an entry level hatchback that doesn't require all-wheel-drive.