Award Winning V6 Powered Honda Odyssey Carries over for 2019 with favorable MSRP
As American Honda Motor Company transitions to electrified, turbocharged 4-cylinder gasoline engine motivated cars and light trucks, there remain three V6 engine powered holdouts in the North American lineup, the award winning Honda Odyssey minivan, Honda Pilot SUV, and Ridgeline pickup truck.
Odyssey holds out for V6 minivan lovers
2019 Odyssey comes to dealerships this week, unchanged. This is good news for those that mourn the exit of Honda's mechanically bulletproof V6 from the car and light truck lineup. While turbocharging is a logical path to greater fuel efficiency and low RPM range torque, much of the driving public still holds a concern or two as to long-lasting turbocharged engine reliability. So, for the time being, Odyssey will remain a V6 powered mainstay in the ever popular family minivan segment.
2019 Honda Odyssey finds class leading fuel efficiency through engine cylinder management, direct fuel injection, and exceptional 9 and 10 speed automatic transmission to engine pairing.
We had the opportunity to experience the reinvented Honda Odyssey on Kona, Hawaii last Summer, and was impressed by its refined ride dynamic, handling capability, instant on acceleration, family friendly personal electronic connectivity, and Honda Sensing ™ advanced safety and driver assist technology. *Standard equipped on EX trim level and higher. Driving Odyssey is embarrassingly addictive for this car guy that's driven some of the fastest production cars on Earth, it's that good!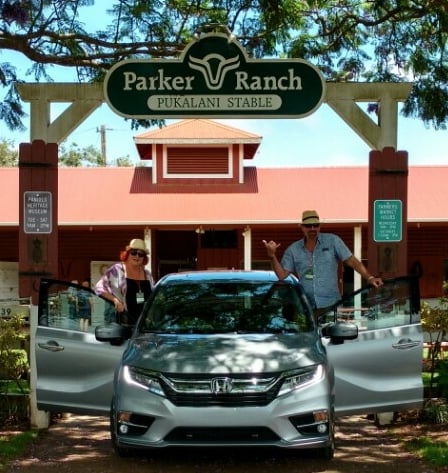 According to Honda: Odyssey is the best selling non-fleet minivan in North America. When directly compared to Chrysler Pacifica, and Toyota Sienna, Odyssey comes out on top with its exclusive side-sliding transformable 2nd row seating, Cabin Watch, video and audio child monitoring system, pre-programmed Kid-friendly video interface, and "are we there yet?" real-time road trip tracking monitor.
I recommend a Honda Odyssey test drive to anyone looking for a near premium, multi-purpose, family accommodation minivan. Me, I love driving it! Read my latest Honda Odyssey drive review here.
2019 Honda Odyssey trim walk and MSRP
Odyssey LX

9AT
$30,090
$31,065
19 / 28 / 22
Odyssey EX
9AT
$34,060
$35,035
19 / 28 / 22
Odyssey EX-L
9AT
$37,610
$38,585
19 / 28 / 22
Odyssey EX-L Navi/RES

9AT
$39,610
$40,585
19 / 28 / 22
Odyssey Touring

10AT
$44,660
$45,635
19 / 28 / 22
Odyssey Elite

10AT
$46,970
$47,945
19 / 28 / 22