2018 Acura TLX A-SPEC trim option captivates young, affluent buyers
A much improved 2018 TLX performance packaging from Acura
Although the 4-door sedan segment remains a very challenging sales proposition in a sea of crossover, SUV buying trends, Acura embraces the performance sedan as the cornerstone of the automotive industry.
In rolls a very visually dynamic, well-proportioned TLX. featuring Acura's Precision Diamond Grill, 19 inch wheels, a very slippery, well balanced, front fascia, dynamic side profile, rear cowling, and dual 4 inch exhaust. Acura's general manager Jon Ikada makes no secret of the maker's intent to attract young, affluent car buyers to the brand through its mantra of "Precision Crafted Performance."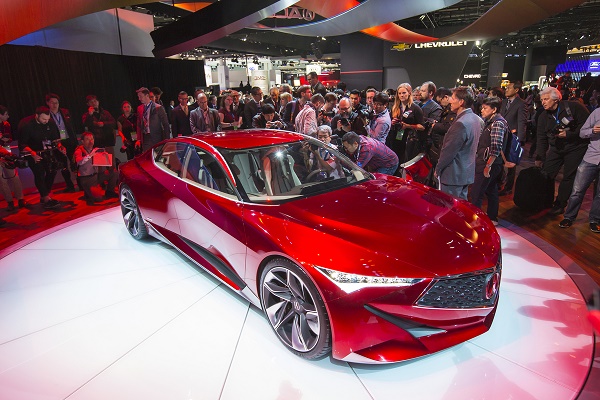 By expanding the well-received A-Spec trim option throughout the 4 and 6 cylinder TLX lineup, Acura hopes to increase market share in the very competitive premium sedan segment, mostly European.
Looking to the interior
For 2018, Acura TLX buyers discover a red-themed racing inspired A-Spec option, improved personal electronics to car connectivity, and Acura's award winning "Acura Watch" suite of active safety and accident avoidance technologies standard across all trim levels.
Acura engineering promises a near intuitive car systems command experience for the TLX driver. Further noted, is the 4-way back up cam, as well as Android and Apple Car Play connectivity. Read our latest Acura TLX drive experience here.
Specifications and MSRP of 2018 Acura TLX coming in May
Based on Today's New York Reveal, other than a re-tuning of suspension and possible steering feel, nothing changes as to TLX engine and transmission specifications – yet! Stay tuned, I'll have first drive impressions, specification and pricing updates for you in early May.
Acura is on a righteous mission to return the brand to its Precision Engineering Performance roots
Precision engineered performance is what brought Acura, Honda's premium car division to the forefront of north America's burgeoning compact and midsize performance sedan segment back in the 1980s and 90s. At one time, Acura's sedan sales exceeded all other import performance brand offerings combined. Acura wishes to return to those glory days, and looks far beyond premium SUV sales to do so.
Undoubtedly, there exists a world market for the made in America TLX. Looking to Acura's latest advertising campaign, it's the "30 somethings" that will drive TLX sales into the future, as Acura TLX captivates young, affluent buyers with a very sensory gratifying A-Spec trim option.