Base model 2016 Acura TLX surprisingly refined, fun to drive
I've spent many hours in the seat of 2015/2016 Acura TLX of all trim variants. However, auto manufacturers tend to populate press fleets with high performance, top trims. While Acura's not the exception to the rule, in the case of 2016 TLX, they recently extended Torque News a week in the seat of a beautifully finished entry level 2016 Acura TLX with Technology package.
Powered by a rather peppy 2.4 liter twin cam i-VTEC 4 cylinder, dual clutch 8 speed manual transmission, with wheel mounted shift paddles, and all-wheel-steering, this is Acura's answer to a high fuel economy, premium 4-door sedan.
$35,715, fuel thrifty, and peddle happy
I'm a big Acura V6 fan, and the top-shelf 2016 Acura TLX Advance SH-AWD 9 speed automatic comes standard with one. Torque News experienced the ride and drive comfort of Acura's TLX premium V6 in Phoenix, Arizona, Eugene, Oregon, Los Angeles, Ca, and at the TLX press introduction in West Virginia.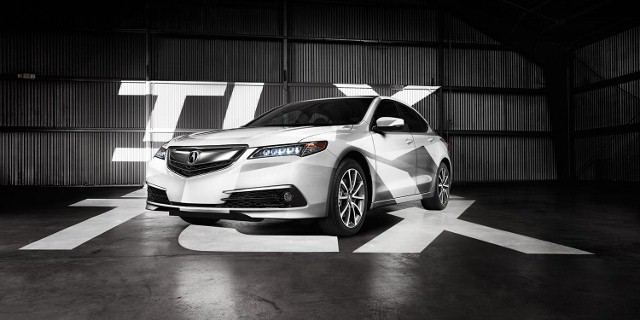 Although a bit panned by the auto press, I walked away smiling. As a previous Acura TL driver, the uptick for me is a measurable one.
One bad-a.. 4 banger
Don't let the 4-cylinder engine dissuade you, this is not your father's 4-banger
Our recent "week in the seat" began with a drive down from Portland, Oregon behind the wheel of Acura's most underappreciated TLX offering. Depending on where one lives often dictates the need for all-wheel-drive. Our base TLX is front-wheel-drive
The base 2016 Acura TLX doesn't offer AWD, nor will you find a 3.5 Liter(290 horsepower/267 ft-lb torque) under the hood. But frankly, I had to lift the hood to convince myself that a 4-cylinder engine was powering our Acura TLX test car.
Smooth, torque, quiet, and rev-happy
It's rare that we discover a 4-cylinder engine that rivals a V6 for vibration-free smoothness, lag-free acceleration,and quiet running. Acura's 2.4 Liter twin-cam,direct injected i-VTEC 4-cylinder(2016 horsepower/ 182 ft-lb @ 4500 rpm) does all of the aforementioned without protest, and does so while sipping gasoline.(24/35/28 combined) We discovered a real world 35 mpg while driving down the highway at 74 mpg in crosswinds and truck traffic.

While not a big fan of double clutch transmission technology
We found Acura's dual clutch 8-speed manual transmission to work flawlessly when paired to this high output 4-cylinder. There was no "jerking" or transitional hesitation noted as previously mentioned by some consumers.
While not a "rocket" by premium midsize performance car measures, Acura TLX did instantaneously respond to the push of the loud pedal with freeway on ramp speeds approaching 80 mph.( 6.8 seconds 0-to 60 mph.)
And yes, the paddle shifting and drive-mode selection feature is effective at times. I personally appreciate the downshift option afforded through the steering wheel mounted shift paddles. I could do without the electric parking brake -- that's a personal assessment.
But where the base TLX truly shines is while cruising down the highway and tight maneuvering in town. What's under the hood at this juncture is inconsequential to the car's drive and ride performance. Like I said, TLX 4-cylinder is quiet in its operation, and I appreciate the quick lane transition time afforded through Acura's power all wheel steering.(P-AWS) I'd like to see it applied to 2016 ILX A-SPEC.
Nice interior, great visibility and premium design cues
O.K., either you appreciate Acura's rather conservative approach to "premium" or you don't. To date, 9087 of your friends and neighbors have purchase an Acura TLX in 2016. Acura doesn't break out the numbers by model trim, so, we have no idea as to how many Acura TLX buyers have opted for the base TLX.
Now that that disclosure is out of the way, our TLX with optional Technology package sports power adjusted heated perforated leather seats, premium floor coverings, a wood-like accented, burnished aluminum drive and ride environment. I appreciate the look of the center console, center stack and stellar individual climate control -- also, a very decent stereo system.
I further enjoy the glide-open glovebox, and automatic-open stash cubby. Great details abound with an evident manufacturer's eye for quality control. I discovered no short cuts of cost saving measures in the manufacturing of base TLX, none!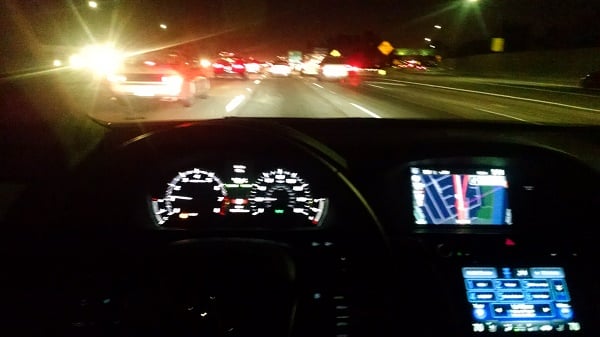 While some journalist pan the twin-screen monitored center-stack as looking outdated, and cumbersome in its operation, I for one, found all systems to work very well; with one exception; the voice command interface and subsequent navigation system is less than flawless. Honda has deferred to Garmin in many of its 2016 models, perhaps Acura division should follow suite. I drove across Los Angeles brake-free with this technology.
2016 Acura TLX or Honda Accord Touring?
Yes, we've read the argument in several online publications. Some automotive journalist don't find the value in TLX and defer to Honda Accord Touring, or uptick for a few thousand dollars to BMW 5-series. Apples to Apples dear friends Accord is not TLX and BMW 5-series, you get what you pay for.
With a base MSRP of $31,695, we find Acura TLX 2.L 8-DCT P-AWS to be a relative bargain in the premium midsize sedan segment. Parked side by side with the $48,000 top trim Acura TLX Advance 3.5 V6 9 speed automatic, one would be hard pressed to visually discern the two.
Our test mule(2016 Acura TLX $35,750)comes equipped with an optional technology package complete with Acura's ride stability, traction control, adaptive cruise control, lane keep assist and more.
For those of us that live in our cars, the base Acura TLX presents a premium drive and ride experience without compromise. Perhaps not the hottest "E" ticket ride in Acura's lineup, it doesn't claim to be, TLX in its simplest manifestation is a fantastic daily driver. And that's good enough for this car guy.