The syndrome is most noticeable when refueling, or traveling in regions of "green car" saturation. Symptoms range from glaring stares coming from compact car drivers, difficulty parking and maneuvering, as well as a need to constantly refuel, followed by frequent waves of anxiety and thoughts of "what if."
How does one improve on the best selling premium 3-row SUV in America?
Inject a bit of hybrid enabled "green" power into the mix. We drove the 2017 Acura MDX Sport Hybrid SH-AWD in Advance trim, and question why all SUV manufacturers don't electrify -- it's that impressive!
First disclosure: 2017 Acura MDX Sport Hybrid is only available in SH-AWD.(Super Handling All Wheel Drive ™) The reason, the rear wheels of this midsize SUV are driven by electric motors, increasing combined torque while measurably improving road handling. MDX Sport Hybrid is Acura's answer to greater in city fuel efficiency (26 mpg City +45%) while measurably increasing horsepower (321 +31) and torque while reducing overall carbon emissions.
Development backstory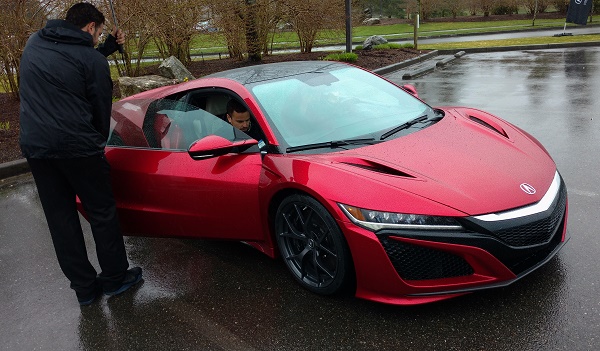 For Acura, it all began with the introduction of the under appreciated RLX Sport Hybrid premium flagship sedan. Next up was 2017 NSX, the only designed and manufactured in North America hybrid supercar. In rolls 2017 MDX Sport Hybrid, the first gasoline, electric 3-row SUV available in Acura's lineup, designed and built in Lincoln, Alabama.
Note: The non hybrid offering is available in both FWD and AWD. All variants present premium comfort and exceptional road-handling drive dynamics.
Driving 2017 Acura MDX Sport Hybrid in the rain
Seattle, Washington is the perfect location for presenting Acura's latest and greatest electrified MDX advancement to a very discriminating automotive press. For the 3rd week of March, Winter held on with a vengeance, as near blinding rain bounced off MDX Sport Hybrid's sound insulated windshield -- between rain-sensing intermittent beats of rather effective windshield wipers. Arguably not the best driving conditions for most drive events, yet perfect for demonstrating the road sticky attributes of Acura's first hybrid premium SUV.
Granted, I've spent much time behind the wheel of MDX over the years, you could say that I'm sold on MDX, but this one was different from the rest, it's electrified. In effect, Acura engineering injects electrified "green" performance to the betterment of drive dynamic, road handling, and in-town fuel efficiency -- resulting in an overall reduction of exhaust born carbon emissions, through greater overall fuel efficiency. Less fuel burned, less greenhouse gas emitted.
$1500 uptick takes MDX to a higher ground
That's the difference in MSRP (suggested retail price $ 51,960 + base hybrid) between a comparably equipped MDX SH-AWD and MDX Sport Hybrid SH-AWD. Acura tells us that most consumers will recoup the price difference in real-world fuel savings over the first 3 years or so. With a combined fuel efficiency of 26.5 city/highway. What are the additional advantages found in electrifying MDX? Let's drive it.
The drive
2017 found Acura adding just a bit more premium to MDX. Today we discover a much refined drive and ride environment. Premium leather covered, accent piping seating surfaces, and real-wood trim now adorn MDX, with a welcoming palette of contrasting color and premium materials. From where I sit, fit and finish is top of class, as it should be.
Easing onto the the driver's seat, I mentally note seemingly infinitely adjustability, affording my tall frame ample leg room between seat and dash with the press of a lever. The seat although new, is as comfortable as my favorite leather office perch. Acura's smart wheel in MDX is power adjusted, as are side mirrors and windows with an easily accessible position memory button located to the left of the driver -- it's a very sensory pleasant, near intuitive, drive and ride environment.
On the surface, MDX hybrid looks and operates much like its non hybrid counterpart. I believe I overheard someone in the crowd mutter "performance sleeper," True story. Other than a "hybrid" badge placed on the front side and rear cowling of MDX, the Advance offering is identical.
7 speed DCT, 3.0 Liter V6, 3 electric motors, torque vectoring SH-AWD
It's a lot to take in, and certainly more than I can describe in detail here. But in short, Acura combines a relatively small displacement high output normally aspirated i-VTEC direct injected V6, with a race proven 7 speed dual clutch automated transmission,(wheel mounted paddle shifting included) with a very advanced 2-electric motor torque vectoring, rear differential. We're collectively impressed by how quiet and powerful the hybrid drive system is.
A 3rd electric motor is paired with the transmission for regenerative purposes, and the occasional "electric-only" drive duty. An advanced charge controller and battery module directs this seamless symphony added torque and horsepower enabled electrification. The added weight of the hybrid component is located below and behind the driver's seat, thus achieving a slightly lower center of gravity. This results in a track-like cornering capability generally reserved for sport coupes.
2017 MDX port Hybrid drives more like a track-ready sport sedan than a 3-row SUV, yet maintains a rather upper crusty, dare I say cushy drive and ride environment -- while consuming no more gasoline than most compact crossover offerings on the market today.
As I pushed our MDX hybrid to the reasonable driving limits of a very wet Seattle afternoon, I was just a bit blown away by how road-sticky, and rock-solid cornering stable MDX hybrid truly is. Road traction and braking is seemingly not affected by wet roads. And thanks to improvements in body sound deadening insulation, auto glass, and computer controlled hydraulic dampening, not only is MDX float-smooth, over some rather rough country road surfaces, but eerily quiet in the cabin. As a bonus of electrification, we now find 4 drive modes in MDX hybrid, effectively electronically tuning shift patterns, steering wheel feedback and suspension dampening.
The new found combined horsepower results in exceptional mid rpm range passing speed, while increased torque results in very little transmission gear shifting on upgrades. 2017 Acura MDX is a pleasure to drive and ride in. I recommend test driving MDX hybrid for any buyer wishing to reduce their environmental footprint, while driving a premium, midsize all-wheel drive 3-row SUV.
What we like
$51,960 base MSRP
In town fuel efficiency
Premium interior
Smooth ride
New found horsepower and torque
Wish list

Larger 3rd-row seating
Updated center stack, single touch screen monitor
G.P.S.