A Week in the Seat with 2017 Acura MDX SH-AWD Advance
2017 Acura MDX is in essence "a carry-over," in auto-world vernacular. And that's O.K. with me. Frankly, I wouldn't wish to see Acura's flagship SUV advanced to the head-scratching side of automated-complicated-tech-driven obsolescence. In short, while active-safety smart, "cushy" in a truck sort of way, and just elegant enough to transport you, the crew, and needed gear dock-side for a weekend sail, or light- off the grid adventure, 2017 Acura MDX in its essence, remains truck-tough, trouble-free, and very likable.
In driving MDX three-row, I often question the need for anything larger

It's not large in a Chevrolet Suburban sense, Yet 2017 Acura MDX easily accommodates 6 to 7 inhabitants, in quiet, comfy, user friendly confines, while providing the driver with the option of a spirited twisty-road blast down a country 2-lane. Drop the 9-speed automatic into "sport" mode, and Acura's 3-row SUV takes on a sport-like instant-on gas pedal attitude, liken to a sport sedan.
With driver adaptive transmission shift patterns and steering wheel feel, in-town maneuverability and ease of parking is a snap -- as is guiding our 4750 pound SUV through the twisty back roads of Western Oregon.
As I buckled into my 12-way power adjusted, perforated, and accent piped driver's seat, MDX took me to a place of comfort driven familiarity, rarely associated with a premium SUV. Yes, I could grow to love MDX, but alas, it will be returned to the maker on Tuesday, how sad…
I'm feeling a bit lazy today, read my latest drive review of MDX SH-AWD Advance here.
Then comes the NSX inspired Precision Performance Grill, Real Wood, and
Here's some good news for those who have procrastinated on the purchase of MDX. For 2017, while all the award winning goodness, of the best selling premium 3-row in the U.S. remains mechanically and technically unchanged, the controversial (you either like it or you don't) "Acura beak" is replaced with a visually captivating black mesh, chrome, and in-your-face, Acura moniker 3D masterpiece.
Furthermore, you'll discover body molding, black-out lower cowling-air intakes, lower ground effects, a massaged body line the reduces the boxiness of MDX while accentuating the "bling" factor, and available 20 inch alloy wheels, shod with low profile, high speed, all-weather tires. This is one good looking SUV!
The interior's on track for great things to come

Here's the thing: Following Acura's precision evolution roots, MDX's interior is a bit understated for some. That's just how it is. However, for 2017, we discover one of the better looking, and feeling, seats in the industry."Real" exotic hardwood interior inlays, a roller top center seat glove box, with sliding arm rest, ample cup holders, and personal electronic connectivity and charge ports.
On the front passenger side is located a glide-down map box, and ease of access to the split-screen center stack, touchscreen, and manual knob heater, information, systems, and sound system controls. The seat is leather clad, 4-way power adjusted and heated.
And of course: Acura's exceptional roller-dial, touch and voice command smart wheel, affords the driver relatively distraction-free vehicle and "hands-free" connectivity and command. (no one does it better than Acura at the steering wheel.)MDX is comfort and ease of operation personified -- not overly tech-fancy. Simply very capable, fun to drive, and safe.

Not the most powerful SUV in the segment, but
Although not the most powerful or fuel efficient SUV available in the midsize 3-row segment. for me, it's the way that Acura MDX delivers acceleration and torque to the road. Rated at 290 horsepower at 6200 RPM, MDX is not turbocharged, yet produces a meaningful 267 lb-ft torque @ 4700 RPM, mid-rev-range for many of today's turbocharged 4-cylinder engines.
As for me, I appreciate the rather smooth on-tap delivery of power, that only a 6 or 8-cylinder gasoline engine can produce. There's no high pitched turbo-whine noted here, only the baritone growl of a well designed 24 valve, aluminum block and head, cylinder managed, 3.5 Liter V6 -- I like it.Acceleration is rather instantaneous thanks to drive-by-wire throttle technology.
The downside is a bit lower fuel efficiency, (19/26/22 as tested) - 2 mpg over Volvo XC90, but I can live with it. The price point is exceptional,($44,050 Standard FWD to $58,500 +, AWD Advanced with entertainment package) as is the ironed out 9-speed automatic transmission, with 3 available electronic drive modes, 1-tap sport mode, electronic parking brake and more. It all works exceptionally well. Find full 2017 Acura MDX specifications here
Sure, I'd make a minor change or two
But truthfully, after driving the competition, not much! Along with the introduction of the Acura Precision Concept influenced 2018 Acura MDX hybrid will come greater fuel efficiency -- as much as 6 MPG City, and 2 MPG Highway. In its present manifestation, MDX has lost a bit of ground to the competition as to engine power and fuel efficiency.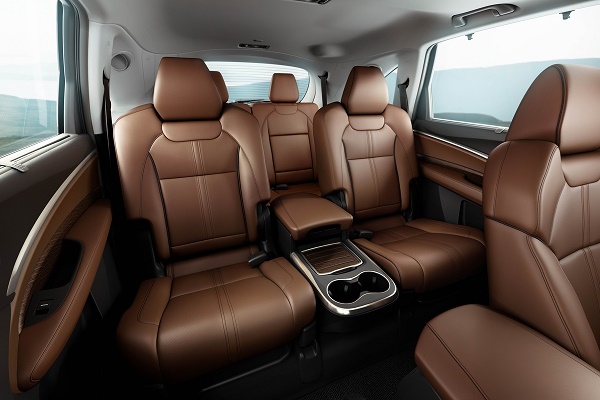 But, what MDX lacks in fuel efficiency is more than compensated by smooth acceleration, an unnerving cabin-quiet, refinement of ride, and seating comfort, not generally associated with a SUV. This is where MDX shines. And for the price, you simply can't beat the total value that is MDX.
Once the computer controlled transmission learned my personal driving patterns, 2017 Acura MDX SH-AWD Advance transformed into a marvel of well meshed driving pleasure. I recommend an MDX test drive to anyone considering the purchase of a premium 3-row crossover of SUV.