Refreshed 2017 Acura MDX SUV comes to market with a surprise or two
For 2017, Acura MDX returns as a substantially refreshed carryover. Featuring a new diamond grill design as first presented by this car -- real interior wood accents, upgraded leather surfaces and burnished metal accent trim details. A much improved center stack, captain's chair second row seating, and a surprise or two that will reset the benchmark in this segment.
On a recent drive through Western Oregon, we discovered why MDX dominates the midsize premium segment.
2017 Acura MDX to offer 3-motor/one engine gasoline hybrid system
Acura MDX is the sales leader in the premium 3-row SUV segment for the better part of a decade. When one looks to the numbers, and then weighs the standard value, tech rich, engine and drive dynamic performance package that is MDX, Acura's midsize premium 3-row SUV comes out on top of the "hottest" automotive segment (second only to the pickup truck) in North America.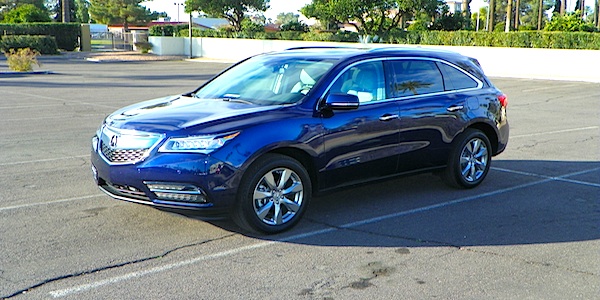 To up the ante, although not available as an option on the 2017 MDX initial market debut in late June, or early July 2016, latter in the season, Acura promises to present the one and only 3.0 Liter VTEC V6 engine, 3 electric motor gasoline, electric hybrid propulsion and torque vectoring drive train combination available in the North American SUV segment today.
Acura tells Torque News that not only will 2017 Acura MDX Sport Hybrid be 10% more powerful than the current offering, but will average no less than + 5 mpg in city driving, making it the most fuel efficient non-turbocharged offering in the midsize crossover/ SUV segment.
With an estimated base model MSRP of $45,000…
Granted, there's a lot more to the value of Acura MDX than the price point. Frankly, I've driven every major manufacturer's offering in the segment and find MDX to be the most comfortable and pleasurable to drive.
On my last week-long drive review and jaunt up to Sedona, Arizona, we averaged fantastic fuel efficiency while bucking high winds and heavy truck traffic. Personally, I like the 9 speed automatic transmission and IDS
For 2017, Acura presents an MDX SUV with premium interior and exterior quality finishes, personal electronic connectivity, expanded active safety features, greater power, precision torque vectoring and a redesigned drive and ride dynamic.
I predict that Acura MDX will continue to dominate the premium midsize segment, as Cadillac, Lexus and others attempt to close the gap between MSRP and standard featured upscale value and drive performance dynamic.