2017 Acura NSX demonstrates superior traction in the rain
Acura is dedicated to spreading the goodness of superior all-weather, hybrid torque vectoring smart handling all-wheel drive throughout its premium car and SUV lineup. What does 2017 Acura NSX have in common with Acura's RLX flagship luxury sedan and the best selling 3-row premium SUV in North America, more than one might imagine.
Three years ago, Acura set out on a mission to return Honda's premium car brand to its precision performance roots. 2017 Acura NSX hybrid electric is the foundation of that mission, as to not only premium styling, and near intuitive driver to car connectivity, but superior road handling through the auto engineering magic that is electric torque vectoring enhanced SH-AWD. (smart handling all wheel drive)
Sharing common drivetrain technology, and a handful of components with Acura's flagship RLX sport hybrid sedan, and the soon to be released MDX sport hybrid SUV, the 2nd generation NSX is the only supercar designed and manufactured in Ohio, and Acura engineering is rightfully proud of their halo car.
Sometime in March the 400th NSX supercar will be delivered to a proud owner in North America
Me, I'm happy to experience NSX under any weather or road condition. Wet or not, as I fired up NSX, released the e-brake, dialed the drive mode to comfort, and toggled the 9-speed dual clutch transmission into drive, I found myself one-handing the smart wheel, as though I'd been driving NSX for months. The driving environment is leather-glove comfortable, form fitting, yet as forgiving as spandex.
All controls, instruments, dials, and stereo are positioned easily within arms reach. Surprisingly enough, although a 2-place, mid engine configured, track-ready supercar, visibility is very good through the windshield and oversize side mirrors. Cab isolation from road transferred vibration and engine noise is superior. I find no compromise, as to comfort and ease of operation when it comes to NSX.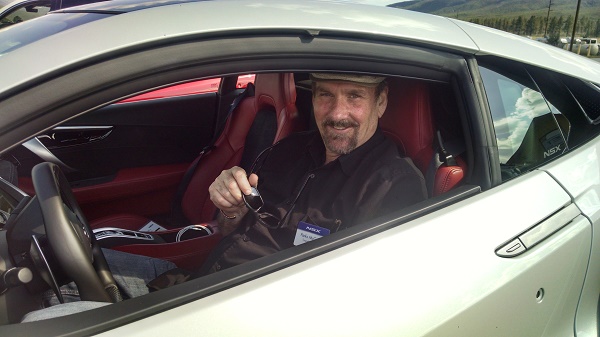 What 573 hybrid horsepower feel like in the rain
Truthfully, I discovered little to no traction or tracking loss when maneuvering NSX through the downpour. Although cautious, I did drop the throttle to the floor board more than once, and undoubtedly surpassed the posted surface street speed limit -- traction and braking remain superior in the wet -- thanks to real-time torque vectoring SH-AWD -- huge rotors and Brembos. SH-AWD engagement is seamless, resulting in exceptional traction and steering control when driving in foul weather. Read my on track initial impression of 2017 Acura NSX.