First Drive: 2017 Acura NSX redefines performance dynamics
At the end of a very intensive drive experience on the track, highways, and streets of Thermal, Palm Springs, California, Acura's reinvented NSX fulfills Mr Honda's prophecy of being 'one with the car,' while far exceeding my quality performance expectations. What does driving Acura's 573 horsepower, 476 lb-ft torque monster feel like?
A car that is "one with the driver"
A car that is one with its driver is a rarity off of the race track, where exceptional road sticky, ceramic brake, near instantaneous, intuitive response is demanded -- without hesitation or compromise. An exceptional car to driver connectivity Is often the primary deciding factor between winning and losing in a very competitive game where mere seconds determine who stands at the podium. Is there a place for this precision engineered drive-dynamic on the street? Acura believes so.
This week Torque News lucked into a life-changing drive experience behind the wheel of a hybrid supercar that's been an ever evolving concept car in development form for the better part of a decade.

Transitioning through several painful years of engineering-dictated redesign, drivetrain change-outs and modifications, and then leading to the eventual manufacturing of a world-car, that when released to a not so mass production in late April,(800 cars per year) Acura's hand assembled 2017 NSX will be like no other high performance mid engine 2-place auto performance offering in any price range -- NSX design and engineering is unique to Acura alone.
2017 Acura NSX sports hybrid is a personal customization one off design with great implications as to the future of Acura Division. Take a look at Acura's online build too here.
NSX sits at the crossroads of technology collides with extreme fine tuned drive-dynamics
In speaking with the 2017 Acura NSX design and engineering team led by "Complete Vehicle Performance Leader" Jason Widmer, we discover that the evolution of NSX has been on an uphill roll-out trajectory with more than a handful of major drivetrain, engine, and component change outs; including a development team decision and eventual management approval along the path to scrap the V10, re engineer, and successfully produce America's only major mass produced gasoline/electric hybrid supercar.
A testament to team play and exceptional cooperation between R&D, design, and manufacturing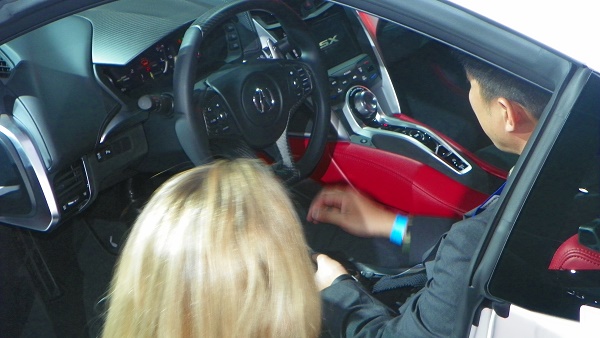 Torque news interviewed NSX body architect Michelle Christensen at the Los Angeles Auto Show in 2015, and asked the question: Does engineering follow form or dictate form when it comes to performance car design?
In the case of NSX, the power of the wind plays a great roll in heat exchange and down force. As one takes a close hands-on look at NSX, it becomes apparent that indeed, form does more than follow function, it enables function, and does so without notice behind the steering wheel of NSX. The supercar's sensory activated and computer controlled drive-line systems work without driver detection -- from one of the best seats in the realm of supercar, as one puts the NSX supercar through its paces.
Race track prowess
On the track NSX points and shoots with the best of the best, braking late into turns, and accelerating onto the straightaway, earlier than imaginable with complete torque-vectoring assist -- resulting in very smart handling all-wheel-drive and ride experience. Even at 130 + mph, NSX ride stability and train-track-like, one-finger road handling is second to none, and just a bit mind blowing at times.
The long term appeal and subsequently market success of NSX is assured through an exceptional performance car package that brings unparalleled "sport" and refined touring and town car ride capability to a segment that is historically "painful" to drive and ride in, for more than a few miles at a time. NSX conquers all road related driving tasks very well with little to no compromise as to ride comfort.
The train-track traction stability of NSX is a tough sensation to put into words. Visualize cutting a cornering arch in half, that's what NSX SH-AWD does through motor power assisted torque vectoring handling attributes. And does so without sacrificing quality of ride and interior cabin comfort.
Torque News spent Wednesday morning speaking with Nick Robinson (Lead Engineer, Vehicle Dynamics) about NSX suspension and handling dynamics. Look for details here in a near future article.
The greatest key to exceptional Acura NSX performance lies in vehicle drive dynamics
Although prompted by my co-driver to hammer the brakes hard when coming into a turn, I found that the (9 speed DCT) double clutch automatic 9 speed transmission when set in track mode, and paddle shifted, controlled NSX through downshifting without the use of excess braking, this side of 100 mph anyway.

I was blown away by how intuitively responsive this car is, down to the computerized shift patterns exhibited at track speed when set in "automatic." There was no competition here, NSX out-shifted me on the paddles hands down!
Fantastic G.T. engine tone is music to the ears

The piped-in engine tone of Acura's 3.5 Liter hand assembled aluminum alloy, twin turbocharged V6 is music to this gearhead's ears, yet not overwhelming as to interior volume. At its core, the NSX interior is very quiet to the point of detecting mild mirror wind noise on the exterior of NSX.
Exhaust note volume, as well a reactive accelerator response and road to steering wheel feel change with the drive mode setting selected through an upper center console mounted radial dial -- it works very well and is in easy reach while operating NSX.
And yet in "silent mode" NSX is as stealth as any EV on the road today -- it's that split-personality thing that Acura does so well. Arguably the E.V. aspect of NSX is secondary to the additional torque and handling dynamic achieved through electrification. Yet, I experienced driving NSX in electric only mode to 50 mph on several occasions -- love it!
Proudly handcrafted in Marysville, Ohio
To put 2017 Acura NSX into perspective: The second generation NSX surpasses any expectation held by this journalist based on my past Acura performance drive and ride experience. A gross understatement? Certainly.
But seriously, what I experience on a racetrack in Thermal, California the second week of April is hard, if not impossible to describe. Looking to the competition, Acura NSX hybrid-sport supercar is like no other car available to the premium sports market today, regardless of MSRP. We tour Acura's Performance Manufacturing Center.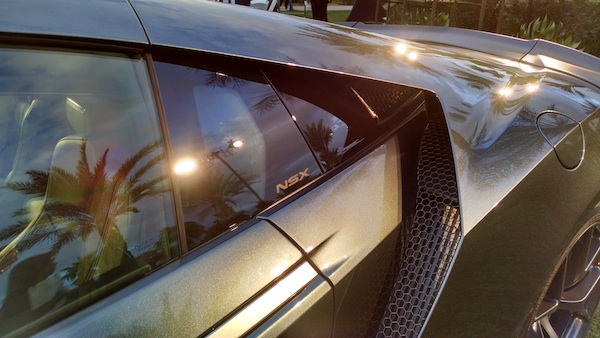 Relatively fatigue free
Amazingly, at the end of what was arguably the most aggressive drive experience I'd encountered in the better part of a decade, I wasn't exhausted! Acura's combination of interior refinement, decent aircraft cockpit-like seating and control ergonomics, coupled with exceptional forward view visibility and surprisingly agreeable un-sports-car like controlled float ride, left this well seasoned track junky ready for another day of high speed adventure, and an after drive session cocktail or two.

When Acura tells you that NSX is track ready from the factory, you may take them at their word. But what truly astounds me, is that NSX is as much at home on the street as it is on the track, and that's a rarity at any price point. It's that split personally thing that Acura does so well -- personified in a 3.5 second zero to 60 mph premium personal conveyance. You will find full Acura NSX price and performance specifications here.
A closing thought or two

At the end of the day when we accounting for all that 2017 Acura NSX provides the end user for the dollar spent, I walked away with the qualified realization that Acura's latest automotive engineering marvel as priced is a relative bargain in the rarefied world "supercar" performance and comfort. No one can touch it, Acura redefines performance dynamics and how the auto industry will deliver high performance, safety, and split-personality drive and ride comfort in the future.