2017 Honda Ridgeline goes big for Super Bowl 50 [Video]
Photo Attributions American Honda Motors 2016.
What can I say? Raised in Los Angeles Ram's country, worked in the land of the San Francisco 49'rs for a decade, and currently living in Eugene, Oregon, "Go Ducks!" a town and state without a pro-football team; I have little reason this year to participate in the Super Bowl 50 buzz. Seahawks? Not this year.
So for me, Super Bowl 50 played in Santa Clara, California, by two teams I've invested zero emotional collateral in, will be more about the commercials than the football. Although, this game by all accounts should be an epic one. And, with the largest television audience in sports watching, 2017 Honda Ridgeline goes big for Super Bowl 50.
As in years past, car makers will present the award winning ads, Acura and Honda among them. I covered the Van Halen sound bite centered 2017 Acura NSX ad in this article. Yes, it's cool, as is the car that it presents.
I've pretty much beat the media introduction of the long anticipated 2017 NSX hybrid to death, so let's move on to 2017 Honda Ridgeline, an up and coming sales superstar in the Honda lineup.
2017 Honda Ridgeline comes to market
As covered in this article, 2017 Honda Ridgeline pickup truck comes to market with a "uniqueness" historically inherent to Ridgeline. Never a segment conformist, when released for sale sometime mid -year 2016, Ridgeline will return after a two year hiatus as arguably the most unique light duty car-truck in the industry.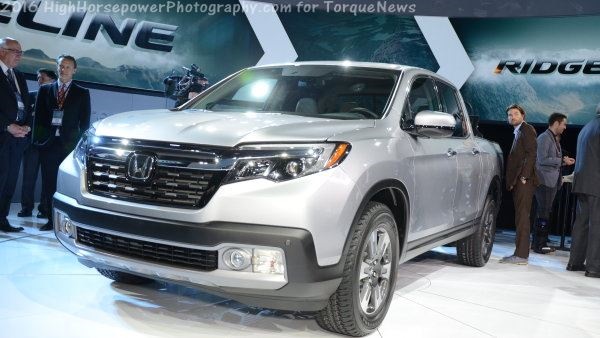 Honda assures us that 2017 Ridgeline is "truck tough." Torque News is anxious to put one to the test, lockable bed-trunk loaded, with rear entertainment speakers blasting.
"Queen," sheep and the industries first truck bed speaker system
In the words of Honda's Mr. Jeff Conrad: "Great Super Bowl spots are entertaining for the fans while communicating an essential value of the product, and we believe our Honda Ridgeline commercial accomplishes both objectives in dramatic fashion," said Jeff Conrad, senior vice president and general manager of the Honda Automobile Division. "With so many truck buyers passionate about football, the big game is the perfect setting to introduce the all-new Ridgeline, and the distinctive features that make it the ultimate tailgating vehicle."

About the ad
This is a very "cool" commercial, presented by Oscar nominated director Bryan Buckley, dubbed the "King of the Super Bowl" with 40 Super Bowl ads to his credit. Produced through RGA, Honda's "Ad Agency of Record," and staged to the music of "Queen," a farmer, his dog and a flock of sheep go about the daily business of feeding time, with a twist. These are not your ordinary sheep, and the dog? Pretty darn exceptional.
"New Truck To Love" puts a memorable spin on 2017 Honda Ridgeline. Like the truck, the ad is unique and memorable, Honda Style!