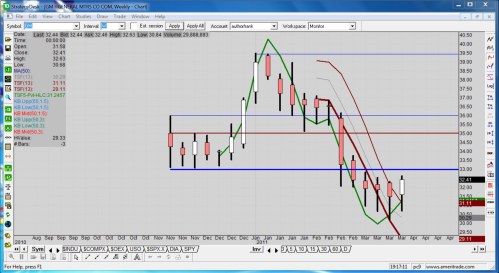 GM stock traders respond favorably to rise in March retail sales
Please
SHARE
with friends and include TorqueNews in
Google Alerts
for tomorrow's interesting stories.
According to the GM news release, demand for Chevrolet Cruze drove the rise in GM March retail sales. The weekly chart of GM stock shows the Friday close on a positive note at $32.41, and the first up-week in over 11 weeks.
Many non-technical stock traders, though, prefer to understand the fundamentals which drove the sales. Fact is, all this was done in spite of a decline in incentives. Dealers reported 206,621 total sales during March, an increase of 11 percent; and this total included a 17 percent increase in retail sales, compared to March 2010.
Also, according to the GM news release, March's retail sales increase was spurred by a 34-percent rise in passenger car retail sales, led by a 287 percent gain in retail sales of the Cruze over the car it replaced, the Cobalt.
This is not surprising, as a recent TN article reported PSCars.com had the Chevy Cruze as number two behind Mustang among the top-10 most-researched vehicles.
The GM news release was clear, though, that March deliveries to fleets declined 1 percent and represented 27 percent of the company's total sales – the ninth straight month that fleet sales comprised less than 30 percent of total sales. Looking at the entire first quarter, fleet sales represented 24 percent of the company's total sales volume, compared to 30 percent in the first quarter of 2010.
As a result, each of GM's brands – Chevrolet, Buick, GMC and Cadillac – gained retail and total market share during the quarter. For the first three months, total sales increased 26 percent to 592,545 units compared to a year earlier.
"Our plan was to get out of the gates quickly in the first quarter and we succeeded," said Don Johnson, vice president, U.S. Sales Operations. "Consumers responded favorably to the value of our broad lineup of fuel-efficient cars, trucks and crossovers."
Passenger Cars

Total sales of GM passenger cars improved 15 percent during March, led by the sale of 18,018 Cruzes. Retail sales of GM passenger cars rose 34 percent for the month. The Cruze, Chevrolet Camaro Convertible and Buick Regal all have achieved record retail sales since being launched. For the quarter, retail sales of GM's passenger cars were up 49 percent, also led by the Cruze, up 203 percent.
Crossovers

The Chevrolet, GMC and Cadillac brands each set March total and retail sales records for crossover sales during the month, driven by a 20 percent increase in combined retail sales by the Chevrolet Equinox and GMC Terrain. The two also set March records for retail sales. For the quarter, retail sales of GM's complete lineup of industry-leading crossovers were up 30 percent.
http://media.gm.com/content/media/us/en/news.detail.brand_GM.html/content/Pages/news/us/en/2011/Apr/0401_gmsales
Pages
Please
SHARE
with friends and include TorqueNews in
Google Alerts
for tomorrow's interesting stories.