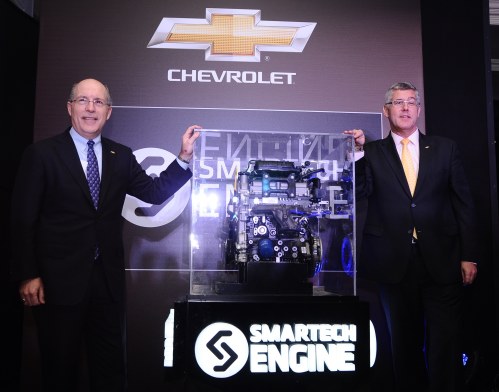 GM India launches 1.2-liter Smart-Tech engine
Please
SHARE
with friends and include TorqueNews in
Google Alerts
for tomorrow's interesting stories.
According to the GM news release out of New Delhi, the 1.2 litre Smart-Tech engine delivers uncompromised power and durability in a small package size.
Extensive testing and validation were carried out in India to guarantee top-of-the-line performance in all vehicle models that will adopt the engine.
Fact is, General Motors has completed 14 years of operation in India. Chevrolet, for example, was introduced in 2003, and is one of the fastest-growing vehicle brands in India.
GM India's state-of-the-art manufacturing facilities in Halol, Gujarat, and Talegaon, Maharashtra, build the Chevrolet Captiva, Chevrolet Optra, Chevrolet Cruze, Chevrolet Aveo, Chevrolet Aveo U-VA, Chevrolet Spark, Chevrolet Beat and Chevrolet Tavera for sale across India. Chevrolet is celebrating its global centenary in 2011.
At a ceremony presided over by General Motors International Operations President, Tim Lee, "India is a key market for General Motors. We are focused on leveraging our unmatched global resources as well as our growing local capability to develop segment-leading vehicles and powertrains in India for India."
The Smart-Tech engine features aluminum cylinder heads, deep skirt cylinder block and lightweight pistons with low tension rings, which decreases weight and maximizes fuel economy.
The engine also features a DOHC valvetrain with direct acting valve actuation to further improve the efficiency, a long runner plastic intake manifold for good low-end torque and lightweight counterbalanced crank shaft for great NVH.
The engine has a maintenance-free inverted tooth timing chain drive system. The chain links engage at a lower impact speed, which decreases the noise generated for quiet operation.
According to Karl Slym, President and Managing Director of General Motors India. "The engine demonstrates the true potential of GM's engineering and manufacturing capability across India."
-----------------------
About the Author: After 39 years in the auto industry as a design engineer, Frank Sherosky now trades stocks and writes articles, books and ebooks via authorfrank.com, but may be contacted here by email: [email protected]
http://media.gm.com/content/media/us/en/news/news_detail.globalnews.brand_gm.html/content/Pages/news/in/en/2011/0127_engine
Pages
Please
SHARE
with friends and include TorqueNews in
Google Alerts
for tomorrow's interesting stories.