Everyone knows Subaru for its all-wheel-drive crossovers, and rear-drive BRZ sports car, but the Japanese automaker also makes parts for the state-of-the-art Boeing 787 "Dreamliner" commercial aircraft. This is where Subaru cars get their DNA.
Subaru Corporation makes cars, but did you know the Japanese automaker has been around 100 years and they started as an airplane manufacturer? The company started in 1917 and their roots are in making aircraft in Japan. Subaru Corp still has an Aerospace Company and currently designs and manufactures the central wing for the new Boeing 787 aircraft.
What is Subaru up to with the rear-drive BRZ?
Subaru just recently announced they loaded up a new Subaru BRZ sports coupe on one of Japan Airline's (JAL) Boeing 787s for a round-trip between Narita Airport and Asahikawa Airport. They did it to show how JAL can not only transport passengers in comfort, but they can even transport a car inside the big jet using their new automobile transport service' J Solutions Wheel'.
Subaru has been a part of manufacturing the central wing on the new 787 airliner since 2007, which Boeing says gives "passengers, an experience like none other in the air, with more comfort and less fatigue. The Dreamliner effect." Subaru has already helped produce more than 650 aircraft using their manufacturing technology. After Subaru Aerospace Company engineers loaded up the BRZ sports car on the new Boeing airliner, they gave a talk on how Subaru helped in the 787's development, and their manufacturing philosophy.
So how does this help consumers?
Subaru may have started out as an airplane manufacturer, but the Subaru Corporation's main focus is on building cars. Subaru automobile division engineers can tap their aerospace buddies to get some needed info on how to use the latest technology for their cars like the BRZ sports coupe. It could be things like using lighter-weight metals for hoods, and other parts used to better manufacture their all-wheel-drive cars.
It's by design Subaru took the BRZ sports coupe on a 30,000 foot flight above Japan. Many have wondered if the BRZ/Toyota 86 partnership would survive, but the BRZ is still a big part of Subaru's plans for the future. Early next year, Subaru will celebrate their 50 year anniversary in the U.S. market, and one of the cars being launched is a new 2018 BRZ tS.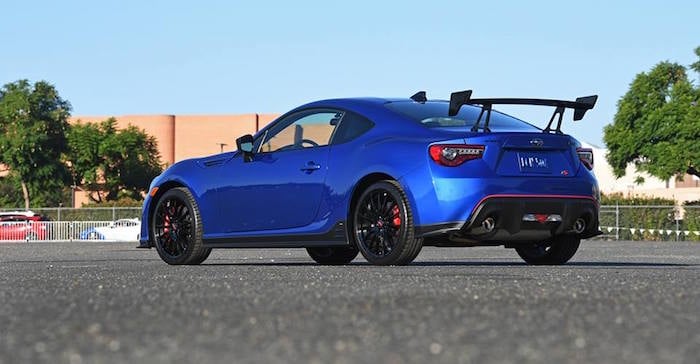 It was developed with the help of Subaru Tecnica International (STI) Subaru's motorsports partner. The performance tuning by STI engineers means the 2018 BRZ tS should give the sports coupe an even more dynamic driving experience, "delivering greater grip, increased steering and braking response and greater high-speed stability" according to Subaru. BRZ is alive and well and flying high at 30,000 feet. Maybe fans will still see a true BRZ STI.
Photo credit: Subaru Japan