2018 Hyundai Sonata; Sport 2.0T Ramps Up the Fun-To-Drive Meter
The Hyundai Sonata has been around awhile and is currently in its seventh generation. It's one of the most popular sedans on the market competing against the Toyota Camry, Honda Accord, Ford Fusion, Subaru Legacy, Mazda 6, Nissan Altima and Chevrolet Malibu. Hyundai is on the move and has even more new products on the way. This week we drive the next-to-the-top trim Sport 2.0T.
What's new for 2018?
For 2018, Sonata gets a new cascading front grille surrounded by a redesigned front fascia with available LED headlights. At the rear you'll see the restyled taillights, trunk and lower body panel. Advanced safety features like Blind Spot Detection with Rear Cross-traffic Alert are now standard on every trim. Inside, it gets a restyled center stack and a new 3-spoke leather-wrapped steering wheel.
Features and options
The 2018 Hyundai Sonata 2.0T Sport Turbo ($27,600) comes with a turbocharged 2.0-liter engine, paddle shifters, sport suspension, bigger front brakes, 18-inch wheels, aluminum pedals, and sport seats.
Other standard features include Auto-dimming rearview mirror with HomeLink and compass, 4.2-inch color trip computer with custom settings, Leather seating surfaces, 10-way power driver seat with power adjustable lumbar support, 6-way power passenger seat, Integrated Memory System (IMS) for driver seat and side mirrors, heated front seats, 7-inch color touchscreen display audio, and leather-wrapped D-cut Tilt-and-telescopic steering wheel.
Technology includes Bluetooth hands-free phone system, HD Radio, SiriusXM, Android Auto compatibility, Apple CarPlay compatibility, and floor console-mounted USB charge port. Total MSRP including destination: $28,610. For full specs on the Sport 2.0T you can get them here.
Interior highlights
Stepping inside the Sonata Sport 2.0T reveals an upscale comfortable and roomy cabin. The Sport 2.0T front seats are well padded, supportive, and perfect for long-distance trips and get added lateral support for more spirited driving maneuvers. We took the Sonata on a longer trip to the wine country in Palisade Colorado. We didn't feel tired after the 3-hour drive and felt comfortable the whole way.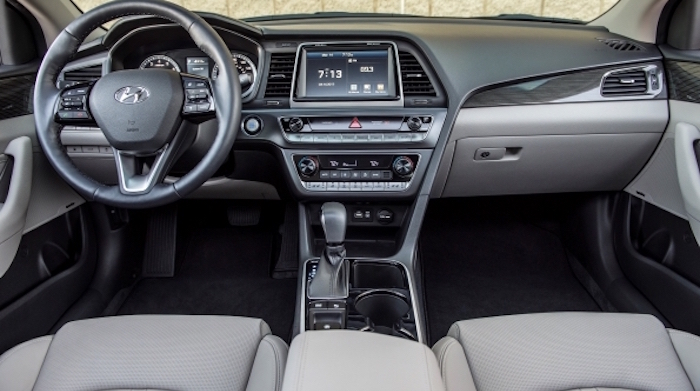 There's plenty of space up front for driver and passenger, and the quality of materials kept us comfortable with lots of soft-touch surfaces throughout the cabin. All the controls are easy to locate and the 7-inch touch screen is large enough to make selecting functions easy, and not a distraction while on the road. As we drove at 75 mph on I-70, the cabin was quiet enough for us to carry on a conversation without strain.
We didn't have any rear passengers this week, but as we sat back there for a trial, there is ample knee room, even behind a taller driver, though the center-seat passenger is likely to feel squeezed. Rear headroom matches rival sedans.
The trunk is more generous than average for this segment with 16.3 cubic feet of cargo-carrying space. We parked next to another Sonata while at one of the vineyards and talked to the couple after we came out. They raved at how much they liked their Sonata and couldn't say enough about the large truck. As we stood behind our tester, we were surprised when the hands-free "smart" trunk opener automatically popped the trunk!
Engine and fuel mileage specs
Hyundai Sonata 2.0T Sport comes powered by a twin-scroll turbocharged 2.0-liter four-cylinder engine producing 245 horsepower and 260 pound-feet of torque. It comes mated with a 6-speed automatic transmission with steering wheel paddle shifters for driving enthusiasts. The Sonata is front-drive only as all-wheel drive is not offered. The 2.0T gets an EPA/DOT estimated 23/32 city/highway mpg and 26 combined mpg.
Driving dynamics
The Sonata's 2.0-liter turbo engine revs freely and delivers smooth power and quicker acceleration. On the open road the sedan was quiet, comfortable and offered up all the power needed even at altitude traveling over Vail Pass. Have you ever noticed when you drive a car you start seeing more of them? This happened to us on the trip to Palisade. We saw many Hyundai Sedans in various trims.
The ride is smooth and compliant, absorbing plenty of road imperfections even with the Sport's bigger tires and slightly stiffer suspension tuning. We crossed a railroad track going fast on the winery tour and it absorbed the bumps well. The sedan is tuned for mainstream families, so it won't jar your teeth out on the commute to work or taking the family out for the weekend. The Sport 2.0T is designed for those who want a slitty more-spirited driving experience. We thought the sedan drove smaller than its size, making it not just competent as a commuter vehicle, but also higher on the fun-to-drive meter.
Conclusion
The Hyundai Sonata Sport 2.0T delivers abundant interior space, with road-trip-worthy seats, a well-controlled ride and handling qualities, and offers up more dynamic driving dynamics all for under $30K. It's got descent fuel efficiency if you keep your foot out of the turbo. If it was offered with all-wheel-drive, it would get even higher marks.
Photo Credit: Hyundai USA