Justin Hart is a content creator here at Torque News and also a multi-EV owner who has found his plug-in hybrid-electric (PHEV) crossover the perfect compliment to his Tesla Model 3 sedan. We thought our readers may wish to hear why this Tesla owner finds a plug-in hybrid such a good paring with a battery electric car.
Related Story: 5 Plug-in Hybrid EV Myths Battery-Electric Purists Wish Were True
TN: Please tell us a bit about your background relative to vehicles, Justin. How many EVs have you owned, and when did you begin driving green vehicles?
JH - I have owned 4 plug-in "cars"- 3 cars and 1 SUV technically - plus one electric bicycle, which was my first "EV" in 2008. Two were/are fully electric (not plug-in hybrids), a Nissan LEAF and a Tesla Model 3; and two were/are plug-in hybrids, a Chevy Volt and a Kia Sorento plug-in hybrid. I consider them all "EVs" because all are capable of storing motive power from an electrical source and using only that power for propulsion in the majority of driving scenarios.
Related Story: Testing Kia Sorento PHEV Winter Driving Performance:
TN: Which PHEV do you own, and why did you select it?
JH - I currently own a 2022 Kia Sorento PHEV, and I selected it for multiple reasons. Those reasons include: its final price and availability, its overall feature set (3-row seating, passenger and cargo volume, electric-only range and hybrid fuel economy, etc.), and perceived reliability/vehicle warranty.
Related Story: Consumer Reports: PHEVs Like RAV4 Prime Have Lower Maintenance & Repair Costs Than BEVs Like Tesla Model Y
TH: In your home, what role does the Tesla play, and what role does the Kia Sorento PHEV?
JH - This is an interesting question because it depends. But generally speaking, the Tesla is the: fun-to-drive sporty car, certain types of road trip car (especially longer distance/not cargo centered trips in the warmer parts of the year), and commuting if the drive is more than 30-40 miles. The Sorento is for camping, grocery getting, and school drop-off sorts of errands, and those times when we need to haul a lot of people or stuff or both to a family visit or recreational activity.
TH: What can the Kia Sorento PHEV do better than the Tesla? In other words, when is it the better option?
JH - The Kia Sorento PHEV has about 3x the cargo capacity as the Tesla and 30% more effective passenger space. It also has AWD (my Tesla is only the RWD model), better ground clearance, is more comfortable/has more passenger head and legroom for at least 4 of 6 passengers, and can be a better choice for certain destinations or activities. By that last comment, I mean both that having the option to use gas or electricity comes in handy sometimes and that features like an expansive, flat cargo area large enough for two adults (and possibly a small child) to sleep in is quite useful.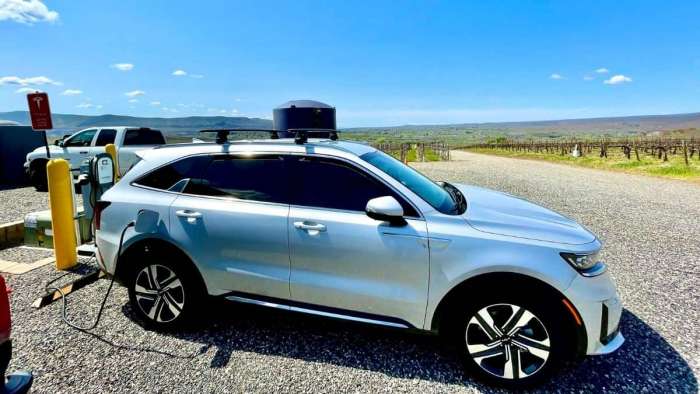 TN: How often do you plug in the Sorento PHEV, and what is your home charging setup like?
JH - Both my wife and I work from home, usually, so some weeks I only plug in the Sorento PHEV once or twice and other weeks, I may charge it daily (or even more than once per day). We have two 240V outlets for charging in our garage: a 30 amp outlet for the Sorento PHEV (which only charges at 16 amps, 240V) and a 50 amp outlet for our Tesla (which charges at up to 32 amps, 240V). I use public charging when I need to (in the Tesla) and when it is free or lower than the cost of gas, which is often the case on trips we tend to take in our PHEV.
TN: What percent of your daily chores can the Sorento PHEV complete in EV mode?
JH - Over 90%, I'd estimate. The only regular drives we might do that it can't cover completely in EV mode are: to the winery I work for on weekends, in the wintertime (because the range is reduced and I may need to use the heat for comfort or defrosting the windows), or some of my wife's work-related event commuting (when she might commute to Tacoma or another neighboring city). Even then, if we can make use of a public charger when we arrive at work, and it isn't too cold out, we can do those trips in full EV mode sometimes.
Truth Unplugged - Data Helps Disprove Critics' Main Complaint About Plug-In Hybrids
TH: How far can your Sorento PHEV travel in EV mode?
JH - My best range in summer was 43 miles, and my worst range in Seattle winter is about 32 miles (which is the EPA-rated range). I drive it gently, though, saving my more spirited drives for the Tesla. If I filled it up with people and stuff and was able to drive 65 mph+ without traffic, I'd get less than 30 miles on a charge. But traffic is so bad here it is hard to do that for lengthy stretches, and we only load it up like that for longer trips, usually, and then I switch to HEV mode early to conserve battery range for 45 mph or less stretches, which maximizes fuel economy.
TN: What would you estimate your MPG to be when the Sorento PHEV is operating without its battery charged and operates in hybrid mode?
JH - My lifetime MPG, as I computed using estimated gallons of gas used per miles driven in HEV mode is 36.5 MPG. That is not from the car's displays but my own figures and estimates (because the car doesn't tell me exactly how much gas I used or miles I traveled using gas).
TN: Do you use Android Auto or Apple Car Play in the Sorento PHEV?
JH - I use Apple Car Play, typically when I want or need GPS directions or want to stream music. The built-in GPS is, in my opinion, disappointing in its route selection, accuracy, and speed/responsiveness. Note that the Sorento's Operating System is Android Automotive (not the same things as Android Auto), so technically, I use an Android OS, too, for browsing the vehicle's "built-in" software features.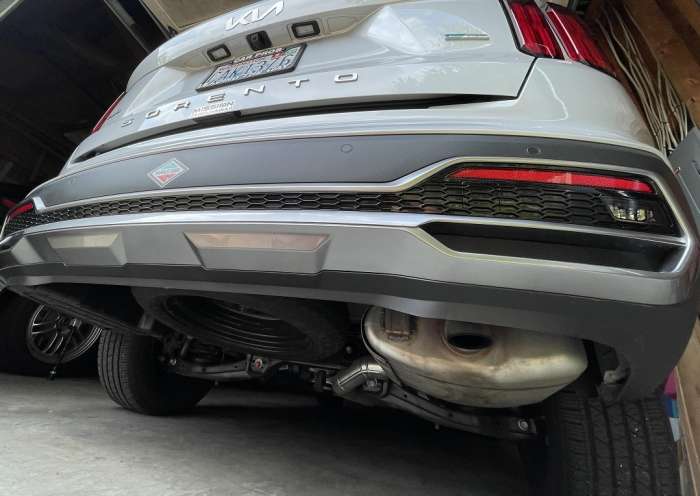 TN: Are there any features the Sorento PHEV offers that you could not get in a Tesla Model?
JH - Yes: retractable thigh support in the driver's seat, ventilated front seats, 3rd-row seating (though I could have gotten that in a Tesla Model Y had they been on sale when I bought my Model 3 or if I had chosen the Model Y over the Sorento PHEV), a compact spare tire, the ability to use gas or electricity for propulsion (if you're willing to call that a feature rather than a design or function), AWD, Apple Car Play/Android Auto (though for the most part, I feel Tesla's infotainment interfaces and GPS systems are superior), and higher ground clearance.
TN: How does the driver-assist technology in the Sorento PHEV stack up to your Tesla?
JH - Fairly comparable, though the Tesla does a better job at staying centered in the lane (assuming lane markers are visible), and the Kia is a little more "proactive," stopping the vehicle abruptly if backing up too fast toward an object. Things I have noticed that concern me about each: the Kia doesn't always stop fast enough for my comfort in panic-stop situations at highway speeds (three times I felt the need to intervene), and the Tesla has well-reported "phantom braking" issues. None of these systems on any car have been perfected yet, or so I gather.
TN: Have you had some adventures in the Sorento PHEV you can tell us a bit about?
JH - Yes, several! I have written up stories of my camping trips and wine-tasting tours around the Pacific Northwest on Torque News. The Sorento is very comfortable for road trips, and an excellent car camping vehicle, and I appreciate the cargo space it has for all our stuff and treasures (the wine and other souvenirs we may bring back from our road trips around the region).
Related Story: Ten Electric Vehicles You Can Buy With a Spare Tire In 2022
TN: Have you ever had a flat tire in a BEV? How did you manage it? Do you see the Sorento PHEV having a spare tire as an important feature when traveling?
JH - In my entire driving life of 33 years, I have never had a flat tire while driving a vehicle, though one of my cars did get a flat tire when my wife was driving it, and luckily it didn't go completely flat until it was sitting in our driveway after she ran over a piece of metal. I consider myself lucky, though, and I do regularly check the inflation and condition of my tires. I am very pleased that my Sorento PHEV has a compact spare tire, rather than just an inflation kit, since it can make the difference between getting to help in your vehicle or being stuck/having to walk or hitch a ride.
Our thanks to Justin Hart for taking the time to share his thoughts on why a plug-in hybrid-electric vehicle is a perfect second vehicle in a family that already owns a battery-electric vehicle. Please follow Justin here at Torque News as he covers a wide range of living electric topics.
John Goreham is a long-time New England Motor Press Association member and recovering engineer. John's interest in EVs goes back to 1990 when he designed the thermal control system for an EV battery as part of an academic team. After earning his mechanical engineering degree, John completed a marketing program at Northeastern University and worked with automotive component manufacturers, in the semiconductor industry, and in biotech. In addition to Torque News, John's work has appeared in print in dozens of American news outlets and he provides reviews to many vehicle shopping sites. You can follow John on TikTok @ToknCars, on Twitter, and view his credentials at Linkedin
Images courtesy of Justin Hart.