As automakers transition to dramatically heavier electric vehicles, the myth that automakers needed to save a few pounds by eliminating your spare tire has become accepted by many gullible consumers as fact. No Tesla model has a spare tire, nor do they come with a spare tire storage area. Hyundai's new Ioniq 5, Kia's EV6, the Ford Mustang Mach-E, the Volkswagen ID.4, and even the six-figure Lucid Air all leave you stranded if your tire is damaged and cannot be re-inflated on the road. Your only option is to see your pricey new EV towed away. However, many EV models do have spare tires. And the list is getting longer as new models emerge.
Related Story: Battery-Electric Vehicle Owners Filling Social Media With Flat Tire Woes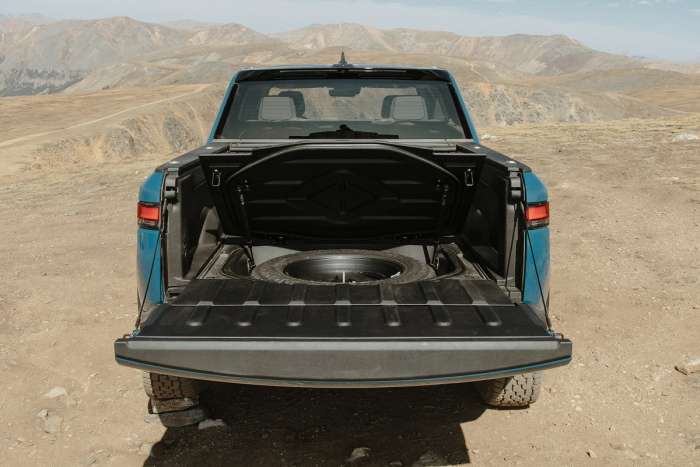 In our listing, we will include both plug-in hybrid-electric vehicles (PHEVs) and also battery electric vehicles (BEVs). If that upsets you for some reason, feel free to state your objection in our comments section. By our way of thinking, any vehicle that plugs in and can get you to and from work without using any gas is an EV.
Some of the electric vehicles on the market offer spare tires as an option or by trim. We will do our level best to specify which is which, but always check with your dealer or direct-market retailer on the status of a spare tire before you place an order. Also, some markets outside of the U.S. may steal the spare even on the models we list here.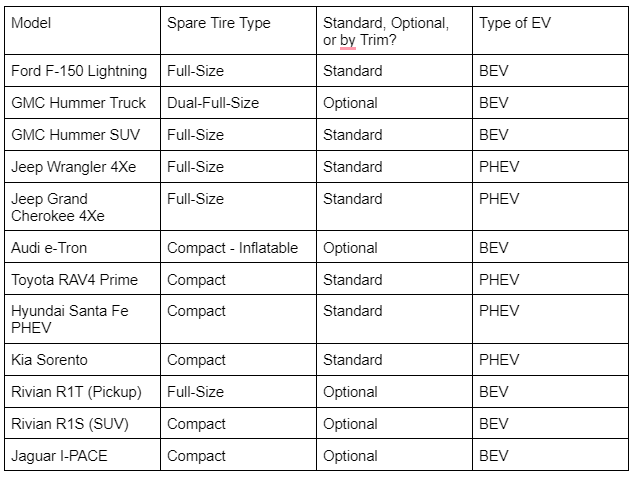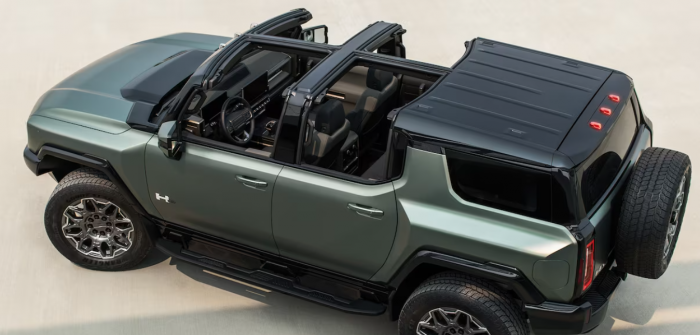 June 1, 2023 List updated to include Hummer SUV.
Most Insane Electric Vehicle Spare Tire Option - GMC Hummer EV
The GMC Hummer does not come standard with any spare. However, GMC will sell you an optional Bed-Mounted Vertical Tire Carrier that can hold up to two matching wheels. Sure, you lose your cargo area, but with two full-size matching spare tires, we must give a tip of the hat to the Hummer pickup.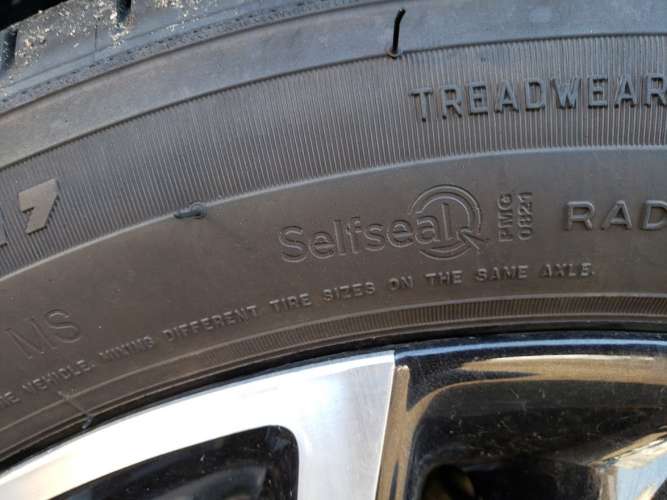 Honorable Mentions - Chevy Bolt EV and Lexus NX
General Motors also gave the Bolt line of electric vehicles a solution for punctures. The Bolt comes with a self-sealing tire. While this solution may not be ideal for all owners, given the Bolts' primarily urban commuter mission, we feel this is a very viable alternative to a spare tire. General Motors has not forgotten how to make a practical car. Similarly, Lexus has opted to use run-flat tires for its new plug-in NX crossover. While we are not fans of run flat tires based on our testing of them in the real world, they are better than no solution at all.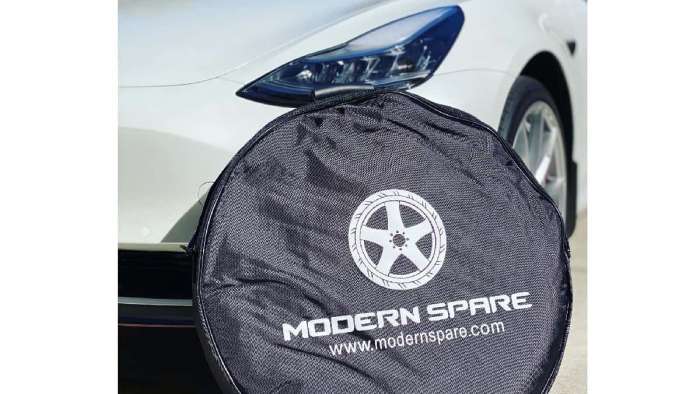 What About Adding a Spare Tire To Your EV?
Modern Spare has stepped up to correct the error made by automakers by not including a spare tire with popular electric vehicle models. Owners of Modern Spare tires and kits report good things. However, you must store the spare somewhere, and many new EVs do not have any spare tire storage under the cargo area. So you must leave it in the cargo area, which consumes your usable space, and, if not stored properly, is a safety hazard. Finally, you have to add one more thing to your list of EV accessories to buy.
Won't My Mobility Kit Save Me?
We have no problem with tire mobility kits. In fact, they make sense even if you have a spare tire. But are they really a substitute for a spare? Tire mobility kits, a.k.a. gunk in the trunk, can help to get you going if you have a simple puncture, you are able to use the mobility kit successfully, and if you are near help. However, many owners who use mobility kits also fail to use them successfully. Many users report that the mobility kit's slime killed their TPMS sensor. So, while they are certainly better than nothing, tire mobility kits are not a solution to all types of tire damage. Consider this scenario; You are in a snowstorm, and you have damaged a tire by hitting a monster pothole. That tire is now flat. You have phoned roadside assistance. Would you rather know you have a spare tire in the trunk the technician can mount upon arrival, or would you prefer to have a frozen-solid mobility kit in the trunk?
Help Us Help EV Shoppers
Our list may not be complete, and over time we hope more EVs will enter the marketplace with spare tires. If you know of an EV with a spare tire that we have left out, please tell us in the comments below about it. We will update our list periodically so electric vehicle shoppers who value a spare tire can make an informed decision.
8-19-22 - List updated to Include Hyundai Santa Fe HTRAC PHEV.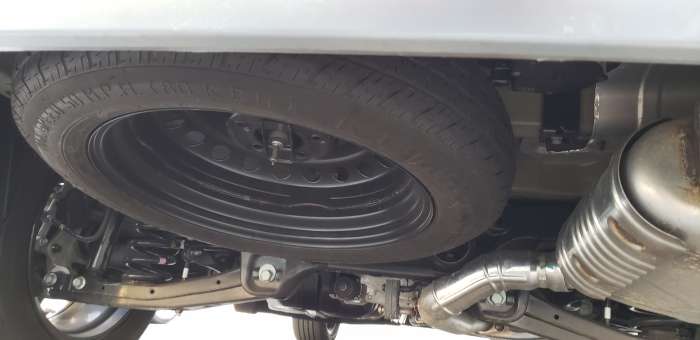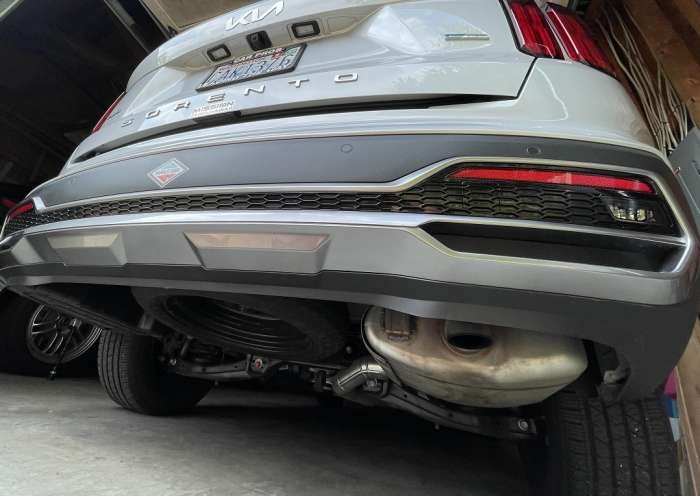 9-15-22 List updated to include Kia Sorento PHEV - Thanks Justin Hart!
John Goreham is a long-time New England Motor Press Association member and recovering engineer. John's interest in EVs goes back to 1990 when he designed the thermal control system for an EV battery as part of an academic team. After earning his mechanical engineering degree, John completed a marketing program at Northeastern University and worked with automotive component manufacturers, in the semiconductor industry, and in biotech. In addition to Torque News, John's work has appeared in print in dozens of American news outlets and he provides reviews to many vehicle shopping sites. You can follow John on TikTok @ToknCars, on Twitter, and view his credentials at Linkedin
Re-Publication. If you wish to re-use this content, please contact Torque News for terms and conditions.
Image credits:
Top of page Ford F-150 Lightning Spare tire image by John Goreham By John Goreham. Image of Toyota RAV4 Prime spare tire by John Goreham. Modern Spare image courtesy of Modern Spare. Wrangler 4xe image by John Goreham. Rivian spare tire image by Rivian media support. Chevy Bolt Self-Seal tire image by John Goreham. Image of Hyundai Santa Fe PHEV spare tire by John Goreham. 2022 Kia Sorento PHEV spare image courtesy of owner and Torque News content creator, Justin Hart. Hummer EV SUV image courtesy of GM.