The Honda CR-V is many things to many drivers. It's a superb family vehicle. There is no better crossover in which to commute than the Hybrid trim of the CR-V. The CR-V is also an excellent road trip vehicle. With legendary ergonomic excellence and the most usable room in its segment, the CR-V has a well-earned reputation as best in class in all but one way - winter driving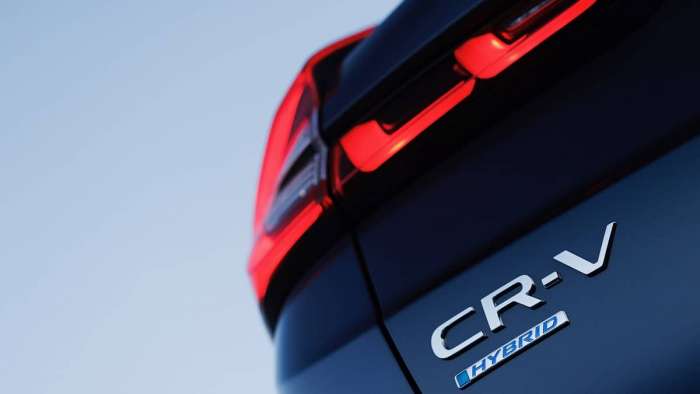 Related Story: Honda's Plan For Making the CR-V Hybrid Its Most Popular Model
Yes, the CR-V has always been a good winter vehicle. However, other automakers, Subaru in particular, made their crossovers more of a winter-focused vehicle. They simply had more capability - until now.
For 2023, Honda takes the already capable CR-V up a notch for those who do battle with harsh winter weather. Three distinct changes will make the CR-V more user-friendly when the snow piles up and the ice begins to harden on our driving surfaces.
2023 Honda CR-V Snow Mode
All modern crossovers now come with driver-selectable modes that help them to perform at their best in certain situations. For 2023, Honda adds a Snow Mode to its list of features. While a snow mode may seem unnecessary with all-wheel drive, it is not. Snow modes change transmission and throttle settings and prepare the AWD system for slippage before you even move the vehicle. We have a long-term Toyota Highlander in its 15th year that has a snow mode, and it makes a meaningful difference in snowy conditions. Honda made a wise choice to add Snow Mode to the 2023 CR-V line.
2023 Honda CR-V AWD Changes
Honda's CR-V has always used a front-biased AWD system. It is a front-wheel drive platform, after all. However, in 2023 the AWD system will be able to send more of its thrust to the rear wheels. Up to 50% in certain situations. Honda has updated its Real Time AWD with Intelligent Control System to improve traction management in slippery conditions, like snow and mud. This system will be available on all grades and standard on Sport Touring,
2023 Honda CR-V Hill Descent Control
Hill descent control (HDC) is one of those features that sounds like you will never need it. While true if you only drive on pavement in warm conditions, HDC can make a big difference if you try to descend a steep hill in slippery conditions. We have used HDC on many vehicles in the real world. Your author has a remote cabin on an unpaved seasonal road. In winter, the steep downhill section can preclude travel - unless one has the right equipment. HDC enables a vehicle to descend more safely and in control. It is for certain a feature you have to try to believe. For shoppers like me, Honda adding HDC to the CR-V means I can now consider this model for my needs.
We all know that a set of winter tires is the single most important feature anyone can have in winter. However, once you have the winter tires, all of these new CR-V features will enable an even higher level of safe (and exciting) winter driving. If you are a Honda fan who has looked to Subaru for winter vehicles in the past, you now have a serious alternative to consider.
John Goreham is a long-time New England Motor Press Association member and recovering engineer. John's interest in EVs goes back to 1990 when he designed the thermal control system for an EV battery as part of an academic team. After earning his mechanical engineering degree, John completed a marketing program at Northeastern University and worked with automotive component manufacturers, in the semiconductor industry, and in biotech. In addition to Torque News, John's work has appeared in print in dozens of American news outlets and he provides reviews to many vehicle shopping sites. You can follow John on TikTok @ToknCars, on Twitter, and view his credentials at Linkedin
Re-Publication. If you wish to re-use this content, please contact Torque News for terms and conditions.
Winter hill image by John Goreham. CR-V Hybrid image courtesy of Honda.