Take the Jeep Snow Quiz To See How Technology Can Help You In Winter Conditions
The Jeep brand has built a reputation synonymous with winter driving excellence. The Wrangler is a beast on any surface of course, the Grand Cherokee, Cherokee, Compass and Renegade are all also available with AWD, four-wheel drive, and advanced winter driving assistance technology. The new Grand Cherokee L and Wagoneer lines continue this great tradition of excellence. However, this infographic includes helpful tips about Jeep's 4Xe plug-in hybrid technology along with the traditional winter driving aids.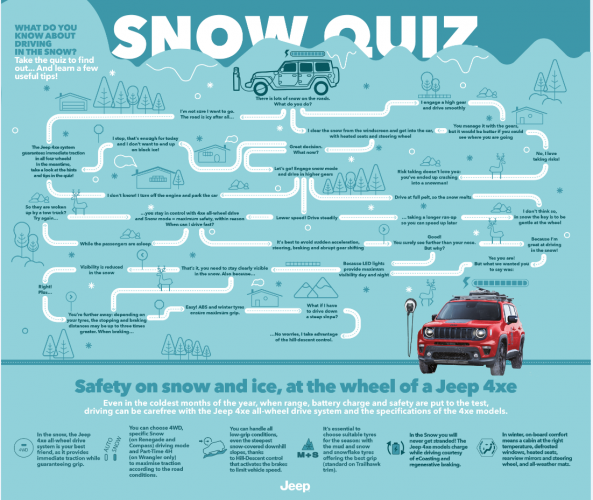 Some highlights of the Jeep snow quiz include:
Hill descent control - Helps you descend a steep slippery hill without drama (we've tried it and it works amazingly well)
3PMSF Tires - Do you know the value of winter-rated rubber? Do you recognize the symbol for these types of tires? Proper rubber in winter really can't be overstated.
e-Coasting - Do you know the benefits?
4High, 4Low, or I don't know - How well do you understand your 4x4 options?
Snow Mode - Sort of explains itself, no?
Traction control - Why would you disable it?
How do you turn on heated side mirrors?
Got winch?
Full-size spare? Talk amongst yourselves…
We recently tested the new Grand Cherokee L in two different trims. The Grand Cherokee L Summit Reserve 4X4 is a perfect example of how Jeep pays close attention to detail when it comes to winter vehicle perfection.
How'd you do on the quiz? What would you have added? Tell us in the comments below.
Image of Jeep Grand Cherokee L in the snow by John Goreham. Infographic by Jeep.
John Goreham is a long-time New England Motor Press Association member and recovering engineer. John's interest in EVs goes back to 1990 when he designed the thermal control system for an EV battery as part of an academic team. After earning his mechanical engineering degree, John completed a marketing program at Northeastern University and worked with automotive component manufacturers, in the semiconductor industry, and in biotech. In addition to Torque News, John's work has appeared in print in dozens of American news outlets and he provides reviews to many vehicle shopping sites. You can follow John on TikTok @ToknCars, on Twitter, and view his credentials at Linkedin
Re-Publication. If you wish to re-use this content, please contact Torque News for terms and conditions.