As inflation erodes Americans' purchasing power and fuel costs grow to be an ever-larger portion of the average family's budget, vehicle buying habits will evolve. Compact crossover vehicles will become ever more interesting to shoppers, and they will become more important to the manufacturers who build them. The all-new Honda HR-V is ahead of this curve.
Honda's new HR-V changed to a new everything for the 2023 model year. The vehicle looks very different from the old HR-V, and it feels entirely different based on our time in the vehicle. Honda has focused closely on what really matters to the bulk of buyers and created a vehicle that is not a second-prize CR-V but what may become a preferred choice or alternative choice for buyers. What made us happiest was that Honda resisted the urge to do some of the corner-cutting we see across the industry as prices and supply chain woes continue to challenge vehicle makers.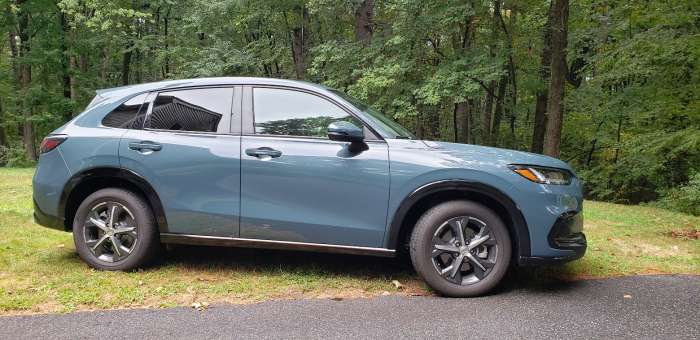 2023 Honda HR-V EX-L AWD - What Is It?
The HR-V is a compact crossover or wagon smaller than a Honda CR-V. Seating is comfortable for five passengers, and cargo volume is plentiful for its segment. We love that the styling reminds us of a tall hatchback in a way. Not a box, but a wagonish type of look.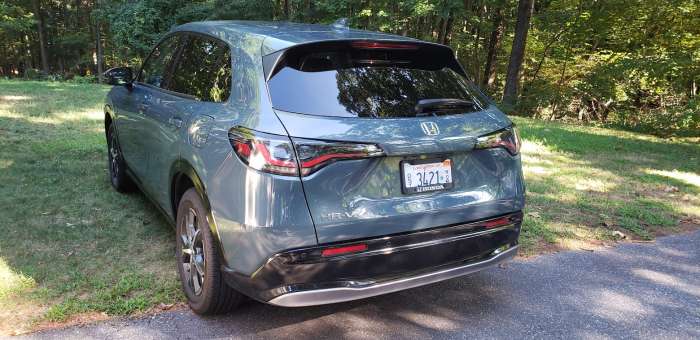 2023 Honda HR-V EX-L AWD - How Big Is It?
Bigness matters in smaller cars. Sounds crazy, but not if you think about it. For its segment, the HR-V feels large in every regard. The cargo volume of the HR-V is 24.4 cu ft with its rear seats up. The Mazda CX-30 offers just 20.2 by comparison, and the Subaru Crosstrek just 20.8. With the seats folded, the HR-V's cargo volume increases to an impressive 55.1 cu ft.
Inside, the HR-V feels bigger than we expected it would. It offers 98.7 cu ft of passenger volume. By contrast, a Toyota CorollaCross offers just 87.3 cu ft. In fact, the "bigger" Toyota RAV has an almost identical passenger volume to the new HR-V at 98.9 cu ft.
2023 HR-V EX-L AWD - Price, Warranty, and Included Maintenance
The HR-V starts at about $25K. We tested the top trim level EX-L with all-wheel drive (AWD). If you are a Honda fan, you know what EX-L means. It means a power driver's seat, moonroof, leather-trimmed seats and steering wheel, and the best of all the gadgets for that particular Honda vehicle. Ours was priced at $30,590, including the Honda Destination and Handling Charge.
Honda's warranty remains on the shorter side of the industry. It ends after five years, while some important competitors (Hyundai, Kia, Mitsubishi) all have warranties extending to ten years for the original owner. This model year of 2023 will mark the first that Honda offers, included maintenance. The first two years will be included in the cost of the vehicle, following the lead of many other brands. We would assign an approximate value of this included service work of about $400.
2023 HR-V EX-L AWD - What Makes It Go? How's the Mileage?
Honda uses a 2.0-liter non-turbo engine making 158 peak horsepower to push the HR-V calmly down the road. It is mated to a CVT, and the trim we tested had various drive modes, including a Snow Mode, Sport Mode, and Eco Mode. We're suckers for a snow mode, and coupled with AWD and Hill Descent Control, we suspect this HR-V will be a great winter vehicle.
During our testing, we observed a 36 MPG average in mixed driving and just over 40 MPG in rural highway use. That is way above the EPA's 27 MPG Combined fuel economy estimate. Torque News is not the only testing publication that noticed the HR-V earns better than expected mileage. The lead-footed testers over at Car and Driver also reported this. Of course, the vehicle uses regular fuel.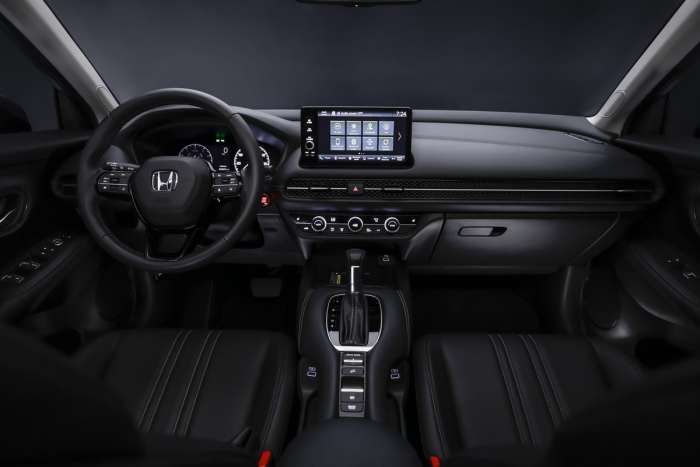 2023 Honda HR-V EX-L AWD - Interior, Cargo Space, and Infotainment
Honda's HR-V EX-L has a different infotainment system than the two lower trims, so be aware that what we write refers only to this trim. Here we go: The HR-V from Honda has a PERFECT infotainment system. Perfect. It's an A+. Let's start with the simple-to-use, right-sized main touch screen. It just makes sense. You don't have to learn it. You just get in and use it intuitively. Android Auto and Apple CarPlay are wireless, with a wireless charging pad. Throw your cords away! Best of all, the system is quick to wake up and start working. There IS a volume knob.
The driver information display is also great. It can display your Google Maps' upcoming turns. It tells you most of what you need to know without a lot of hunting in menus. The only thing we could not find was individual tire pressures. We can live without that since we know the system will tell us if one tire is low.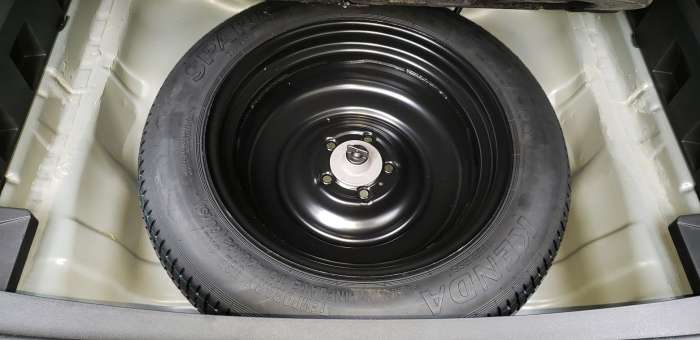 The cargo area is large for its segment, and there is a spare tire under the cargo floor. Hey, speaking of cargo floors, this HR-V has the best one in the entire automotive world. It's low, but not too low. Wide. Flat. Perfect. Under the cargo floor in the spare tire well is space to stash all your emergency stuff.
The HR-V's interior is great in many ways. The visibility is excellent, perhaps best in class. The dash is the same as the Civic's, more or less, which is to say, great. The doors have some big hard plastic pieces. Who cares? Honda put padding where a tall driver's right knee would rub the center console, there is a "normal" shifter," and there are two real cupholders in the console. There is a main USB for inputting a phone if you need to, and there are two more for front passengers. Under the center console is a flat area for a purse or small bag. When you sit in the driver's seat, the left and center armrests are actually where your arms will rest. This is the way every vehicle should be laid out.
There is one last bonus, and it starting to be true of every Honda and Acura we test. The new HR-V EX-L has a fantastic audio system. Loud, clear, and simple to operate. It doesn't have a name. It's just a Honda audio system. However, if it had a Bang and Kardon sticker on the speakers, it would not have surprised us at all.
2023 Honda HR-V EX-L AWD - How Does It Drive?
The Honda HR-V has a very relaxing and comfortable ride and personality. It is ideally suited to those who want driving to be made easier and more pleasant. The engine is… let's call it "sedate." Working with its smooth, shiftless CVT, it is always out of the way and never roars or buzzes when it is asked to work its hardest. Consumer Reports, what we consider to be a pretty "grown up" publication, said the HR-V's powertrain was one "...that does the job but not brimming with much reserve power." We could not put it any better.
You can sit low in the driver's seat of the HR-V EX-L if you so choose. The power seat can put your butt on the floor, and in this position, you are pretty much at a "hatchback height from the ground." You are not way up in a tippy SUV like you are in a Mitsubishi EclipseCross. The hatchback-like feeling extends to the steering and turning feel. The HR-V drives a lot like a base Honda Civic in many ways. That is entirely a good thing.
The outward view from the front seats is exemplary. Not quite as expansive as that of a Subaru Forester, but the feeling is similar. You can see clearly, and the wide-open view makes touring back roads a joy. We drove for hours on some of New England's legendary country roads with speed limits of 45 and 55 MPH, and the HR-V was in its element. Relaxing and pleasant to be in.
On the highway at elevated speeds, the HR-V's price point starts to become apparent. You can hear tire and road noise from the rear of the vehicle. Something we have noticed in a few recent Hondas. This, despite the active noise cancelation the vehicle has standard. It isn't a big deal, but it's there.
2023 Honda HR-V EX-L AWD - Why Do We Love the 2023 Honda HR-V
Despite an engine that isn't going to win any stoplight races, the HR-V is a new Honda that stole our hearts. It has a chill demeanor we love. It is so crazy practical it should easily win the Automotive Practicality of the Century Award (I'm on the voting panel). The price point of about $30K fully loaded, including maintenance for two years, makes us think that Honda is now the value leader in this very important segment.
Honda does not have an HR-V Trim as off-road capable as the Subaru Crosstrek. Honda does not have an HR-V with the performance and sex appeal of the Mazda CX-30 Turbo. Should Honda buyers care?
The Honda HR-V will appeal to families and drivers who put infotainment, practicality, value, and comfort above other attributes. We think that is the bulk of the market with $30K to spend on a well-equipped crossover. Apparently, Honda thinks so as well.
Ps - If Acura doesn't bring out a turbocharged and hybridized version of this HR-V priced around $35K for the American market in 2023, we will be very disappointed.
Top of page image of HR-V and interior image courtesy of Honda. All other images of 2023 Honda HR-V by John Goreham.
John Goreham is a long-time New England Motor Press Association member and recovering engineer. John's interest in EVs goes back to 1990 when he designed the thermal control system for an EV battery as part of an academic team. After earning his mechanical engineering degree, John completed a marketing program at Northeastern University and worked with automotive component manufacturers, in the semiconductor industry, and in biotech. In addition to Torque News, John's work has appeared in print in dozens of American news outlets and he provides reviews to many vehicle shopping sites. You can follow John on TikTok @ToknCars, on Twitter, and view his credentials at Linkedin
Re-Publication. If you wish to re-use this content, please contact Torque News for terms and conditions.