More and more manufacturers are including scheduled maintenance with the purchase of a vehicle. This week, Honda joined the party. The company announced today that it will include "select" maintenance for its 2023 model year vehicles. The program covers cars for two years, or 24,000 miles, whichever comes first. "Honda Service Pass offers our customers greater peace of mind while lowering the cost of owning our award-winning Honda vehicles," said Mike Kistemaker, assistant vice president, Honda national sales. "Honda dealers have always been the best place to service a Honda vehicle and now Honda Service Pass will further enhance the value of that experience for our customers."
Torque News has been tracking the included maintenance by brand for many years. We feel it is a policy that should apply to all new vehicles. In our reviews, we often mention the included maintenance in the value and pricing sections. Honda will now have a stronger value in our eyes because of this added maintenance.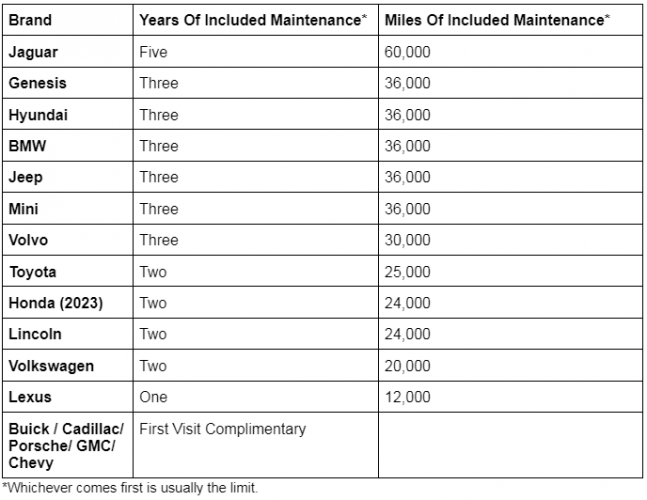 Our chart above lists the included maintenance for all brands we could uncover. As you can see, included maintenance varies from five years to zero among U.S. brands. Jaguar leads with the best program in America. The Hyundai and Genesis brands offer three years, and also the longest overall warranty, making them the highest value in many regards. Honda's program places it on the list - which is fantastic - but near the lower end of the included range.
Honda is oddly hedging on the included maintenance by calling it "select." Why Honda cannot include all required maintenance over the first two years is a mystery. After all, the warranty covers the car for three years. We can't think of any required work that the Honda fleet would need that Honda didn't list as included.
Honda specifically says that the "Plan includes standard oil and filter changes, tire rotation and multi-point inspections." So, are cabin air filters and engine air cleaner elements excluded? They cost manufacturers about $10 each and are changeable in moments without using tools, so it seems odd they would not also be part of the program. Maybe we are being overly picky. The oil and tire rotations make up the bulk of the needed maintenance over the first two years.
Torque News estimates the value of this included maintenance at about $300. While this isn't a huge number, it is nice to know that for a couple of years, at least, you won't have to reach for your wallet when you visit the dealership.
Would included maintenance sway your decision on which brand to shop for? Tell us in the comments below.
John Goreham is a long-time New England Motor Press Association member and recovering engineer. John's interest in EVs goes back to 1990, when he designed the thermal control system for an EV battery as part of an academic team. After earning his mechanical engineering degree, John completed a marketing program at Northeastern University and worked with automotive component manufacturers, in the semiconductor industry, and in biotech. In addition to Torque News, John's work has appeared in print in dozens of American news outlets and he provides reviews to many vehicle shopping sites. You can follow John on TikTok @ToknCars, on Twitter, and view his credentials at Linkedin
Re-Publication. If you wish to re-use this content, please contact Torque News for terms and conditions.
Image of Honda Civic by John Goreham