Hertz and General Motors announced a deal today involving up to 175,000 electric vehicles over the coming five years. This is a staggering amount of EVs for GM, given that the company delivered only about 10,000 EVs over the past 12 months leading up to its last delivery update in July. Consider that GM may have taken back thousands of EVs from dissatisfied customers wrapped up in the battery fire fiasco over that same period, and the order must have been very welcome at GM's headquarters.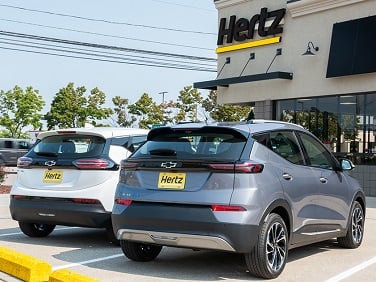 Related Story: Renters Beware: Reports Say Hertz Is Falsely Accusing Customers of Theft
In a press release today, Hertz said that it estimates that its customers could travel more than 8 billion miles in these EVs, saving approximately 3.5 million metric tons of carbon dioxide equivalent emissions compared to similar gasoline-powered vehicles traveling such a distance. "It's exciting that two iconic American companies that have shaped the evolution of transportation for more than a century are coming together to redefine the future of mobility in the 21st century," said Stephen Scherr, Hertz CEO. "We are thrilled to partner with GM on this initiative, which will dramatically expand our EV offering to Hertz customers, including leisure and business travelers, rideshare drivers and corporates."
Hertz wants to have the largest fleet of EVs for rent in America. Its current goal is for one-quarter of its fleet to be electric by the end of 2024. The first vehicles Hertz will receive from GM will be Chevrolet Bolt EVs and Bolt EUVs in the first quarter of next year. Torque News has tested both Bolt models, and we feel that these are the nation's best affordable EVs for sale today. We anticipate that many renters will find them to be fantastic vehicles and are likely to consider them based on the rental when they buy next.
Related Story: Try the Chevy Bolt EUV Not the Regular Bolt - Here's Why
Like all EV deals and announcements, this one is mostly a back-end deal. GM said in an announcement that deliveries to Hertz are projected to increase later as GM rapidly scales its EV production between 2023 and 2025, driven by the opening of Ultium Cells battery cell plants. "Our work with Hertz is a huge step forward for emissions reduction and EV adoption that will help create thousands of new EV customers for GM," said GM Chair and CEO Mary Barra. "With the vehicle choice, technology and driving range we're delivering, I'm confident that each rental experience will further increase purchase consideration for our products and drive growth for our company."
Torque News readers may remember that Hertz has also inked a deal with Tesla for Model 3 rentals.
Image of Chevrolet Bolt charging by John Goreham. Image of Bolts in front of Hertz location courtesy of Hertz media page.
John Goreham is a long-time New England Motor Press Association member and recovering engineer. John's interest in EVs goes back to 1990 when he designed the thermal control system for an EV battery as part of an academic team. After earning his mechanical engineering degree, John completed a marketing program at Northeastern University and worked with automotive component manufacturers, in the semiconductor industry, and in biotech. In addition to Torque News, John's work has appeared in print in dozens of American news outlets and he provides reviews to many vehicle shopping sites. You can follow John on TikTok @ToknCars, on Twitter, and view his credentials at Linkedin
Re-Publication. If you wish to re-use this content, please contact Torque News for terms and conditions.