Genesis is now established as the luxury automaker with the best ownership experience package in the industry. The brand has the highest quality ratings and offers a warranty and included maintenance package that is the best in the business. We had a chance to experience the G90, the company's flagship sedan this week and came away wowed.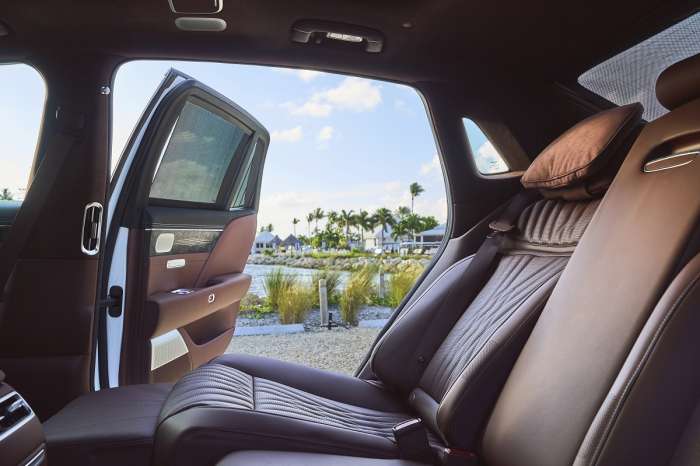 Genesis G90 - What Is It?
The G90 is a large, five-passenger sedan that can be used as a personal luxury car or as a limousine. The G90 we tested was a 3.5T E-Supercharger AWD trim. To say it had everything is entirely accurate.
Genesis G90 - What Does It Cost?
Our test vehicle had a price inclusive of its delivery charge of $100,370. This price includes maintenance for three years as well as three years of service valet. The warranty spans ten years.
Genesis G90 - What Makes It Special?
The G90 is an ultra-luxury vehicle. The cabin is superbly appointed. The seats have massage and all the other expected things like heat and cooling. The doors close and open automagically. There is a mood-enhancing aroma system. The interior cabin lighting is, well, like what you would expect from a high-end limo.
The back seating area is massive, and the rear seats recline. There are retractable shades for all of the rear glass. The audio system is outstanding. There is an air ride suspension and the ride is so supple you feel like the road is smooth as glass even when it is actually broken up New England pavement.
Genesis G90 - What Makes It Go?
The G90 has over 400 hp and also over 400 lb-ft of torque from a gasoline engine. We observed 28 MPG using regular unleaded fuel during our mostly highway testing. Quite good for a sedan so large.
Genesis G90 - How Do I get One?
Genesis makes the G90 in Korea from almost entirely Korean parts. Ask your Genesis dealer about ordering one. The G90 may well be one of the lowest-volume vehicles sold in North America.
Those looking for the ultimate in reliability, ownership satisfaction, and comfort who may also employ a driver, should consider the Genesis G90.
Images courtesy of Genesis.
John Goreham is a long-time New England Motor Press Association member and recovering engineer. John's interest in EVs goes back to 1990 when he designed the thermal control system for an EV battery as part of an academic team. After earning his mechanical engineering degree, John completed a marketing program at Northeastern University and worked with automotive component manufacturers, in the semiconductor industry, and in biotech. In addition to Torque News, John's work has appeared in print in dozens of American news outlets and he provides reviews to many vehicle shopping sites. You can follow John on TikTok @ToknCars, on Twitter, and view his credentials at Linkedin
Re-Publication. If you wish to re-use this content, please contact Torque News for terms and conditions.