The new 2023 Land Rover Defender 90 two-door coupe is an SUV for those who want something more than the Wrangler and Bronco can offer. That is a very hard ask given hwo fantastic both the Bronco and Wranger are. But a quick drive of the Defender 90 reveals its superpower, and no, it isn't related to imaginary off-road adventures.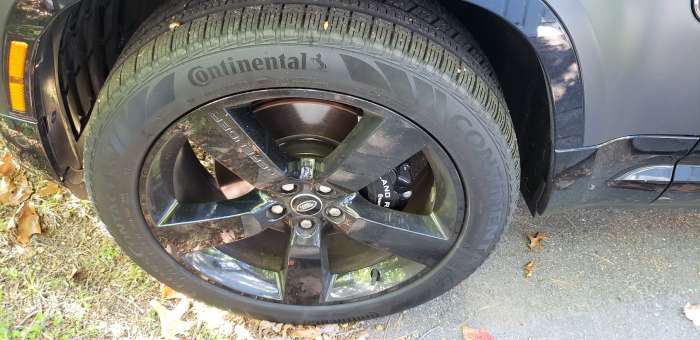 2023 Land Rover Defender 90 - What Is It?
The Defender 90 is a premium two-door SUV with immense off-pavement abilities. We tested a Carpathian Edition with only two insignificant options. A wifi plan and a cargo area storage compartment. The 90-series Defender is a five-passenger, but it is really designed mostly for driving and mostly for front passengers. If you want a larger SUV with more utility, passenger space, and cargo volume baked in, Land Rover has a boatload of options for you. This is the driver's Land Rover.
Related Story: Jeep Wrangler Rubicon 392 Hardtop - Photo Journal and Back Roads Review
2023 Land Rover Defender 90 - What Makes It Special?
There are a few things that make the 2023 Land Rover Defender 90 Carpathian Edition special. For example, it has a perfect infotainment system. Yes, wireless Android Auto, yes a volume knob, no there are no silly mice to learn. You touch it, and it works.
Related Story: 2021 Jeep Wrangler Unlimited Rubicon 392 Review - The Best Jeep Ever Made
The Carpathian Edition has a V8 gas engine that develops over 500 hp, immense torque due to its supercharger, and an absolutely perfect geared transmission. It is all-wheel drive with a trick rear differential and low range. It can go off-road with the best in the world, we assume. That V8 is perhaps the best modern gas engine in any vehicle we have ever driven not built by a Stallantis brand. The throttle response is absolutely the best we have ever driven in any gas-powered vehicle of any type. It's a joy to give it the boot.
Related Story: 3 Ways The Range Rover Evoque R-Dynamic S Stands Out
Who Would Have Guessed Handling Is Its Forte?
As good as the Defender 90 Carpathian Edition is at being a two-door SUV with incredible off-pavement abilities, it is its on-pavement driving experience that sets it far apart from the Wrangler and Bronco (two vehicles we love, in case you missed that). There are a few reasons for this.
The Defender 90 is way up high off the ground, so you assume looking at it that it will be tippy. It is a stubby fellow, so with a short wheelbase, you assume its handling will be a bit choppy on twisty mountain roads. Wrong and Wrong.
The Defender 90 is the single best-handling SUV this 10-year veteran tester has ever driven. It is the Miata of SUVs. In all situations on-road, the Defender 90 feels light, tossable, and is a joy to drive. On narrow public roads, you will never be moving it fast enough to break traction, so it is a point-and-shoot scooter like a MINI. I know, you think I'm nuts. Try it.
We drove the Defender 90 on some of New England's best country roads, and it felt like the folks from Land Rover intended for this vehicle to be at home in this setting. The steering is precise, the turn-in is satisfying, and even the braking is great. The Defender 90 handles sharply among a group of peers who are sloppy and tippy.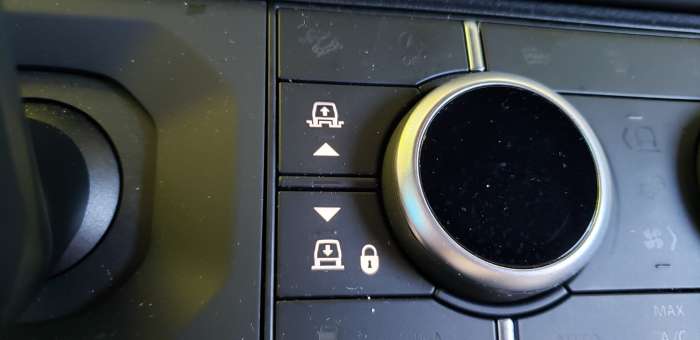 How Does Land Rover Make the Defender 90 Handle So Well?
The Defender 80 Carpathian Edition comes with an air suspension, so it can raise or lower itself. That's a trick that most SUVs do not have. However, we think much of the magic is the tires and wheels Land Rover chose. The Defender 90 rides on wide, low-profile, all-season, 22-inch tires. Sports car tires, if you will. These, instead of the massive knobby all-terrain tires almost every competitor chooses so as to help along that off-roading fantasy.
The Defender we tested had a price tag of $113,620, so it is safe to assume that its owner will have the scratch to buy a set of those silly knobby tires that off-road fantasy folks like to use when they locate an extreme off-road course that isn't illegal to drive on. For the other 99% of miles those SUVs drive, a set of tires like the ones Land Rover chose make a lot more sense. Particularly in winter.
Related Story: Jeep Grand Cherokee Trackhawk - 3 Biggest Surprises On Track
Best-Driving 2-Door SUV In the World?
The Defender 90 Carpathian Edition is a perfect example of why automakers send vehicles to testers to report on. It belies everything your instincts tell you about how it will feel when driven. The defender 90 is such a joy to drive it has now spoiled this tester for all SUVs to come.
Images of 2023 Land Rover Defender 90 by John Goreham.
John Goreham is a long-time New England Motor Press Association member and recovering engineer. John's interest in EVs goes back to 1990 when he designed the thermal control system for an EV battery as part of an academic team. After earning his mechanical engineering degree, John completed a marketing program at Northeastern University and worked with automotive component manufacturers, in the semiconductor industry, and in biotech. In addition to Torque News, John's work has appeared in print in dozens of American news outlets and he provides reviews to many vehicle shopping sites. You can follow John on TikTok @ToknCars, on Twitter, and view his credentials at Linkedin
Re-Publication. If you wish to re-use this content, please contact Torque News for terms and conditions.